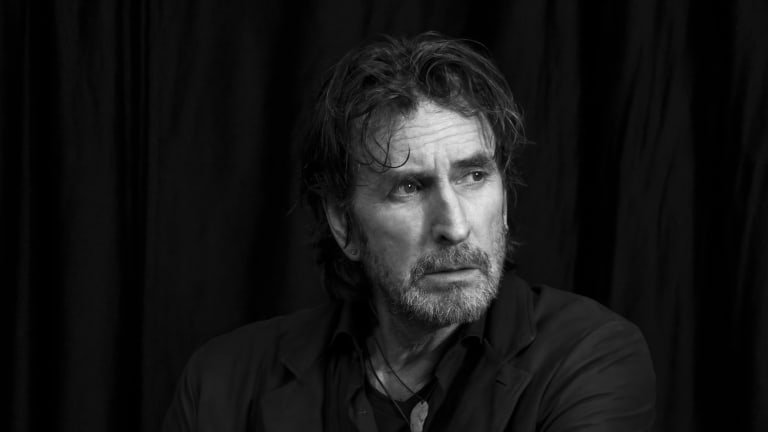 10 Albums That Changed My Life: Cy Curnin of The Fixx
Regarding his album choices, Curnin stated: "This list seems to stop right where our career took off. This is not to say I've not been beguiled by other wonderful albums since."
Get Classic Rock vinyl, collectibles and more in the Goldmine shop
Founded in London in 1979, The Fixx, fronted by lead vocalist Cy Curnin, had quite a few big hits in the 1980s. These include "Red Skies," "Saved By Zero," "One Thing Leads To Another," "Are We Ourselves?" and "Stand or Fall." Airplay on MTV of the music videos for these songs helped in securing mainstream success for The Fixx in the USA.
In June, The Fixx released their 11th studio album, which is titled Every Five Seconds. In addition to Curnin, the album features longtime band members Rupert Greenall, Jamie West-Oram, Adam Woods and Dan K. Brown.
Order The Fixx's Every Five Seconds on vinyl from the Goldmine shop HERE
Regarding the choices that follow, Curnin stated: "This list seems to stop right where our career took off. This is not to say I've not been beguiled by other wonderful albums since. It's just that I felt I wanted to show what brought us forth to the temple to create and wander forth into our career."
— John Curley
Manitas de Plata, Manitas Et Les Siens
I think I was about 10 years old when I became obsessed with the sound of flamenco guitar thanks to my mother constantly playing this record. There was a wildness to the melodies and a passion that, though I didn't know it then, is the key to most radical, unscripted music. This album would make me jump and dart around as if possessed by spirits unknown.
Aretha Franklin, Aretha Now
My older sister bought this album and kept playing it for weeks. The song "Think" entered my brain and stayed forever. The power and control of her voice definitely laid the groundwork for my interest in singing. From my first hairbrush poses in front of the mirror to this day, I try to emulate the power she had. This paid off when singing next to Tina Turner!
The Beatles, Sgt. Pepper's Lonely Hearts Club Band
My friend's big brother exposed me to this album over a period of months. Though I was aware of the weird counterculture movement happening at the time, I was only able to delve into the trippy music of the day. The almost nonsensical imagery opened my mind in a "Dali-esque" way. Early lesson of noticing that things are not always what they seem, and the literal can be exposed by the surreal.
David Bowie, The Man Who Sold the World
Remembering the first time one holds a Bowie album in one's hands is like remembering one's first day at school. Enigmas, melody and an invitation to an alternative reality exist in this work. What struck me was the sound of his voice and phrasing. Familiar yet beguiling, the sound of five voices all at once. This Christmas gift from my sister in 1971 is probably the main reason I wanted to become a singer.
Led Zeppelin, Led Zeppelin IV
I call this my third-base album. Mostly for the obvious reasons as I lay on the floor watching the fire light flicker on the ceiling with my first "serious" girlfriend. Jimmy Page's fingering challenged me to explore some of my own. But seriously, "Stairway to Heaven" and the hypnotic effect of "Going to California" added such an expanse in my mind that the small suburban world we lived in became a thing of the past.
Pink Floyd, The Dark Side of the Moon
Along with countless millions of souls this album reached in and became a balm against the early frustrations of living by the law. A dangerous combination of cynicism and rebellion. Just what a 15-year-old mind needs to hear. There's a reason this album stayed on the charts for over 900 weeks and counting. Every time I hear "Money," I'm reminded of the trap we all are in. Bring on the revolution!
David Bowie, Aladdin Sane
In the same year as Dark Side....along came this album like a tailor to cut my adolescent suit that would define my whole being. All the angst, search for approval and confidence needed to blossom, was contained in this album. How many times I fell "walking to the floor" as if enraptured by sound and ideas, this whole record is the seminal work of the Bard of The Ages. A constellation in the musical sky.
Grover Washington, Feels So Good
I bought this album on a whim. I was browsing in the local HMV when this weird and wonderful instrumental music caught me off guard. I asked the shop attendant to put it on in the album review kiosk (still the best way to sell music, IMHO). Within three minutes in headphone land, I was already counting my hard-earned, after-school job money. Couldn't stop playing it and even had a thumbs up from my dad.
Supertramp, Crime of the Century
This album really impressed on me the concept of great songwriting and production value. It drew me in to the field of musical excellence.
Brian Eno and David Byrne, My Life In the Bush of Ghosts
This album was a game changer for me. It blew wide open the possibilities of audio drama and delivered a real cinematic audio field I'd never experienced before. Unnerving at times, mesmerizing always. Totally mind-blowing.