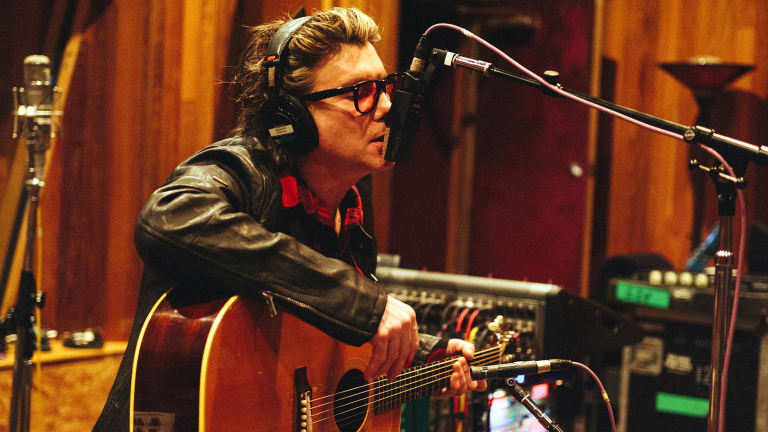 10 Albums That Changed My Life: John Rzeznik of Goo Goo Dolls
John Rzeznik of the Goo Goo Dolls tells Goldmine all of the albums that changed his life over the years.
The Goo Goo Dolls are a punk turned mainstream band incepted in Buffalo, with their greatest success gathered between 1995 and 2006. The band sold over 15 million records worldwide, with their hit song "Iris" spending 18 weeks on radio's Hot 100 Airplay and hailing for 12 straight months on the Billboard Charts. 
RIAA Gold, Silver and Platinum albums grace their walls, and the band have four Grammy nods and 19 Top 10 singles on various charts. They have played sell out shows all over the globe with huge tours, and recently Goldmine had the chance to sit down with the band's songwriting, singer John Rzeznik. This charismatic and compelling vocalist brought us into his musical circle as he issued off the Top 10 Albums that have influenced him. 
— Carol Anne Szel
The Beatles, Abbey Road
That was an album that I just put on. I mean, being a little-little kid, as soon as I could get the needle on the turntable, I was listening to that. And I didn't realize that the whole second half, the whole side two of the album, just flowed so perfectly from beginning to end. I didn't realize that it was little bits and pieces of songs that they put together into this beautiful, crazy, medley kind of thing. And the second side was conceptual, I just loved it so much, you know? I mean, The Beatles are like the Shakespeare of music.
Tom Petty and the Heartbreakers, Damn the Torpedoes 
I just remember getting up for school and always putting the radio on. And that was when AM radio still played music. I remember listening and hearing "Refugee" and just going, "Wow, that guy's got a crazy voice!" I think I was in seventh grade. I would just listen to that, and then my sister got a copy of the album and one of my first songs I ever learned how to play on the guitar was "Even The Losers." Cause that's three chords, you know, and then a bridge in the middle. 
But there was something just so inherently right about the voice and the production. And Tom Petty, he's become my favorite songwriter. He was amazing, and he was willing to take big chances. Like when he went with Dave Stewart, he kind of made this crazy new wave-ish record. And then the stuff he did with Jeff Lynne was "Wow." I was such a huge ELO fan, because being a great songwriter and musical genius, Jeff Lynne really advanced forward with how albums were produced. And really, those ELO records had a sound that nothing else had.
When you said 10 albums, I was like, "Well, how about 10 songs because I'm a song guy. I'm very into Greatest Hits compilations, you know, I'm not into that deep track kind of thing. Sometimes I am. But I love Greatest Hits collections.
The Rolling Stones, Hot Rocks
The first one we had in the house was Hot Rocks by The Rolling Stones. I remember being sick and not going to school and just listening to that album. Yea, over and over. I mean, "Paint It Black"' and "Honky Tonk Woman." I just loved it. I felt like I was doing something bad. The Rolling Stones were bad, ooooh! And I listen to it now and it's still amazing and beautiful. But then you hear how out of time and out of tune a lot of things are, but it captures a moment and it's just dripping with cool. I mean, the Stones are the coolest band ever. Besides The Clash, you know?   I LOVE The Clash. 
The Clash, London Calling
"London Calling" was to me like every single song on that record. And that was the first time I ever heard music that was sort of, you know, using reggae. But I also loved Mick Jones' pop songs. I just loved "Train in Vain," and I remember that was a hidden track on the album. It was the last cut on the version that I had, and it wasn't listed on the album!  And that, to me, is one of the tightest, most awesome pop songs ever written. To me, I hear Motown in it, I hear so much great stuff in it. And it's so tightly wound.

And the first album, the American version. That was when I hit a paradigm shift. Yes, The Clash was my paradigm shift. As far as like, "Whoa, hold on a second. There's something more out there than girls and cars." And it just felt like, I just felt like, none of my friends knew about this. They didn't want to hear it. They were more into .38 Special and Lynard Skynard, things like that. The Clash, they just looked so cool, you know, and there was just the urgency. And songs like "I'm So Bored With the USA." I LOVE IT, I love this song! I was in like eighth grade, ninth grade. That was when I sort of decided that I was gonna become an underground music snob. Ninth grader. Freshman in High School.
The Chameleons, Script of the Bridge
There was a band called The Chameleons. Then they had to call themselves Chameleons UK. It was another sort of turn for me. Because they're very ...I mean, nobody in America knew about these guys. There's an album called Script of the Bridge and it came out in '83. And that was another big shift for me because there's this very interesting production of it. And the songs are very dark, they're very spooky. And there's this certain kind of hypnotic effect that they had. Yeah, oh my God, they were really, really great. It's very dated sounding now, but once again it was like "Wow this doesn't sound like anything I've heard before." And the songwriting was just so good. Really great band.
The Replacements, Tim
The sacred cow of college rockers. And that's where I heard a lot of my voice in what they were doing. I was also listening to a lot of albums that they were obviously influenced by. We've been compared to them 80 million times. That was another one that I was like, "Wow, music can be more." This guy's wearing his heart on his sleeve but they're bashing the shit out of their instruments. To me, they became the ultimate punk rock band. Forget Green Day; forget all that stuff. That's not punk rock. No, The Replacements were punk rock. Because every time that they were about to break into the mainstream, they decided to change the rules of what they were doing. And that continued on throughout the history of that band. But this album definitely had a big influence on me.
The Ramones, Road to Ruin
That album I found in ninth grade. I could sit down and listen to that album and just learn to play the songs. The Ramones were just that band that every kid in the world  could just sit down and listen to the music and go, "I can do that, too!" Punk rock, but they're also just a great rock and roll band. They kept it simple, and I think the biggest influence they had a lot of musicians was "Hey, we can start a band, too." And we did, we started a hundred bands, you know? The Ramones were amazing.
The Pixies, Surfa Rosa
One more time, I heard the record and just went "I've never heard anything like this before!" The loud/quiet, loud/quiet, and the rawness, the breaking of rules. It's a very non-traditional forward-thinking production. Those Pixies songs... I mean, Michael Jackson could have done them and they would have been hits obviously. I mean, the songwriting is so good that any ... I mean they're just hits. Maybe they were never commercial, huge hits like Led Zeppelin or anything like that, but there's just something about the ingenuity and the cleverness that was going on. And the dynamics. The dynamic like gear-shifting in the music.
Billy Bragg, Talking with the Taxman About Poetry
I just love the intelligence of his lyrics. And I love the fact that he's a folk singer with an electric guitar. He's just sitting there, and it's so raw, and his accent is just so thick. And the earnestness of what he was saying, you know. Just such powerful music, so introspective.  And Billy Bragg is one of those people I go to to learn more about songwriting. By listening to every single song. I don't know him, I've never met him, but he's one of those guys. How does something this important sound so simple? And that's a mark of someone who is a gifted writer.
The Who, Who's Next
To me, it's just so powerful. Once again, it's like Pete Townshend was writing at such a level, it was just so smart. It wasn't like anything else. He made his own set of rules and played by them. And then broke all of them and moved on again. They were always such an eclectic band. I wasn't that big into Tommy or anything like that. Some of it I was, but this album, Who's Next, I mean, I didn't find this until I knew the radio songs. You know, "Behind Blue Eyes," which is one of the most brilliant songs ever written. "Won't Get Fooled Again." I mean, it's start to finish. Very few albums for me, I'm a playlist guy, you know? Because I just love songwriting. For me, I rarely get through a whole album. But this album, start to finish, it is brilliant. It's amazing and it really set them up to be one of the hugest bands of the '70s. And the production, again, was just so clever. The sound of Pete Townshend's guitar, that guitar is huge. But no, it's remarkably small. It's not as crazy and distorted as I thought it was. You listen, then you say why does this sound so massive? It's because they didn't overload the tracks with 500 instruments.
For more albums that you may enjoy in our Goldmine store: