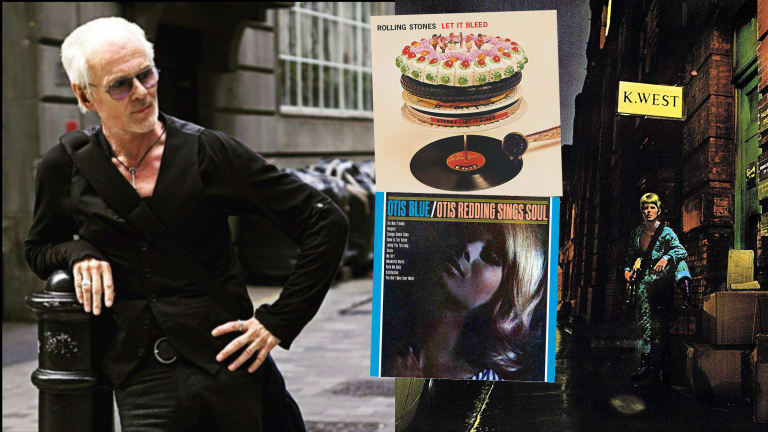 10 Albums That Changed My Life: Michael Des Barres
Renaissance man Michael Des Barres lists the albums that changed his life forever.
Renaissance man Michael Des Barres, soon to be 73, is more than the records he plays every weekday for three hours over Little Steven's Underground Garage Sirius XM Channel 21 (with a replay evenings from 9 p.m. to midnight). He fronted Power Station at Live Aid '85 to a global audience. Jimmy Page signed his Detective band to Led Zeppelin's Swan Song label in 1977. Before that he sang in the glittery punk band Silverhead in 1973. Before that he was the kid wearing shades to school in 1967's To Sir With Love movie. Way after that he was Murdoc in ABC-TV's MacGyver. 
With that soulful sandpaper voice, he's still rocking out as hard as ever on the latest Live! EP by Michael Des Barres & and the Mistakes, where he transcends T-Rex, Marvin Gaye, Little Richard and more.
With a resume like that, we knew it would be fascinating to find out what albums have rocked his world. 
— Mike Greenblatt
The Rolling Stones — Let It Bleed
It married the blues with the sensuality of [their 1968] "Jumping Jack Flash" [single]. I was so moved by its inherent theatrics and the degeneracy of the music coming from the Mississippi Delta. It touched me in ways I hadn't been touched before or since.
Otis Redding — Otis Blue

Wherein I first learned that Black music could be incredibly dramatic, sad, rhythmic, soulful and melancholy. Plus, these guys were incredible musicians. I had always loved Robert Johnson and Muddy Waters, but when I first heard Otis, he blew my mind! Otis was the one who encouraged me to be romantic.
David Bowie — The Rise and Fall of Ziggy Stardust and the Spiders From Mars
David Bowie was so diverse! Meticulous in how it was crafted. Intellectually aggressive in the guise of flamboyance and total theatricality. I mean, here you had this guy, Bowie, who had obviously read William S. Burroughs yet had to have been a big fan of Ann-Margret, too.
Led Zeppelin, Led Zeppelin
I remember thinking when I was 19 that this debut was the greatest rock and roll record ever, Jimmy Page the greatest rock and roll producer, and John Bonham/John Paul Jones the greatest rock and roll rhythm section. I couldn't believe how great that record was when it came out!
Wilson Pickett — Greatest Hits 
Wilson Pickett's Greatest Hits is still one of my favorite albums of all-time because of its absolute fierceness! It was ferocious! His singing was so direct, so guttural, so powerful. It liberated me to be that gutsy.
The Faces — First Step
I adored Rod Stewart on that first Faces album in 1970. It was just so much fun. Rod had that Sam Cooke thing going, the first white kid to be able to do that. It really meant a great deal to me that Rod could also flat-out croon yet still be such a great rock and roller.
The Temptations — Greatest Hits 
The Temptations' Greatest Hits in 1966 is still one of the greatest of all the greatest-hits packages. Such brilliance! Such hilarity of the songwriting. It's the top of the Motown empire for me. I think those composers — Smokey Robinson, Norman Whitfield, Edward Holland, Jr. — as Gods. The Temps were the best conduit for their compositions.
The Beatles — Sgt. Pepper's Lonely Hearts Club Band 
Of course. This one goes beyond its listing here. I could've easily put it as number one. They're like a season. It's like asking me if I like winter, summer, spring or fall. In a sense, there's The Beatles and then everything else.
Ann Peebles — This Is Ann Peebles
This Is Ann Peebles [1969] made me into a massive fan of hers. I mean, sure, there's Aretha, Janis and Etta, but, although she received scant attention, Ann Peebles touched me in a way that the others didn't. There was a Billie Holiday sadness to her voice that overwhelmed me.
Muddy Waters — Greatest Hits
Because looking back, a "Greatest Hits" package is always the greatest, right? And I love Muddy. This is one of the building blocks of what became rock and roll. 
Can I put more?
EXTRAS: Bob Dylan — Blonde On Blonde and Van Morrison — Astral Weeks. You could just tell Van's going to sing these songs once. Maybe twice, tops. Bob too. It's the feeling. And it's why they're both so f**king great. Y'know, there's no overdubs on Astral Weeks. It's the idea of just doing it for real, and not using the studio itself as an instrument. The studio is a sacrosanct place for me.