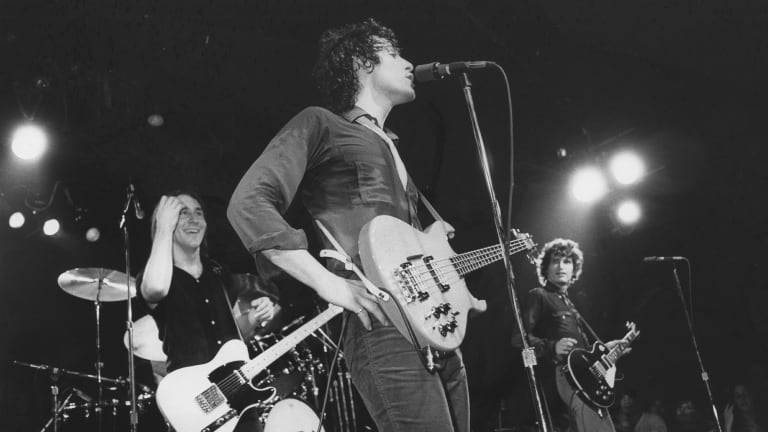 10 Albums That Changed My Life: Prescott Niles of The Knack
The Knack bassist had influenced many with his signature, driving power pop bass lines, but here he lists those who influenced him.
In a sense, Prescott Niles is a living legend. While his name alone might not suggest he qualify as far any familiarity factor is concerned, his role as the bass player for The Knack, he clearly weighs in when the stuff of legend comes into play. The band's 1979 smash hit, "My Sharona," found them touted as a major phenomenon, winning them comparisons to The Beatles and pronouncements as Rock's Next Big Thing. And while their peak period was confined to the late '70s and early '90s, they managed to carry on well beyond, until they were finally forced to call it quits when founder and frontman Doug Fieger passed away on 2010.

However, to Niles' credit, his career isn't confined solely to The Knack. Early on, he found himself part of New York City's nascent club scene, allowing him to rub shoulders with Jimi Hendrix, Randy California and Arthur Lee. Later, he would play bass with Josie Cotton, Missing Persons, Gary Myrick and, most impressively of all, George Harrison, with whom he recorded the song "Someplace Else" for the soundtrack to Shanghai Surprise.
Nevertheless, The Knack still plays an indelible role in his life, both personally and professionally. Not only did he participate in the band's various reunions, but he currently finds himself championing a new Knack posthumous release, Live at the House of Blues, an album that serves as yet another fine example of the power pop legends in their prime.
The following are Prescott Niles' 10 albums that changed his life.
— Lee Zimmerman
The Beatles, Revolver (U.K. version)
I like Rubber Soul, but I would have to pick Revolver because it sounded like nothing else at the time. Not only were the songs terrific, but Paul's bass was recorded up front in the mix, which was exciting for me. Paul was hitting his true brilliance as a bass player. I prefer the British version because three of John's songs — "I'm Only Sleeping," "And Your Bird Can Sing," and "Dr. Robert" — were omitted for the U.S. release. I feel that those three songs make the album even more superior and memorable.
Stevie Wonder, Innervisions
I had followed and admired Stevie since his earliest Motown days. "Superstition" arrived like a lightning bolt in 1972. When Innervisions arrived the next year, I was glad that Stevie was finally able to address social issues in brilliant hit songs like "Higher Ground" and "Living For the City." Plus, "All In Love Is Fair" is one of the most amazing 'love gone wrong' ballads ever.
The Who, Live at Leeds
I had seen The Who live before this album was released. I certainly might have picked The Who Sell Out as one of my favorites, but I give Live at Leeds the edge.
David Bowie, The Rise and Fall of Ziggy Stardust and the Spiders From Mars
I knew about Bowie prior to this album, and certainly liked him as an artist, but this album (produced by Ken Scott) changed the music culture like no other. Bowie's brilliance as a songwriter, vocalist and conceptual artist is unparalleled. I was fortunate to see the tour at the Santa Monica Civic (Center). What a great band!
Various Artists, 20/20: Twenty No. 1 Hits from Twenty Years at Motown
James Jamerson is one of my bass-playing idols. This compilation shows how his genius made these hit songs even more successful.
The Rolling Stones, Let It Bleed
Mick's vocals and lyrics, combined with Keith's guitar lines — especially on "Gimme Shelter" — are transcendent. When you write songs as good as "You Can't Always Get What You Want" and "Let It Bleed," what else can you say? I was a regular at Max's Kansas City when this album came out, and it was a BIG favorite at that club.
Jaco Pastorius, Jaco Pastorius
I first noticed Jaco when Herbie Hancock referred to him as a "once in a generation talent." Jaco's inventive bass performances were revolutionary and continue to set a standard to which we aspire. He remains an enigma.
Jefferson Airplane, Bless Its Pointed Little Head
I was probably at the Fillmore East show heard on this live album. I was a big fan and loved the songs, but Jack Casady's bass playing, especially on this live recording, immortalized his distinct sound and technique.
Yes, Fragile
I had heard Yes' debut album in 1969, and I was in a band in which I had to learn its bass lines. A few years later, I got to see them at the Whisky A Go Go. Chris Squire was a brilliant bassist. The songs themselves remain unforgettable.
I had seen Led Zeppelin with the first album, which was terrific, but "Whole Lotta Love" turned the music scene on its head.