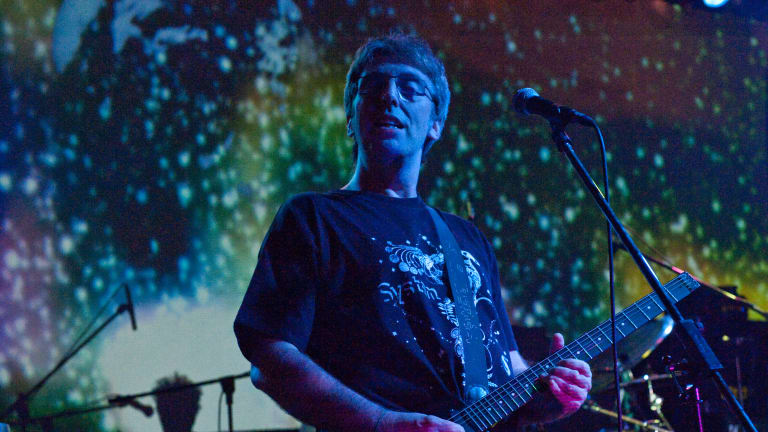 10 Albums That Changed My Life: Steve Hillage
The guitarist who gained fame in the French psychedelic ensemble Gong reflects on the 10 albums that changed his life.
Get vinyl, CDs, box sets, collectibles and Goldmine-only exclusives in the Goldmine shop! 
Guitarist Steve Hillage's long and esteemed musical journey began with Uriel and then continued underground with Arzachel and Khan. He gained greater fame as a member of French psychedelic ensemble Gong, then as a solo artist and (with partner Miquette Giraudy) leading EDM outfit System 7. On Hillage's 2023 tour of the U.K. and Europe, he'll revisit his celebrated 1970s works.
In this conversation, Steve Hillage reflects on 10 albums that changed his life.
— Bill Kopp
John Mayall and the Blues Breakers – Blues Breakers with Eric Clapton (1966)
This is the first album where that guitar sound was just right up there. I was 14, and it was an absolute seminal moment when I heard that classic blues rock sound with the Les Paul guitar. It just blew me away, but at the same time, it empowered me: "I can do that."
The Beatles – Revolver (1966)
I first listened to Revolver at the house of Dave Stewart, the keyboard player, and I was a big Beatles fan. I loved Rubber Soul, but Revolver had more punch to it, fantastic guitar sounds and similarly great songs. It was the first one from that Beatles period with all of the other greats, "Strawberry Fields Forever" and everything else.
The Jimi Hendrix Experience – Electric Ladyland (1968)
If I'm going to choose one Hendrix album, it's got to be Electric Ladyland; it's the complete, peak Hendrix album. With things like "1983...(A Merman I Should Turn To Be)" and stuff like that, and it's just a wonderful record. I could have that played at my funeral.
George Harrison – Wonderwall Music (1968)
I heard the iconic radio DJ John Peel play "Ski-ing." It's a beautiful fusion with Indian and Pakistani music. That record sowed a massive seed in me of my interest in what people call "world music," (though) I hate that term. I might end up recording a version of "Ski-ing," because it's really cool and totally suits my guitar style.
Frank Zappa – Hot Rats (1969)
We were into the Mothers of Invention as well, but with Hot Rats, it all came together. "It Must Be a Camel" influenced "Canterbury Sunrise" in my Solar Musick Suite, and a bit in the first Khan album. Hot Rats was an innovative album, one of the first albums ever done on 16-track. We were fascinated by it, but it wasn't just fascination; we loved it.
Terry Riley – A Rainbow In Curved Air (1969)
I was at a gig at the Roundhouse; the main band I went to see was Soft Machine. A DJ was playing this bubbly electronic sound, and I was like, "What's that? I want it!" That was A Rainbow in Curved Air, and it's been an absolute favorite of mine ever since.
Pink Floyd – Ummagumma (1969)
What was absolutely amazing is how [after Syd Barrett left,] they picked it up and went beyond, to something different. That era of Pink Floyd was also the time when I was at university. I must confess I was taking a lot of acid at the time, and I found with my acid-taking friends, Ummagumma was one with us all. It became a firm favorite for the trippers, and so it has a real place in my heart.
Tonto's Expanding Head Band – Zero Time (1971)
That was Bob Margouleff and Malcolm Cecil. I read about it, and then I got a hold of it, and I just loved it, particularly the song with the Vocoder, "Riversong." That is really deep into my heart. We sometimes use it in chill-out DJ sets. It was like electronic music with a psychedelic edge to it. This wasn't Walter Carlos; this was going somewhere else.
Neu! – Neu! (1972)
I'd just joined Gong, and we were doing a gig in Colmar, France. The DJ who came on before us played this track. I ran to the DJ and asked, "What's that?" He told me what it was, I got it, and it's remained to this day something I absolutely love. That Neu! sound has a massive influence on a lot of Bowie's tracks. And U2's big hit "Beautiful Day," that's just straight motorik!
Kraftwerk – The Man-Machine (1978)
In April 1978 we were doing a tour to go with our Green album. Before our set, there was a DJ playing a pre-release copy of The Man-Machine. German psychedelic music was very much a thing where you sort of sat cross-legged and smoked a big fat conical joint! But all the kids were dancing to it and really enjoying it. Miquette and I thought, "'Electronic dance music: this is going to be enormous!"