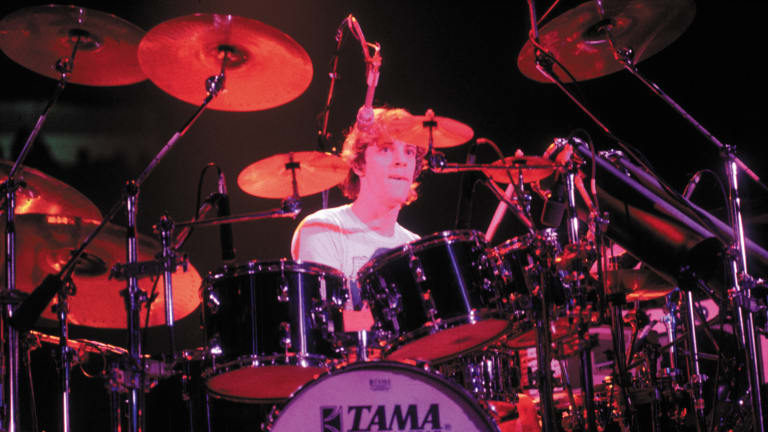 10 Albums That Changed My Life: Stewart Copeland
Find out the 10 full-length albums that forever changed the life of The Police drummer, and why.
Get Classic Rock vinyl and more in the Goldmine shop
Anyone who is familiar with rock and roll knows the superb talent of The Police's drummer Stewart Copeland. So, when it came time for Goldmine to ask him about the albums that changed his life, we weren't surprised when he picked LPs by Buddy Rich and Steve Reich to go with his other lifelong influences. But there were a few surprise picks.
Igor Stravinsky/Leonard Bernstein, Rite of Spring & Suite from "The Firebird"
For me at age six, crawling around on the Persian carpets in our Levantine mansion, this music connected to the patterns combining structured order with rampant chaos and sowed the DNA of all the music that I've made since.
Dave Brubeck Quartet, Time Out
Technically wrong jazz but "Blue Rondo A La Turk" and "Take Five" reset the rules of rhythm with their exotic time signatures. From the age of seven unto this very day, I still sob with emotion on hearing the drum solo in "Take Five."
The Beatles, Help!
First LP I owned that wasn't bequeathed by older siblings or parents. At 13 everything was mysterious, but it grabbed my young heart. There were songs by The Kinks and Stones that were edgier and more exciting, but no other band made albums as consistently brilliant as The Beatles.
Buddy Rich, Swingin' New Big Band
My current immunity to jazz has been ascribed by jazz chums to being raised on wrong jazz (white big band). But for drum-set virtuosity Buddy inarguably set the bar back in 1966 and it has not been reached since. OK, go ahead and argue.
The Doors, Strange Days
For a 14-year-old in Beirut this album was creepy and scary but magnetic. It was mind expanding even without any concept of drugs.
Jimi Hendrix Experience, Are You Experienced
And then came Hendrix. All changed. Everything that came before is trashed. I couldn't decide whether to fantasize about being the drummer or the guitarist. Those blazing drums and guitar became an overlay upon everything else, from Stravinsky to The Beatles.
Mahavishnu Orchestra, The Inner Mounting Flame
I never thought of this as jazz back in the day. More like urban prog. Anyway, I was the first kid on my block to figure out those Billy (Cobham) chops, and the bands I was in hated me for it. It was fun while it lasted, but then I was saved by reggae.
Leo Kottke, 6- and 12-String Guitar
I go back to this album every decade or so and completely rediscover it.
Bob Marley & the Wailers, Burnin'
And then came reggae. It took some hard listening to figure out what the drums were doing. Kick and snare together on three? Everything turned upside down and back-asswards. But kind of like that Arabic music that I grew up with. I was pre-programmed to fit right in with that groove.
Steve Reich, Drumming
Orchestral music seemed to go into a dead zone when Copland and Stravinsky got jazz. Conceptual algebraic music drove folks from the concert halls until Steve Reich, Philip Glass and John Adams brought beauty back to orchestral music. It was revolutionary as heck — but also heart-aching and beautiful.
Get The Police's latest release Around The World, below, following The Police on their first world tour in 1979 & 1980.