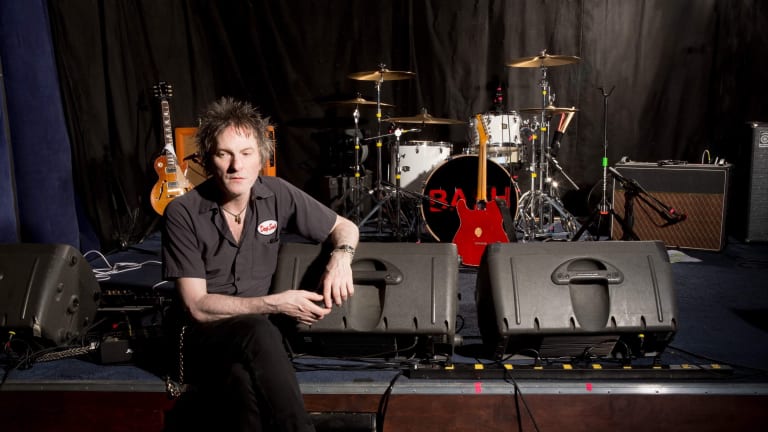 10 Albums That Changed My Life: Tommy Stinson
As bassist for The Replacements and Guns N' Roses, Tommy Stinson caught the attention of many rock fans. Now involved with his own solo projects, Stinson has more control creatively. Recently, he gave Goldmine the 10 albums that changed his life.
Tommy Stinson began to learn to play the bass at age 11 and has had a very busy career since forming his first band, Dogbreath, with older brother Bob Stinson on guitar and Chris Mars on drums. That band, with the addition of singer, guitarist and songwriter Paul Westerberg, became The Replacements. The Minneapolis-based band would record seven albums, including 1984's Let It Be and 1987's Pleased To Meet Me, before splitting up in 1991. Stinson and Westerberg reunited under The Replacements' banner for live shows in 2013, 2014 and 2015.
Following the initial breakup of The Replacements, Stinson formed the bands Bash & Pop and Perfect. In 1998, he began a 16-year stint with Guns N' Roses and played on the band's Chinese Democracy album. He released a solo album, Village Gorilla Head, in 2004. After leaving Guns N' Roses, he released the 2017 album Anything Could Happen under the Bash & Pop name.
The following are the 10 albums that changed Stinson's life.
—John Curley
Johnny Winter, Still Alive and Well
When my brother Bobby started teaching me to play bass, the first stuff I learned was Johnny Winter. The very first song I learned might've been his version of "Bony Moronie." We learned a lot of Johnny Winter, and even Johnny and Edgar Winter's White Trash. Bobby loved Johnny Winter because it had that fancy, fast guitar playing. Winter could rip. "Still Alive and Well" was a big one; that was a song that we'd play at kegger parties with our first band Dogbreath, that was part of our early repertoire. I learned most of the songs off Still Alive and Well. It was simple, blues-based, blues scale rock and roll, and if you're gonna learn how to play bass, it's the best way to start. 
Yes, Fragile
My brother was a huge Yes fan, a huge fan of Steve Howe's guitar playing. So, once I started wrapping my head around the bass guitar a little bit — then it's like let's learn to play "Roundabout"! Which is kinda crazy. We'd smoke a bowl and do like the regular stoners did and listened to Fragile. How else could you listen to that? Chris Squire's bass lines, I studied them and the nuances of them. As much as I can't stand to listen to it anymore there's a lot of crazy prog musicality to it, that you can't help but go, "Dude, hats off to that."
The Beatles, Sgt. Pepper's Lonely Hearts Club Band
At a certain point, my brother figured out how he could plug the turntable into the guitar amps and blast the shit out of his records. He would sit down there for hours, getting stoned and listening to Sgt Pepper's. Bob's enthusiasm for cranking the shit out of The Beatles ... no one in the house could escape it! And you could really hear the bass. I studied that, too. Paul McCartney's playing, there were bass melodies in there — that was a whole other thing for me. 
The Clash, London Calling
When I got to junior high, I became good friends with a guy named David Roth. He kind of became my musical guru. The whole thing is, he'd been to England with his family and came back wearing Tartan trousers and loving all the punk rock he'd heard over there. And he turned me on to all that stuff: The Clash and Generation X and Buzzcocks. I had this '70s classic rock background, but getting into London Calling, the music was a lot grittier and had a lot more going on. And there's pop songs on there, too, but a lot different than what you're hearing on the radio at the time like Foreigner and that shit. This was the first stuff where I was developing my own taste a little bit.
.
Squeeze, Argybargy
Around the time we were recording the first Replacements album, (band manager) Pete Jesperson took me to see Squeeze. Squeeze opens up with "Pulling Mussels (From the Shell)" and it just floored me. They were a great band. They were so on their game at that particular moment, on their way to being even further on their game. I became a huge Squeeze fan after that, bought Argybargy and all their records. That was where I started to take the pop turn.
Stray Cats, Built for Speed
Funny thing about the Stray Cats is that my mother got really into them. When she heard this record, she was like "What is that?" She'd been a big Elvis fan growing up, so the whole rockabilly thing made sense to her. The Stray Cats came to town and played this strip bar called Duffy's, which also had a venue. So, I figured my way to go see them play at the strip bar was if my mom brought me. So that's what we did — and it was fantastic! After that, she never went back and listened to her Conway Twitty records. The Stray Cats blew her mind. And it became something for both my mom and I to relate to. 
Captain Beefheart, Doc at the Radar Station
I had heard some of the other Captain Beefheart stuff that was so arty, it went way above my head. He's a true artist. I always respected what I didn't understand about Captain Beefheart. But this is a record I could relate to in a funny way. It was so bananas, but they were still songs. They had this whole vibe to them where I thought "Who the hell gets away with doing that?" It's not like you're going to sing along to "Making Love to a Vampire with a Monkey on my Knee" – but I did! Or hanging with your friends and throw "Brickbats" on and dance around. It wasn't great for dancing – but I danced to it, too! I just had a whole other level of appreciation for this stuff. This is the record where I started accepting that not everything has to be 8 bars or 4 bars or 3/4 and 6/8 time and started to understand that; the idea that pop music could have all kinds of weird time signatures and different elements to it. 
Gang of Four, Songs of the Free
I got the 12" single of "I Love a Man in a Uniform" first and then I was gone on that record. So great, so sexy, and the bass — with Sara Lee playing — was just chugging along. It was the loudest record I had in my collection as well. Back then, with 12 inches, they mastered them as loud as they could press the vinyl, so that when you played it in a nightclub, it pounded. And that record did that even on my shitty close n' play record player at home. I really wanted to see them when they came to Minneapolis, but I was too young. But if I got a gig working for this sound company, Southern Thunder, I could work and then watch the show. I had to move all this massive PA gear. And there was an incident where the big bass bin nearly toppled over me as I was trying to push it up the ramp. Luckily, this big guy came in and saved my ass as it was about to fall on me. If that hadn't happened, I wouldn't be sitting here today. But Gang of Four put on a fantastic show. I instantly fell in love with Sara Lee. It was the sexiest show I'd ever seen and could imagine. It was so burning, it crushed my little pea brain. Fortunately, the rest of me didn't get crushed. 
Bob Dylan, Blonde on Blonde
After the Replacements broke up, I moved to L.A. in the early '90s. I was living in Hollywood. The Bash & Pop record came out and I had started my next band, Perfect. I got to a point where I felt like I needed to catch up on Bob Dylan. I always respected Bob, but hadn't really listened to the records. I actually met him before I ever listened to him. I met Bob and talked to him when The Replacements were making All Shook Down at Ocean Way. He was really sweet to me. Anyway, I was talking to Peter Jesperson and he gave me the tip to check out Blonde on Blonde. I remember listening to it in my bedroom one night. I had to work at like five in the morning, because I had this telemarketing gig at the time. I listened to it and "Sad-Eyed Lady of the Lowlands" came on. I sat there going "holy shit, where have I been?" I listened to it probably five times in a row. Oh, this is what I've been missing. Then I got it and started really listening to Dylan. Blonde on Blonde just has so many great songs on it. I played it for my daughter just last week. We were talking about lyrics and I put on "Sad Eyed Lady of the Lowlands" and it knocked her out, too. It's a generational thing, I suppose. 
Geraldine Fibbers, Lost Somewhere Between the Earth
and My Home
Me and my buddy Gersh, Perfect's drummer, went to this showcase at Virgin Records in Hollywood, and this band comes out called the Geraldine Fibbers. The singer, Carla Bozulich, had been in this weird arty dance band called Ethyl Meatplow, and Geraldine Fibbers was her new thing. They played the first song off the record, "Lillybelle." Gersh and I are in broad daylight in the parking lot and we're standing there mesmerized by this song, and we realized at the end that we were both crying. It was so powerful. They were a scrappy, scrappy bunch of people playing alt-country with a really crazy spin. I became a huge fan at that moment of the band and that record. 
BONUS PICK:
Brandi Carlile, The Story
There's something so striking about Brandi Carlile's voice, and especially her delivery. First time I heard that record I was on a trip to Minneapolis around the holidays. The local radio station was playing in the car, and that song "The Story" came on and she's screaming that last verse. I remember going "Who is this?" I've been following her ever since. She's got a great catalog of songs that I listen on all my trips, when I'm traveling. It's like perfect boo-hoo material, when you're on the way out on the road or on the way home. 
RELATED ARTICLE: Replacements open the vault with "Pleased to Meet Me" reissue