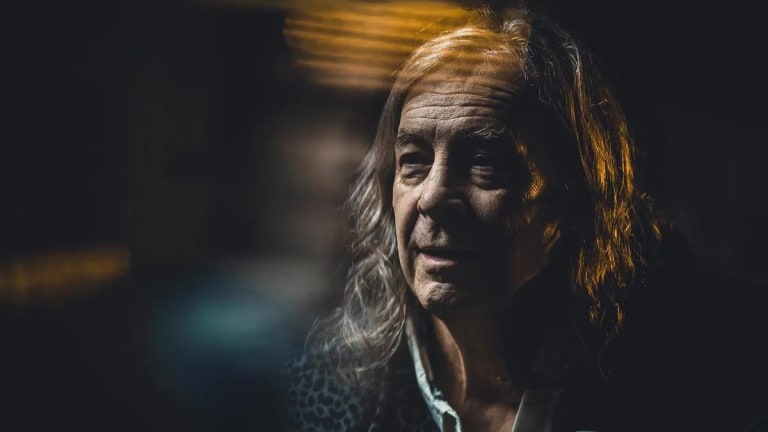 Albert Bouchard picks the 10 albums that changed his life
The founding Blue Öyster Cult drummer tells the stories behind the records that most influenced his creativity, from John Coltrane to Jimi Hendrix.
Get Blue Öyster Cult vinyl and Albert Bouchard vinyl — including a limited edition Ruby Red variant of Bouchard's Imaginos II — at Goldmine's store.
Drummer Albert Bouchard and his brother — bassist, Joe — were the solid rhythmic section that carried classic rock band Blue Öyster Cult to fame, and then in later years they both left the band separately for solo careers. Recently, Albert Bouchard has kept his creativity linked to the concept of Imiginos, a tale of alien conspiracy written by BÖC collaborator Sandy Pearlman, and a sequel to the 1988 BÖC album of the same name.
Albert Bouchard's latest outing is Imaginos II - Bombs Over Germany (minus zero and counting) — which continues the apocalyptic tale and takes it to new heights. Goldmine recently caught up with Bouchard to chat about the 10 albums that changed his life. Read the stories behind his picks below.
Benny Goodman, The Famous 1938 Carnegie Hall Jazz Concert
My mother had this historic 2-disc set. When I heard it I was fascinated by what Gene Krupa was doing. I had already wanted to be a drummer but the drumming on this recording gave me something to aspire to.
Joey Dee and the Starlighters, Hey, Let's Twist!
This was the first record I ever bought with my own money. I loved the sound of the live band and I thought the movie, which featured scenes from Italian-American New York City, was amazing. It was then that I realized (coming from a farm town in upstate New York, almost 400 miles away) that I wanted to live in NYC when I grew up (I still do).
The Ventures, Walk Don't Run
I heard the single one day after basketball practice when I was 12. At that moment I realized I wanted to be in a rock and roll combo, like the one on this recording. It would have been my first record that I bought, but my brother, Joe, bought it first. It took us a year to learn how to play it but that was our first goal. I eventually learned how to play every part, on every instrument, on every song, on this record. BTW, I nicked it from Joe and still have it to this day.
The Beach Boys, Surfin' Safari
I heard this at a party and was struck by how unique and cool their harmonies were. Before that I thought vocals were just something you had to have so people wouldn't fall asleep at your shows. Our band would go on to learn every song on this album.
Dave Brubeck Quartet, Time Out
I got into this album when I was in high school. Our band played "Take Five" but I loved all the other songs on the record, like "Blue Rondo à la Turk," too. I started to understand how odd time signatures had as much effect, if not more, on our perception of music as the melodies did.
The Blues Project, Projections
This was the album and band that launched the Soft White Underbelly. Don ("Buck Dharma" Roeser) and I had a band in college that morphed during our second year into a Blues Project tribute act. We played every song from this album and most of the songs on their first album, Blues Project Live at the Cafe Au Go Go. At year's end we decided to drop out of college and become professional musicians.
Jimi Hendrix Experience, Are You Experienced
When I heard this record I was astounded. I had never heard anything like it in my life. To this day I don't really understand its appeal. All I know is that it still sounds like the coolest thing ever. Bob Dylan filtered through Telstar.
John Coltrane, A Love Supreme
Here is another record that absolutely blew my mind. It sounds like there is no organization at all until you hear it again and you can hear how perfectly organized it is. I think a lot of musicians got thrown off by this, this idea of "free" improvisation. When it works, like on this recording, it is stunning. When it doesn't, its unlistenable.
The Beatles, Abby Road
I thought The Beatles were over. They had lost their mojo after Sgt. Pepper with their records getting more and more out there. This, their swan song, proved they could get it back. Every track is brilliant and flows together with lots of humor and heart. This record set a bar which I still try to reach.
The Mahavishnu Orchestra, The Inner Mounting Flame
This record inspired me in my songwriting to a great extent. I loved how they could get quite out there with their melodies and rhythms and still keep their audience engaged. I once asked Billy Cobham how he counted all those odd time signatures. He replied, "I don't count. I just keep the melody in my mind and I never get lost." That is advice I still heed to this day. Keep the melody in mind.