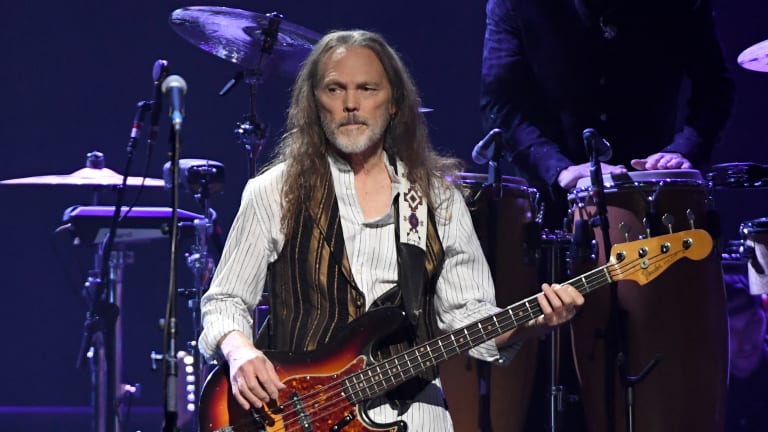 Eagles' Timothy B. Schmit shares 10 albums that changed his life
Bassist Timothy B. Schmit's influences were varied before moving on to rock music.
Check out the Goldmine shop for Eagles vinyl and all your music collecting needs!
One of the most prodigious and accomplished harmony singers in the entire popular music canon, Timothy B. Schmit began his recording career with the outfit The New Breed (above), only to quickly elevate his standing as a member of Poco, a band which helped establish the template for the sound we now refer to as Americana.
While he had an emphatic imprint on that band, his stature and stock ascended to unparalleled heights when he was encouraged to join the Eagles, the group which brought him and his colleagues superstardom and forever ingrained them in the mass consciousness. Schmit's high. Harmonies became one of the keynote qualities the band could count on, and his contribution to their catalog in the form of "I Can't Tell You Why" ensured his immortality.
Over the course of his career, Schmit's released the occasional solo album, but his latest, Day By Day is easily his best yet. As always, it's informed by his trademark high-pitched vocals and engaging songs which ring with instant accessibility. Not surprisingly then, Schmit's Top 10 reflects his absolute devotion to melody and musicality.
— Lee Zimmerman
Harry Belafonte, Belafonte At Carnegie Hall
I was 10 years old. I loved the singing, the Calypso rhythms, and the simple, but moving instrumentation.
The Kingston Trio, ...from the Hungry i
Again, I was very young … and I loved the energy these guys had. I learned a lot about harmony listening to them. Folk music was becoming very popular at that time.
Louis Prima and Keely Smith, The Wildest Show at Tahoe
Besides being a young folkie wanna-be, I couldn't get enough of this music. This duo, along with their high-energy band, was thrilling. If you haven't heard this…do.
The Beach Boys, Surfin' USA
When this came out, my folk music friends and I decided it was time to get a drummer and go electric. That decision was largely based on albums like this.
James Brown, Live At The Apollo Theater
I had a girlfriend who turned me on to James Brown. We went to a show to see him, and it was enlightening, to say the least. Go figure: surf & soul.

The Beatles, Meet the Beatles
What can I say? Pure energy, good songs, great personalities; young musical rebels in suits & ties. I was one of the millions of people who saw them on the Ed Sullivan Show. They didn't disappoint.
The Beatles, Sgt. Pepper's Lonely Hearts Club Band
To use some of the lingo from back then: mind blowing, trippy, revolutionary. This album was exactly what I, and everyone else, needed.
Crosby, Stills, & Nash, Crosby, Stills, & Nash
Harmony, harmony, beautiful songs, and harmony!
Steely Dan, Gaucho
Unbelievable songs: sophisticated, clever, enigmatic.
Cara Dillon, Hill Of Thieves
Cara grew up singing with her sisters in the north of Ireland. A promo guy once gave me a stack of albums which I didn't touch for six months or so. I finally put this in my car and couldn't stop listening. An Irish Alison Krauss.