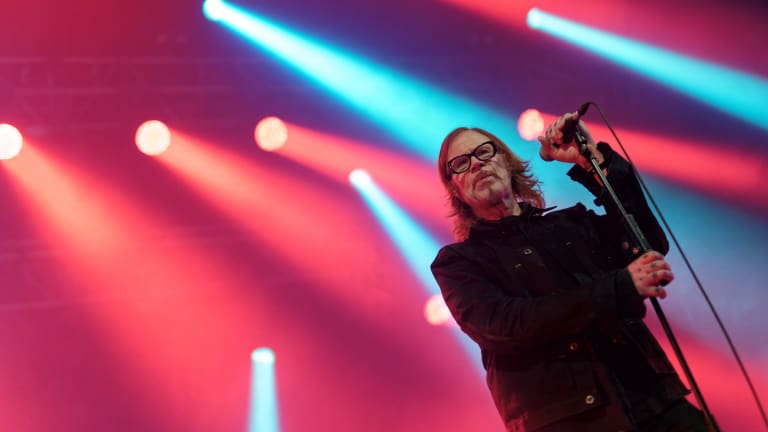 Mark Lanegan — the 10 albums that changed his life
The music world lost a great talent when vocalist/songwriter Mark Lanegan passed away on February 22, 2022. A few months ago, Lanegan gave Goldmine the 10 albums that changed his life.
No one can deny Mark Lanegan's talent. For years his remarkably poignant voice led the rock band Screaming Trees to great heights through seven LPs and five EPs, from 1986-1996. The band's music was a wonderful blend of their influences of punk, psych, garage and classic rock. Later, Lanegan lent his artistry to other groups and collaborations — Queens of the Stone Age and The Gutter Twins among them — and released several impactful solo albums.
His last project was with former Icarus Line member Joe Cardamone called Dark Mark vs. Skeleton Joe (shown below). An album of the same name was released in October 2021.
The music world lost a great talent when Lanegan passed away at home in Ireland on February 22, 2022. 
A few months ago, Mark Lanegan had given Goldmine the 10 Albums that changed his life, published below. What was a descriptive list of Lanegan's favorite albums has now become a celebration of his life and the music that had nurtured him into a great artist.
— Patrick Prince 
Sex Pistols, Never Mind The Bollocks
I was in a squalid, cramped comic book store at age 13 or 14,
Looking through the fairly small record section I saw a second-hand 12-inch single of "Anarchy In The UK" and asked the hippy who owned the place if he would put it on and it immediately changed my life forever. Totally exotic and raw, I'd never heard anything like it before. I lived in a small rural college town where the only radio station played country music and nothing else. My interest in comic books ended at that moment and I brought all of the ones I owned into the shop the next day and traded them in for credit on records. I was completely fascinated with Never Mind the Bollocks as well all of the early punk and pre-punk records, and it was years before I ever met anyone at all who had even heard it. But it sparked my interest in music and It also became a useful weapon against my sister's previously dominating nonstop Fleetwood Mac household soundtrack.
The Stooges, Raw Power
I saw a photo of Iggy Pop in Creem magazine and found a copy of Raw Power in the same comic book shop that had all of these great records that nobody ever looked at. It became an oasis for me in a desert of shit. The Ramones, New York Dolls, The Stranglers and The Damned were all records I found there along with Raw Power, Funhouse, and the first Stooges record. When I joined my first band, Screaming Trees, and started playing shows, half of our set were Stooges tunes.
The Gun Club, Fire of Love
I started taking the Greyhound bus 100 miles to Seattle to get tattooed and to prowl the record stores. I bought records just by the name of the band or cover art and that's what drew me to The Gun Club. It was wintertime and I was living in my father's storage unit with power outlets for a lamp, space heater and turntable. Not the worst place I've lived, but far from the best either. When I put on Fire of Love, a minute into hearing "Sex Beat" for the first time ever, I knew I was going to be a singer, too —something that had never crossed my mind before. The Gun Club felt as though their music was speaking directly to me and Jeffrey Lee Pierce's singing and lyrics made me feel that anything was possible. At a time when I was living hard, directionless and down, The Gun Club instantly validated my existence and laid out the map I was going to follow for the rest of my life, the most powerful musical experience I've ever had.
Kraftwerk, Radio-Activity
My father was a school teacher and when a school he worked at closed down he ended up with a box with 10 or so dust-covered records that nobody claimed. And knowing what a music freak I was, he gave them to me. John Lee Hooker, Lightnin' Hopkins and Bob Dylan were in box and after I had listened to and loved all of them, I put on Autobahn by Kraftwerk and it was another pivotal record in my musical experience, another band making music like nothing I'd ever heard before. When I heard Radio-Activity, it took a step into a more minimalistic direction, hooking me on its strangeness and teaching me what was possible in music.
Bob Dylan, Blood On The Tracks
Enough said.
Van Morrison, Astral Weeks
Ditto
David Bowie, Blackstar
I could have named any number of his records. Ziggy Stardust, The Man Who Sold the World, Alladin Sane, Heroes, Station To Station, Space Oddity, Low, Scary Monsters and Hunky Dory are all amazing, obviously, and I have loved them all. I got Blackstar the day it came out and was hooked right away; with Bowie you never knew what you were going to get, but you always knew it would be great. Blackstar was dark and mysterious in a way I'd never heard him before, and I listened to nothing but (that alum) for the entire week after it came out. And when he passed at the end of that week, and I realized the enormity of the artistic statement he made with it, my mind was f**ked. What a legend!
Roxy Music, Country Life
Bryan Ferry is the sh*t. Suave as f**k, and what a voice. There have been full days where I have listened to "The Thrill of It All" on repeat for their entirety. No lie.
John Cale, Paris 1919
A straight-up masterpiece by one of the world's greatest artists. Cale is a one-of-a-kind badass, an honest to god genius.
Joy Division, Closer
One wintertime i put a cassette of this record into my car stereo and it got stuck in it. At times I was so down I would drive all night just to hear it, the only thing that seemed to make sense to me. It got me through so many rough times I honestly don't know what I would have done without it. Healing music.