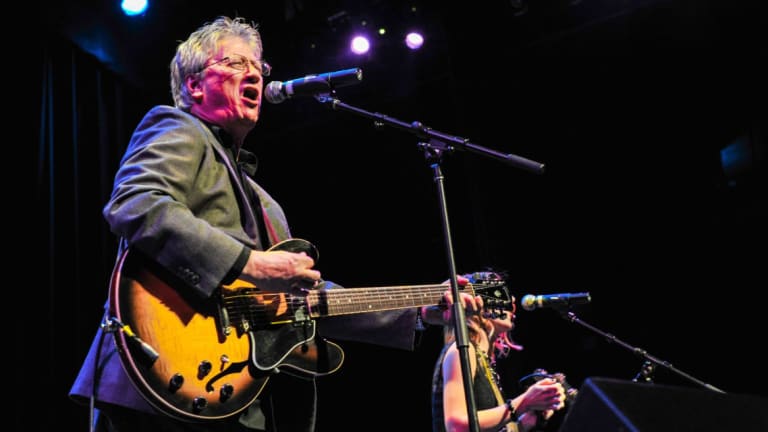 Richie Furay picks the albums and music that changed his life
The former Buffalo Springfield/Poco guitarist shares the music that made him the singer-songwriter he is today.
If any artist could be said to have influenced the course of modern Americana, then suffice it to say that Richie Furay would be at the top of that list. His role in founding what arguably became America's finest band of all time, the Buffalo Springfield, and then, following its breakup, the group that would establish an enduring template for country rock, the outfit humbly known as Poco, continues to ensure his status as one of music's most influential icons.
It's appropriate, then, that his new album, In the Country, finds him going back and revisiting a dozen classic country songs and putting his indelible mark on each. Some could be considered standards — "Take Me Home, Country Roads" and "Walking In Memphis," among them — while others, like his list of Top 10 albums, represent songs that left an indelible imprint on both his life and his career. Indeed, even as he stressed that his favorite LPs were listed in no particular order, in some cases, he felt compelled to simply list the artist alone. On the other hand, there were any number of individuals that couldn't be squeezed into his Top 10, but which he still deemed important enough to mention regardless — "Elvis, Buck Owens, Gene Vincent, Eddie Cochran, Carl Perkins, or The Drifters, Chuck Jackson, Johnny Maestro, Conway Twitty, Ray Charles…"and so many more…"
For a man whose music has left a mark on so many, he is indeed gracious enough to give credit when it's due.
— Lee Zimmerman 

Dion & The Belmonts, Presenting Dion and The Belmonts
Doo Wop at its best. I sang this kind of music when I was in Jr. High school – lead singer with some upper classmen. Was so happy to meet Dion and go to Israel with him in the '80s.

Ricky Nelson, Ricky
Watching Ozzie and Harriet as a kid was a highlight of my week. When I heard him sing "Be Bop Baby" at the High School dance – that was it – I wanted to do it, too. 
  
The Byrds, Mr. Tambourine Man
I was working at Pratt and Whitney in E. Hartford when Gram Parsons brought this record up from NYC for me to listen to. That is what prompted me to get in touch with Stephen Stills, an old bandmate, and from there we started Buffalo Springfield.

The Kingston Trio
(Any and all of their records, especially after John Stewart joined the band)
This was college days music – I can remember serenading the girls' dormitories with my two buddies from Otterbein with their songs. I won the College Freshman talent contest singing "They Call the Wind Mariah."


Peter Paul and Mary, In Wind
Along with the Kingston Trio, this was my music during my year and a half of college. To me they brought new light to Dylan songs, made them more accessible to my ear.
The Everly Brothers, The Very Best of the Everly Brothers;
Family, sibling harmonies like you've never heard.
George Jones, Hits By George
A soulful, country voice like no other. The first time I heard a record of his I had to go see him live. My wife Nancy and I ventured out to the Anaheim Convention Center (1969), we had great seats right up front on the floor. Once we arrived, it was pretty obvious, the balcony was a more appropriate place for us – we didn't look like anyone else in the place and everyone was staring.

Hank Williams (anything)
Raw, honest, real — from the heart — you knew his songs were lived by him.
Buddy Holly & Ritchie Valens (anything)
Influenced so many, raw talent – pioneers of a genre of music that lives on today.
Delaney & Bonnie, The Original Delaney & Bonnie
I just had to put this one on the list. Are we having any fun yet – this entourage knew how to 'bring it' – great influence on me as I was pioneering my own music.