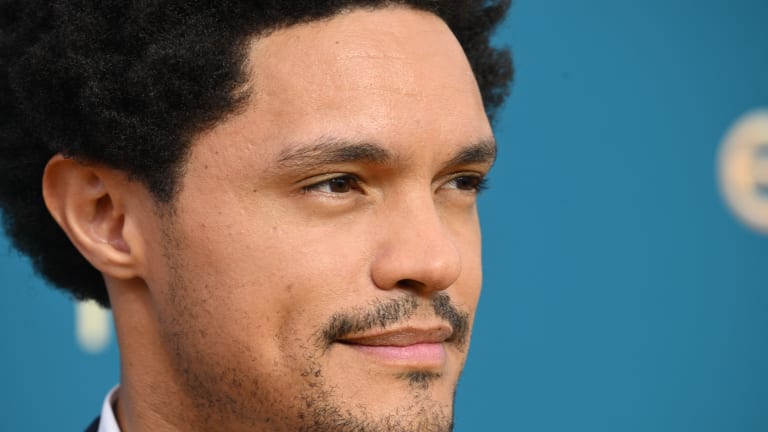 As Trevor Noah exits Daily Show: his music tastes and life as a teenaged CD bootlegger in South Africa
How music got the Daily Show comedian through his teenage years in South Africa (which included selling pirated CDs).
The Goldmine store is a music collector's one-stop shopping of vinyl, CDs, box sets, collectibles and Goldmine-only exclusives. Click HERE to visit! 
By Larry Jaffee
After seven years as host of The Daily Show, Trevor Noah's last segment is to be televised on Dec. 8, 2022. The South African-born comedian appears to be serious about leaving New York, because he's just put on the market for $12.95 million his two-floor penthouse apartment in midtown Manhattan, four blocks from the where the Comedy Central show is recorded.
In 2011, Noah moved to the U.S. and three years later joined The Daily Show as a contributor. In 2015, Jon Stewart selected Noah to succeed him as host after a 17-year run.
By this point, you're probably wondering why is this article appearing in Goldmine? Did the 2022 host of the Grammys Awards agree to talk to us about his record collection?
After working from his luxury apartment for two years because of the pandemic, you can imagine what kind off massive, top-of-line sound system, and racks of spanking new and ultra rare vinyl he must have piping through all 3,596-square-feet of his not-so humble abode, which he bought for $10 million in 2017. The heated plunge pool is equipped with built-in speakers.
One can imagine Noah spinning (or streaming) vintage comedy albums by the likes of Richard Pryor, Lenny Bruce, Dick Gregory, and George Carlin, soaking up the Mount Rushmore of yesteryear's comical social commentary. Maybe they sit on the shelf with his own vinyl of Afraid of The Dark, a soundtrack to Noah's 2017 Netflix special.
Noah's tweet leading up to his Grammys hosting gig last February shared what music he listens to going about his daily tasks, including Justin Bieber's "Peaches"; Bruno Mars's duo Silk Sonic with rapper Anderson .Paaks "Leave the Door Open"; Lil Nas X's "Montero"; and Brandi Carlile's "Right on Time." Sure, they all happened to be nominees. For this past Halloween, Noah dressed up as Gen Z favorite The Weekend. But then again, what would you expect from a millennial born in 1984? On The Daily Show, he once talked about being attached to a Boyz II Men cassette that a friend gave him.
A 2016 interview he did with Canada's CBC gave better insight to the music that means something to him, especially the sounds he grew up with in the Soweto Township of Johannesburg. These included native talent Brenda Fassie, Saitana, and Sonny Okosu,  but also Lionel Richie's "All Night Long," which his mom loved. "Before my mom became a born-again Christian she listened to a lot of pop music and Lionel Richie was the soundtrack of my home. Lionel Richie was the voice that I woke up to in the morning and the voice that I went to bed to at night."
Besides the sentimental pick, Noah called "Triumph" by Wu-Tang Clan his teenage anthem. "I grew up as a nerd. I loved playing chess, I was not good at sports. But the one thing I knew how to do was rap and the song that got me into hip-hop music."
Unfortunately, the exclusive Goldmine interview wasn't to be, despite our noblest of intentions. It wasn't for lack of trying, considering that in the weeks leading up to the request Noah had Barak Obama as a guest on The Daily Show and he appeared on Jimmy Fallon's Tonight Show. Noah's publicist emailed me back:
"Larry - Thank you for your interest in speaking with Trevor Noah. Unfortunately, he is unavailable to participate. Trevor receives so many interesting request opportunities, however, with his limited schedule, it is impossible to accommodate all of them."
At least we're in good company, Variety couldn't reach him either in late September when he made the announcement about exiting the show, which he joined at 31 years old in 2015. I had requested written answers to the following questions:
1) How important is music to you, what are you listening to these days and have your tastes changed over the years?
2) How do you mostly consume music (streaming or vinyl?), and do you have a massive hi-fi system (component details, if possible)?
3) In Born a Crime, there's a great section about you being essentially a teenaged CD bootlegger. What did you learn from that experience?
I was most interested in his answer to question No. 3. Noah's 2016 best-selling memoir, Born a Crime: Stories from a South African Childhood, is simply one of the best books I've ever read because of his stellar storytelling skills. Not surprisingly, the book is in development to be a major motion picture.
In Chapter 14, Trevor tells his mom that he needs a computer for school. Total lie, a theme that runs through Born A Crime. The teenager's ulterior motive: start a bootleg CD business.
"My life of crime started off small, selling pirated CDs on the corner. That in itself was a crime, and today I feel like I owe all these artists for stealing their music, but by hood standards didn't even qualify as illegal. At the time, it never occurred to any of us that we were doing anything wrong — if copying CDs is wrong, why would they make CD writers?"
The story is needed to be put in some historical context. Noah, who was old enough to remember apartheid, was 10 years old when Nelson Mandela became the first black head of state of South Africa. Napster emerged worldwide when he was 15. A friend gave him a CD writer to burn blank discs and a contact to buy them in bulk, allowing Noah to control production, sales (with a network of street teams), and distribution. His discs sold for 30 rand (about $3), compared with 150 rand for a legitimate CD bought at retail.
"Thanks to the Internet, I could get anyone anything. I never judged anyone's taste in music. You want the new Nirvana, I got you the new Nirvana. You wanted the new DMX, I got you the new DMX. Local South African music was big, but black American music was what people were desperate for, hip-hop and R&B."
After graduating from high school with a booming CD business, the budding capitalist then branched out to deejaying parties, at the urging of a friend. At a party, a noise complaint prompted the police wearing riot gear and armed with machine guns pointed at Noah, ordering him to turn off the music. PC's Windows 95 took extremely long to shut down. After a few minutes, the cop impatiently sprayed bullets into the monitor, yet the music continued to play. Noah figured he'd be next, so he pulled the plug.
"I lost the hard drive. My music library was gone … it had taken me years to amass the music collection … The DJ-ing [and CD bootleg] business was over."
Noah continued to get into trouble, including getting thrown into prison for stealing a car. During the first decade of the new century, his foray into standup comedy became a sensation throughout South Africa.
In a Daily Show "Between the Scenes" segment, Noah talks about meeting the biggest DVD bootlegger in South Africa and feeling violated, but didn't own up to his past. Returning to standup comedy, he will be on the road for much of 2023 for the "Off the Record" tour.