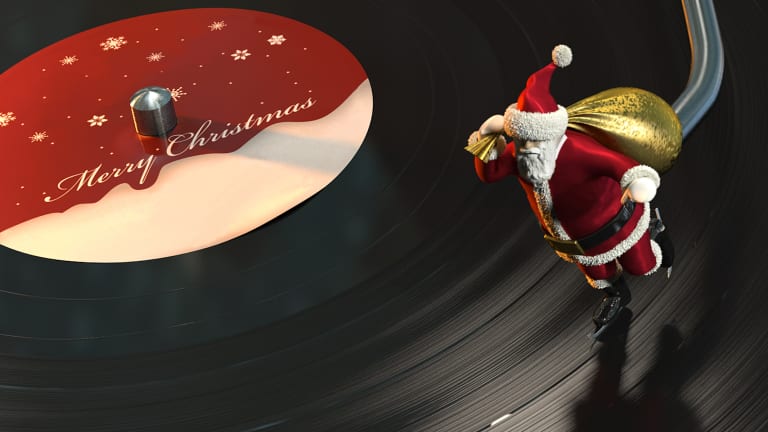 Best of the Holiday Music releases for 2022
Here is Goldmine's Ho-Ho-Ho-Holiday Music roundup!
'Tis the season to get Christmas vinyl — at the Goldmine shop!
By Gillian G. Gaar
As always, there's a flurry of holiday releases during this festive seasons, with a number of old favorites returning in newly refurbished form. Let's get started:
What would Christmas be without an annual viewing of A Charlie Brown Christmas, featuring a truly iconic score by the Vince Guaraldi Trio? The soundtrack's been reissued numerous times in different formats over the years, but now Craft Recordings presents what's truly a "Super Deluxe Edition," with four CDs and a Blu-ray audio disc. On the CDs, you'll find both the original 1965 stereo mix, and a new 2022 stereo mix, along with 50 previously unreleased outtakes from the five recording sessions — a treasure trove of material for Guaraldi/Peanuts fans, offering the most extensive look at the making of this classic album to date. The Blu-ray has hi-res audio of the 2022 stereo mix, as well as a Dolby Atmos mix. There's also CD and two LP editions (the 2022 stereo mix and thirteen bonus tracks), and a single LP edition of the 1965 mix in a special gold foil jacket.
Christmas With The Smithereens (Sunset Blvd. Records) returns in a limited edition green vinyl release. It's a great eclectic collection that mixes in modern classics like "Run Rudolf Run" and a "Rockin' Around the Christmas Tree" that really rocks with more off-beat fare, like a cover of the Ramones' "Merry Christmas (I Don't Want to Fight Tonight)," The Beatles' "Christmas Time is Here Again" (from their 1967 Christmas fan club record), and, most unexpectedly, "Christmas" from The Who's Tommy. There's also a few spirited originals ("Waking Up on Christmas Morning") and liner notes from drummer Dennis Diken.
Louis Armstrong released more than a few holiday tunes during his storied career, and Louis Wishes You a Cool Yule (Verve Records/UMe) finally compiles the songs, drawn from his 1950s singles, on his first-ever Christmas album. Highlights include an exceptionally playful "Baby It's Cold Outside" with Ella Fitzgerald (they also team up on "I've Got My Love to Keep Me Warm"), the fun of " 'Zat You Santa Claus?" and as an extra special treat; Armstrong's recitation of "A Visit From St. Nicholas" (aka "The Night Before Christmas"), set to a newly recorded instrumental track. In addition to CD and digital versions, there are two vinyl versions, on red vinyl, and a limited edition picture disc.
A Holly Dolly Christmas (Dolly Parton that is) was a #1 country albums smash when first released in 2020, and Rhino's new "Ultimate Deluxe Edition" makes a good thing even better. She's joined by a number of friends, harmonizing with Willie Nelson on "Pretty Paper" and Miley Cyrus on "Christmas Is," and romping with Jimmy Fallon on "All I Want For Christmas is You." Bonus tracks include the lively "A Smoky Mountain Christmas" (title song from the film of the same name), and a fun version of "Baby, It's Cold Outside" featuring Parton sparring with Rod Stewart. In addition to CD and digital versions, there's a two LP white vinyl version as well.
Real Gone Music has their usual batch of holiday releases. First up is an expanded reissue of BJ Thomas' 1997 album Christmas is Coming Home, which conjures up a very mellow mood. There's a smattering of traditional fare ("Silent Night"), but most of the album features modern holiday tunes, and a number of duets, such as "On this Holy Holy Night" with Jonathan Pierce and "Let There Be Peace on Earth" with Tabitha Fair. This new edition features six additional tracks, five of them previously unreleased. Glee breakout star Lea Michele's Christmas in the City, first released in 2019, returns in a limited edition white vinyl pressing. Michele's crystal clear voice is well suited for upbeat fare like "It's the Most Wonderful time of the Year" and "Christmas in New York," and she brings along a few special guests as well, sharing vocals with Cynthia Erivo on "Angels We Have Heard On High." And Steve Lawrence and Eydie Gorme's That Holiday Feeling! makes a most welcome return. It's a sprightly collection that would provide the perfect background music for a retro holiday cocktail party, focusing on modern fare: "White Christmas," "Santa Claus is Comin' to Town," "Let It Snow! Let It Snow! Let It Snow!" Best of all, it's newly remastered from the original tapes, and features eight bonus tracks (two previously unreleased), including Lawrence's version of "White Christmas" (Gorme's is on the main album), and Gorme's "It Came Upon a Midnight Clear."
A Neil Diamond Christmas (Capitol/UMe) is a new collection that draws on all four of Diamond's Christmas albums, with tracks personally selected by the man himself. It's a solid mix of traditional carols ("Hard the Herald Angels Sing," "O Come All Ye Faithful") and modern classics ("Sleigh Ride," "Winter Wonderland"), enlivened by some less expected choices, including "Morning Has Broken," and "Happy Xmas (War Is Over)." A good, diverse collection, and Diamond has the voice to carry it all off. Available in one and two CD editions, as well as two LP 180-gram vinyl sets, on either black or gold opaque vinyl.
Holidays Rule (Craft Recordings), initially released in 2012, is finally getting its first-ever vinyl release (on red vinyl, and limited edition clear vinyl with red and green splatters). It's an eclectic collection that sees Paul McCartney delivering a gentle, restrained version of "The Christmas Song," while the Shins make a jingle-fest of McCartney's "Wonderful Christmastime." Elsewhere, you'll find the Heartless Bastards delivering a countrified "Blue Christmas," Y La Bamba transforming "Mr. Sandman" into "Señor Santa (Mister Santa)," and the Fruit Bats giving "We Need a Little Christmas" a laidback, lo-fi spin.
A Nelson Family Christmas (UMe) is compiled from the two holiday albums brothers Gunnar and Matthew released on their own Stone Canyon Records label. It's a highly enjoyable release with some inventive arrangements, like the rockabilly swing they bring to "O Come All Ye Faithful," and their harmonies sparkle on "Joy to the World." Carnie and Wendy Wilson join them on the original song "This Christmas." And making this true a family affair, the set also includes father Ricky Nelson's versions of "Jingle Bells" and "The Christmas Song," as well as grandad Ozzie Nelson's instrumental version of "Jingle Bells."
Loreena McKennitt's Under A Winter's Moon: A Concert of Carols and Tales (Quinlan Road) is a wonderful double album of delights. The album is a document of a series of concerts given by McKennitt in December 2021 (and being restaged again in Ontario this December), mixing song and recitation; "God Rest Ye Merry Gentlemen" and "Good King Wenceslas" interspersed between spoken word passages of Dylan Thomas' A Child's Christmas in Wales, for example. A beautifully atmospheric work.
"Welcome to my California Christmas," is the opening line in "California Christmas," the song that kicks off Switchfoot's this is our Christmas album. The San Diego-based alt-rockers serve up traditional carols ("O Little Town of Bethlehem," "I Heard the Bells on Christmas Day") as well as five originals, ranging from the melancholy of "Midlife Christmas" to the raucous "Scrappy Little Christmas Tree." They're also doing a tour to support the album.
Jane Monheit's The Merriest (Club 44 Records) offers a lovely jazz-infused take on holiday music, giving a freshness to such standards as "Winter Wonderland" and "It's the Most Wonderful Time of the Year." John Pizzarelli joins her on "That Holiday Feeling," and "What Are You Doing New Year's Eve?" is a perfect pairing for her dulcet tones.
Scott Weiland's The Most Wonderful Time of the Year, originally released in 2011, makes its vinyl debut in expanded format, with four bonus tracks (the first posthumous music released from the Weiland vault). If you only know him from his Stone Temple Pilots and Velvet Revolver shenanigans, you might be surprised at what a diverse singer he can be, peppy and upbeat on the title track, warm and soothing on "Have Yourself a Merry Little Christmas," giving a reggae twist to "O Holy Night." Bonus tracks include alternate versions and a poignant, previously unreleased version of "Happy Xmas (War Is Over)." There are two limited edition vinyl versions, on red or green vinyl; the album's also available through digital and streaming services.
Dancing violinist Lindsey Stirling brings her talents to the holiday realm on Snow Waltz (Concord Records). Though a few vocalists appear (Bonnie McKee on "Crazy for Christmas," Frawley on "Christmas Time With You"), this is largely an instrumental album, featuring inventive arrangements of old favorites ("Sleigh Ride," "Deck the Halls"), and the kind of winter tunes that are perfect to listen to as you sit in front of a roaring fire ("Ice Storm," the title track).
Now here's something you never expected to see — members of the Philadelphia Eagles football team (including Jason Kelce, Lane Johnson, and Jordan Mailata) turning up on a holiday record. But that's just what's happened on A Philly Special Christmas (Vera Y Records), with the proceeds earmarked for charity (and cover art that parodies A Charlie Brown Christmas). The guys sure sound like they're having fun, putting on their best Elvis crooning for "Blue Christmas," "The Night Before Christmas" delivered by Eagles radio announcer Merrill Reese, and "Santa Claus is Comin' to Town" becoming a right old rave up. They get plenty of musical assistance from members of local bands like the Hooters, the Sun Raw Arkestra, Dr. Dog, the Spinto Band, among others. Set for release on December 23, you can preorder here.
Whatever music you choose to play in your household, Happy Holidays everyone!