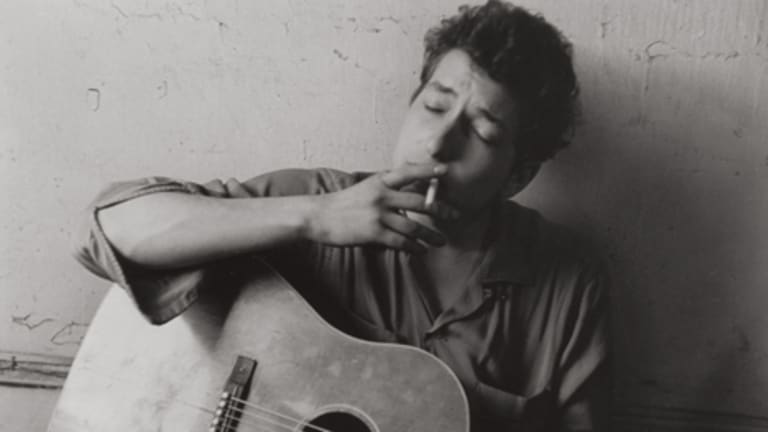 A guide to Bob Dylan's shape-shifting sound: folk, rock, religious and beyond
Always one to eschew predictability, Bob Dylan embarked on a tangled trajectory that veered from folk and religion to rock and weirdness in his long recording career. Goldmine walks you through each era.
By Lee Zimmerman
Some artists spend their entire careers as chameleons. Others adapt strictly due to circumstance. In the case of Bob Dylan it's been a bit of both. An artist of his time, in a very real sense he's made those times his own, remaining one step ahead of the musical curve and never allowing the fickle winds of popular music to dictate his course. Throughout his constantly veering trajectory, Dylan's often caught his followers by surprise — perhaps shock is the more appropriate word — testing the limits of their preconceptions and then shattering them entirely. In honor of Bob Dylan's long career, here's a look at a dozen of his more memorable roles.
The Early Rock 'n' Roller
While most of the world caught its first glimpse of Dylan as a shaggy-haired troubadour on the streets of Greenwich Village, his first tentative steps toward finding his musical muse occurred before he left his hometown of Hibbing, Minn. Dylan was enamored by a variety of music — country, blues and the first hints of rock 'n' roll as broadcast over the radio.
His initial attempts at making music were expressed in various local bands while he was still in high school, among them the cover bands Shadow Blasters and the Golden Chords, cover bands that recycled the popular. In one of its first public performances at a high school talent show the Golden Chords' rendition of "Rock 'n' Roll Is Here to Stay" became so loud, the school principal turned off the group's microphones. It wouldn't be the last time that a Dylan performance would stir his audience's umbrage.
It seems clear that by the time Dylan enrolled in the University of Minnesota in the fall of 1959, his future course was set. In his high school yearbook, he expressed his desire to follow in the footsteps of Little Richard. Elvis had also become his idol. And in the first of many transformations to come, Robert Allen Zimmerman took on his first alias — not as Bob Dylan, but as Elston Gunn, backing teen idol Bobby Vee on piano in a live performance.
The Nascent Folkie
Once in college, Dylan's course appeared to be set. Taking the name Bob Dylan for the first time — appropriating the first name of the Welsh poet Dylan Thomas, whose poetry he admired — he found himself drawn to the folk scene of the late '50s and early '60s and soon began performing at local coffeehouses with a repertoire of traditional tunes.
His college career came to an abrupt halt at the end of his freshman year, when he decided to move to New York. One of his first stops was Greystone Park Psychiatric Hospital, where his new hero, Woody Guthrie, lay stricken with Huntington's disease. Dylan also befriended Guthrie's protege, Ramblin' Jack Elliott, and Dylan soon began playing the local clubs and gaining substantial notoriety.
Dylan was now a full-fledged folkie, doffed in a fisherman's cap, playing mainly cover songs and accompanying himself on guitar and harmonica. In October 1961, John Hammond signed Dylan to Columbia Records after finding him playing harmonica on a Carolyn Hester album that Hammond produced. Consisting mainly of cover songs, Dylan's eponymous debut sold a meager 5,000 copies, prompting several Columbia executives to suggest terminating Dylan's contract.
Meanwhile, the restless Dylan moved on with other projects, showing the first hints of his chameleon-like persona with all-but-anonymous guest appearances on albums featuring Victoria Spivey and Big Joe Williams; a recording for Broadside Magazine under the pseudonym Blind Boy Grunt; a 1964 anthology disc for Elektra Records titled "The Blues Project" under the guise of Bob Landy; and a performance on a Ramblin' Jack self-titled album, on which Dylan played harmonica.
By the time Dylan's sophomore album, "The Freewheelin' Bob Dylan," was released in May 1963, Dylan's skills and reputation had advanced by leaps and bounds. He had acquired regard as a protest singer, a title he soon came to disdain. Most of the songs on "The Freewheelin' Bob Dylan" were original compositions, and several of those songs effectively sealed Dylan's reputation as an important emerging songwriter. Chief among this new material was his landmark anthem, "Blowin' in the Wind," a song that became his initial introduction to a wider audience via a recording by Peter, Paul and Mary. "Blowin' In The Wind" was readily adapted as the theme song for the fledgling student movement that formed the vanguard of the new youth culture as the decade wore on.
Dylan showed his skill at shifting from apocalyptic narratives like "A Hard Rain's-A-Gonna Fall," his comment on the growing nuclear tensions of the Cold War, to the cynical commentary of his talking blues, with his unorthodox lyrics and surreal imagery providing a common thread.

Meanwhile, Dylan's activism also was increasing. He and Joan Baez became folk's first couple, and their commitment to the Civil Rights movement and allegiance to the growing anti-war protests were clearly established. By the time 1963 drew to a close, Dylan was beginning to feel constrained by the responsibilities heaped upon him by those who imagined him as some sort of musical messiah. He began traveling in pop circles. Embraced by The Beatles and other members of the British rock elite, he began adopting a hipper guise — a wild tangle of hair, shades, Beatle boots and a polka-dotted shirt. One media observer wrote that Dylan had "hair that would set the teeth of a comb on edge. A loud shirt that would dim the neon lights of Leicester Square. He looks like an undernourished cockatoo." He also became more sarcastic with reporters. Asked how he would describe himself, he famously replied, "A song and dance man."
A New Rock Icon
While that was an obvious exaggeration meant to deflate the cult of personality that had sprung up around him, it was also obvious that Dylan was ready to go more mainstream.
Songs like "Positively 4th Street," "Just Like a Woman," "I Want You" and "Like a Rolling Stone" attracted increasing interest — and ample airplay — from the rock community. He was attracting notice from the hipper artists of the day, like The Byrds, Manfred Mann, The Turtles, Sonny and Cher and The Association, all of whom helped make his songs more palatable to the masses. Their cover versions helped cement Dylan's reputation as a songwriter and a fertile source of material, a distinction he's held for his entire career.
In 1965, at the Newport Folk Festival, Dylan made his new intentions known. After performing his acoustic set, then returned with an electric band in tow. The reaction was instantaneous; facing a mixture of cheers and jeers, he abandoned the stage after only three songs. The scene would be repeated at subsequent shows that year, such the Aug. 28 outing when he was heckled at a Forest Hills concert.
The most stunning turn of events occurred during a subsequent U.K. tour in May 1966, when, toward the end of his performance at the Free Trade Hall in Manchester, a disgruntled member of the audience shouted: "Judas!"
That prompted Dylan to respond, "I don't believe you ... You're a liar!" He then reportedly turned to his band and instructed, "Play it f**king loud!"
Just as Dylan's criticism from the folk community continued unabated, the critical kudos accorded his new electric recordings "Highway 61 Revisited" and "Blonde On Blonde" established him as one of the new kingpins in rock and roll's higher order. No sooner had Dylan re-established his harder-rock credentials when fate conspired to intercede. On July 29, 1966, Dylan crashed his 500cc Triumph Tiger 100 motorcycle on a road near his home in Woodstock, N.Y. Initial reports said he was near death, that he had broken several vertebrae, and at best, he could be paralyzed. However others saw a hint of conspiracy, sensing that the accident was merely an excuse to abandon the fame that had followed him for the better part of the past five years and retreat to the security of his family and his serene environs in upstate New York.
"I had been in a motorcycle accident, and I'd been hurt, but I recovered," Dylan later recalled. "Truth was that I wanted to get out of the rat race."
The Country Gentleman
The break from Dylan's nonstop tour schedule allowed him to indulge in projects he had postponed, including editing the footage for his film "Eat This Document," which he intended as a follow-up to his popular cult movie shot on that infamous tour of England, "Don't Look Back."
He also reconvened with his former touring outfit, The Hawks (now renamed The Band) for the group's informal sessions nearby at Big Pink. More than 100 songs were recorded in the band's basement, many of which were used as demos and distributed to other artists as cover prospects.
The informal setting and The Band's penchant for Americana weren't lost on Dylan. In October 1967, Dylan returned to Nashville, the site of the recording of "Blonde On Blonde," to record one of the most obtuse albums of his career, "John Wesley Harding." With themes derived from Biblical verses and myths of the American West, it became yet another Dylan classic, albeit one that didn't really resemble anything that came before. However, his next album surprised even those who had come to appreciate the bard's unexpected twists and turns. "Nashville Skyline" found Dylan venturing unabashedly into the mainstream of country music, with a husky croon and backing by Nashville's prime session musicians.
At a time when rock was still taking its first tentative steps into the nation's heartland, Dylan sang an unlikely duet with Johnny Cash on a remake of his classic folk ballad "Girl from the North Country," and he went on to establish himself on mainstream radio with the release of "Lay Lady Lay."
In May 1969, Dylan appeared on the first episode of Johnny Cash's new television show where Dylan performed "I Threw It All Away" and "Living the Blues," and they reprised their duet of "Girl from the North Country."
The Comeback Kid, Part One
Over the next couple of years, Dylan continued to confound his fans. He had become something of an enigma, appearing at a memorial concert for his hero, Woody Guthrie, and then later topping the bill at the Isle of Wight festival, dressed all in white. Despite rumors aplenty, he turned down an appearance at Woodstock, an event that would have emphatically signaled his return. It's no surprise, then, that Dylan's unexpected appearance at George Harrison's Concert for Bangladesh was greeted with the kind of awe and wonderment that usually accompanies a religious leader.
With the dawn of the '70s, there was no doubt Dylan was back. Aside from a widely derided covers album, the unfortunate "Self Portrait" and a hastily cobbled -together collection of outtakes, simply titled "Dylan," he burst forth with a string of albums that combined elements of the various personas he had nurtured early on. The songs "Watching the River Flow" and "When I Paint My Masterpiece," added on to his "Greatest Hits Volume Two," demonstrated that his ability to craft engaging narratives remained intact. "George Jackson" —written to mourn the killing of a member of the Black Panthers — and the later "Hurricane" — written in support of the imprisoned boxing champion Ruben "Hurricane" Carter— returned him to the realms of protest. Dylan's song "Forever Young," included in two versions on the album "Planet Waves," proved that he could still offer reassurance and consolation to his aging legions, who once looked to him for answers and advice.
A Middle-Aged Man
The new realities of middle age had a marked effect on Dylan himself. His 1975 masterpiece, "Blood on the Tracks," detailed the crumbling of his marriage to his wife Sara in stunningly bitter detail, while its studio follow-up, "Street Legal," was both unassuming and oblique at the same time.
Dylan also made obvious attempts to reconnect the life he lived and the associates he had before hitting the heights of stardom. For a time he lived again in Greenwich Village, his old stomping grounds. He reconvened "The Band" for the "Planet Waves" sessions, a tour and a subsequent live album titled "Before the Flood." Dylan appeared at The Band's Last Waltz concert, showing up unexpectedly after initially turning the group down.
Dylan's 1975 tour under the aegis of the Rolling Thunder Revue found him recruiting colleagues from his early days — Ramblin' Jack Elliott, Roger McGuinn, Allen Ginsburg and his one-time paramour, Joan Baez. Ironically, the songs recorded on the live album culled from those performances, "Hard Rain," and the subsequent concert set, "Bob Dylan at Budokan," showed that while he still held a fondness for his old songs, he also preferred to alter them in ways that bore little resemblance to the original arrangements. Dylan was looking back, but he also showed a determination to move forward, as well, often to the consternation of his audience.
Re-born and Religious
Perhaps the most surprising shift of all came in the late '70s, when Dylan found religion. He even went so far as to attend Bible study — a rare commitment from a man who had always followed his own whims.
Though born into a Jewish family, Dylan embraced Christianity so wholeheartedly that he released two gospel albums, "Slow Train Coming" and "Saved," both of which were received with decidedly mixed reviews.
Among those who took poorly to Dylan's proselytizing was his producer Jerry Wexler. During the recording sessions, Dylan did his best to convert him, to which Wexler replied, "Bob, you're dealing with a 62-year-old Jewish atheist. Let's just make an album."
The religious-themed content wasn't a turnoff to Grammy voters. Dylan earned a Best Male Vocalist Grammy for the song "Gotta Serve Somebody," which appeared on the "Slow Train Coming" album.
When Dylan toured behind his "Saved" album, he allegedly refused to play any of his earlier secular material, telling audiences that he resented being told he was a prophet and that they ought to idolize Jesus, instead. Eventually, Dylan returned to his Jewish roots, even going so far as to perform "Hava Nagila" on a Chabad television fundraiser while wearing a yarmulke, playing harmonica and accompanying actor Harry Dean Stanton and son-in-law Peter Himmelman, who played guitars.
A Wilbury in Service to Superstars
By and large, the '80s showed little change in Dylan's trajectory, which was marked mainly by uneven albums but the occasional song that showed off his brilliance. His two efforts with ad-hoc supergroup The Traveling Wilburys (featuring Dylan, George Harrison, Roy Orbison, Tom Petty and Jeff Lynne) showed promise, but it proved only to be a momentary detour, not a new direction. Likewise, Dylan's tours with Tom Petty and The Heartbreakers and The Grateful Dead were intriguing but hardly revelatory. He made cameo appearances on the all-star "We Are the World" single and later showed up for the Live Aid concert at JFK Stadium in Philadelphia, backed by Rolling Stones guitarists Keith Richards and Ronnie Wood.
Dylan even made a brief foray into rap music, adding vocals to the opening verse of Kurtis Blow's "Street Rock." Fortunately, that excursion didn't last long, either. He managed to finish the decade on a high note with the Daniel Lanois-produced "Oh Mercy." The album was heralded as his best work of the '80s — a fine compliment, but one that seemed somewhat moot in light of the mostly lackluster efforts that came before it.
A Return to His Roots
Dylan's wanderlust brought it all back home at the dawn of the '90s. Following up his superstar-laden, but ultimately disappointing "Under the Red Sky" in 1990, "Good As I Been To You" (1992) and "World Gone Wrong" (1993) seemed unassuming by comparison.
Dylan had returned to covering old folk and blues standards in much the same way he had done 30 years before. Stripped down to sparse arrangements and acoustic accompaniment, the covers seemed to be stopgap efforts while he contemplated his long-awaited return masterpiece. A 1991 Lifetime Achievement Award from the National Association of Recording Arts and Sciences and his November 1994 MTV Unplugged appearance only served to heighten anticipation. Fans had to wait until the end of the 1990s — 1997 to be exact — owing, at least in part to a serious case of histoplasmosis, a fungal infection that causes the sac around the heart to swell. While Dylan made a speedy recovery, he later admitted, "I really thought I'd be seeing Elvis soon."
In September 1997, Dylan released "Time Out of Mind," his first collection of original material in seven years. Once again produced by Daniel Lanois, it recalled "Blood on the Tracks" in its bitter recriminations about betrayal and besotted love. Nevertheless, the album was widely hailed by critics, and it garnered Dylan his first solo "Album of the Year" Grammy of his career. Two months after the album's release, President Bill Clinton added Dylan to the list of honorees for that year's Kennedy Center Honors.
"He probably had more impact on people of my generation than any other creative artist," Clinton remarked. "His voice and lyrics haven't always been easy on the ear, but throughout his career, Bob Dylan has never aimed to please. He's disturbed the peace and discomforted the powerful."
The Comeback Kid Part Two
"Love and Theft," released in 2001, was hailed as another superb comeback. It contained the song "Things Have Changed," originally written for the film "Wonder Boys," that brought Dylan an Academy Award for Best Original Song in 2000. The album, which Dylan self-produced under the pseudonym Jack Frost, found him broadening his musical palette to include rockabilly, Western swing, jazz and even lounge ballads. The renewed critical kudos coincided with other reminders of Dylan's legacy: a three-disc anthology, simply titled "Dylan;" further installments of his Bootleg series; the first installment of his sometimes-confounding autobiography "Chronicles Volume One" (the No. 2 book on The New York Times' Nonfiction Best-Sellers List and a nominee for a National Book Award); the Martin Scorsese documentary and soundtrack "No Direction Home;" and the fictional film biography and accompanying album "I'm Not There." As a collection, they offered the most complete summation of Dylan's life and career to date.
Two other albums followed — "Modern Times" in 2006 and "Together Through Life" in 2009, making this decade one of the most artistically satisfying for Dylan in some time. Both albums continued the momentum begun with "Time Out of Mind," but Dylan's unfettered desire to cherry-pick traditional melodies suggested his composing prowess was no longer as incisive as it once was. Nevertheless, "Modern Times" garnered a pair of Grammys: Best Contemporary Folk/Americana Album and Best Solo Rock Vocal Performance for the song "Someday Baby." Just when Dylan seemed to be on a roll, he inexplicably changed course to release a Christmas album in October 2009, "Christmas in the Heart," comprised of such Christmas standards as "Little Drummer Boy," "Winter Wonderland" and "Here Comes Santa Claus." The album's proceeds went to charity, and its existence demonstrated that Dylan wasn't above befuddling his audiences.
Mister Deejay and Unlikely Endorser
Still, the strangest twists were yet to come. By the middle of the first decade of the new millennium, Dylan ventured into yet another unexpected direction, this time as the host of his own radio show, Theme Time Radio Hour, for XM Satellite Radio. It was a diverse program to be sure, drawing from both his musical influences as well as an eclectic assortment of newer artists. The honor of Dylan's strangest career moves — yet, anyway — goes to his foray into advertising, starting with a 2004 appearance in a TV spot for Victoria's Secret lingerie. Three years later, Dylan took part in a multimedia campaign for the 2008 Cadillac Escalade. Then, in 2009, he gave the highest-profile endorsement of his career, appearing with rapper Will.i.am in a Pepsi ad that aired during Super Bowl XLIII. The commercial, broadcast to a record audience of 98 million viewers, opened with Dylan singing the first verse of "Forever Young," followed by Will.i.am chiming in with a hip-hop version of the song's final verse.
The times were indeed a-changin'!
The Renaissance Man
Then again, such has been the eclectic and wholly unpredictable nature of the path Bob Dylan has taken all along. He's added film director, author and artist to his resumé, as well, all of which reinforced the diverse nature of his creativity. Perhaps his legacy is best summed up by an appraisal that appeared in the Village Voice: "Elvis might never have been born, but someone else would surely have brought the world rock 'n' roll. No such logic accounts for Bob Dylan.
No iron law of history demanded that a would-be Elvis from Hibbing, Minn., would swerve through the Greenwich Village folk revival to become the world's first and greatest rock 'n' roll beatnik bard and then — having achieved fame and adoration beyond reckoning — vanish into a folk tradition of his own making."