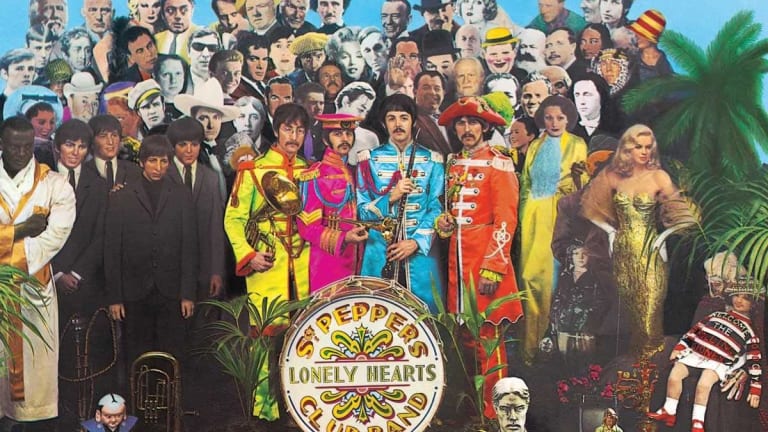 The Beatles 'Sgt. Pepper': every song ranked, from best to worst
The Fab Four's 1967 album was a groundbreaking, high art–meets–pop music achievement. With a tracklist featuring "Lucy in the Sky With Diamonds," "A Day in the Life," "With a Little Help From My Friends" and more, ranking the best of the best of these 13 songs was no easy feat either.
By John M. Borack
Shop for Beatles vinyl, collectibles and more — including the 180gm stereo mix pressing of Sgt. Pepper's Lonely Hearts Club Band — at Goldmine's store.
In the decades since its original release, Sgt. Pepper's Lonely Hearts Club Band has been feted by the media, by the record-buying public — well, pretty much by everyone who has heard it. Every track was refreshingly different and light years ahead of what most other pop artists had been attempting up to that point. Pepper is both a groundbreaking album and one of The Beatles' greatest achievements, and it also caused something of a seismic shift in rock 'n' roll and popular culture by helping to usher in the "Summer of Love" upon its release in June 1967. As Paul McCartney said, "It was influential in a lot of ways, not just musically."
Post-Pepper, two-minute singles about love and girls were no longer de rigueur, bands such as Gary Lewis and the Playboys and Herman's Hermits vanished from the upper reaches of the charts, and musicians began to get very serious about "concepts" and making some sort of artistic statement. (Whether this was a positive or negative development depends on whom you ask.)
Although Sgt. Pepper was also trumpeted as being the first concept album, John Lennon told Playboy in 1980 that he disagreed: "It doesn't go anywhere. All my contributions to the album have absolutely nothing to do with this idea of Sgt. Pepper and his band; but it works 'cause we said it worked, and that's how the album appeared. But it was not as put together as it sounds, except for Sgt. Pepper introducing Billy Shears and the so-called reprise. Every other song could have been on any other album."
The Beatles' growing use of recreational and mind-expanding drugs also played a large role in the creation of Pepper; McCartney has bluntly admitted that Sgt. Pepper was "a drug album" and confided that prior to composing the LP's final track, "A Day in the Life," he and Lennon decided, "'Bugger this, we're going to write a real turn-on song!'" And then of course there's "Lucy in the Sky With Diamonds," which either is or isn't about LSD, depending on what day it is and who's telling the story.
Whether it was due to the use of drugs or simply due to The Beatles' desire to break free from the shackles of their moptopped image, Sgt. Pepper was a radical progression and completely different both musically and lyrically from anything that had come before it in the pop-music realm. (Bob Dylan's reaction upon hearing portions of the record was to tell McCartney, "Oh, I get it. You don't want to be cute anymore.")
Pepper was the ultimate expression of the 1960s and the Summer of Love: There was a true collaborative spirit, lavish production that incorporated everything but the kitchen sink, inspired new songwriting styles, unique instrumentation, the various thematic elements, and the iconic and colorful mashup of pop art on the sleeve. It was the first time that a pop music group was given complete artistic control of its product, and it was very much a group effort in every sense of the word. The Beatles changed the face of popular music with Pepper, and they had also become the undisputed kings of popular culture. As Lennon once confirmed, "Sgt. Pepper is the one. It was a peak."
McCartney also realized the important role that Pepper played in helping to define a generation: "When we first heard it back, we knew we pulled it off. We'd made something a little bit special, something that would blow people's minds. It was mind-blowing for us. To us, it wasn't so much that it was a great album musically; it was more that it was an anthem for our generation. As it turned out, Pepper led the times as much as it marked the times."
But when speaking of Sgt. Pepper in such grand, overarching terms, it's easy to forget about the album's individual songs and what made each one so special. To that end, here's a ranking from best to worst (worst being a relative term in this case) of each of the 13 tunes on Pepper, along with additional commentary from musicians, journalists and Beatles fans about their favorites. And since both sides of the Beatles 1967 single "Strawberry Fields Forever"/"Penny Lane" were originally intended to be included as part of the album, we've also included those two songs in the list, purists be damned.
1. "A Day in the Life" If ever the term "magnum opus" was appropriate, it's in describing this Lennon/McCartney collaboration. It's trippy, unique and quite simply an amazing achievement in pop songwriting. Not often mentioned when discussing the song are Ringo Starr's inventive drum fills on the final verse.
"I remember hearing 'A Day in the Life' and feeling like I was having a cinematic experience. I was shocked at the violence, the courage and sadness of the lyric."
— Debora Iyall, lead singer, Romeo Void
"When I was a kid, I used to sleep with the radio on. I remember, when I was 6 years old or so, awakening to 'A Day in the Life.' I have never been so frightened by a piece of music or, in fact, anything else since. It is the ultimate song, period."
— Ronnie Barnett, bassist, The Muffs
"My favorite song from 'Sgt. Pepper' is easily 'A Day in the Life,' which has it all in one place. Everyone is on, the lyrics still intrigue, the playing is unique to itself, and George Martin seals it all together. Brilliant."
— Chris Carter, host of "Breakfast With The Beatles," KLOS-FM, Los Angeles
2. "Strawberry Fields Forever" — The fact that The Beatles made their way from "Love Me Do" to "Strawberry Fields Forever" in the span of only about four years is almost as mind-blowing as the track itself.
"'Strawberry Fields Forever,' the single [that] would be the firstrelease from the 'Sgt. Pepper'-era sessions, is my favorite Beatles song ever (or maybe tied with 'I Want to Hold Your Hand'). 'SFF' was such an incredible blast of freshness when I first heard it as a 13 year old on my transistor radio; it sounded so strange — but beautiful — and still does. Somehow it still sounds advanced to me, like rock music never really surpassed it. The lyrics seem so accurately to describe the trouble with living, the chorus offers the beautiful answer, …nothing to get hung about, strawberry fields forever,' and the personal 'Let me take you down…' echoes the 'me-you-I' simplicity of their early songs. The chords keep that bright Beatles sound happening even on this darker material, and the drumming is some of the most creative of their whole career. George Harrison's guitar on the first part (of the song) and the tag keep the song grounded in rock 'n' roll, especially those couple of little two-note licks at the end, which say more than whole sides of Cream guitar solos, in my opinion. Then there's the tag: a glimpse of the future of music that's still in the future. I think it's a beautiful record. I bought the 45 when it came out (with a picture sleeve), and it's still one of the two or three best records in my collection."
— Peter Case, singer/songwriter
3. "Penny Lane" — The flip side of "Strawberry Fields Forever," McCartney's stirring, glorious number was an homage to his childhood years, lyrically straightforward (except for a semi-naughty bit about a "finger pie") and teeming with oboes, flutes, piccolos and trumpets. "The song is part fact, part nostalgia," McCartney has remarked.
"My favorite songs from 'Sgt. Pepper' are 'Penny Lane' and 'Strawberry Fields Forever.' They were not on the album but they should have been, in my opinion. They were exciting and vibrant tunes that I still never get sick of. 'Sgt. Pepper' is an incredible album, don't get me wrong, but those two songs represent the Beatles in their psychedelic pop prime."
— Kurt Baker, power-pop musician
4. "Lucy in the Sky With Diamonds" — This florid psychedelic anthem features some of Lennon's finest acid-inspired lyrics, with delicate, fragile-sounding verses giving way to the classic chorus via three whacks of Starr's floor tom. McCartney's percolating bass helps move the song along quite nicely as well.
"Picking a favorite is especially hard with this album. I've been fortunate enough to play these songs many times both in my Nashville-based album tribute band, The Long Players, and with Cheap Trick when they were performing it with a full orchestra. I love the whole album. 'Lucy in the Sky With Diamonds' is a favorite because the lyrics are so descriptive and effortlessly poetic. The music is beautiful, too — wonderful dynamic shifts between mellow verses and rocking choruses. Lennon always stuck to his story that it was only a song about his son Julian's drawing from school (and there was a real Lucy), but I tend to think he and The Beatles knew just what they were doing. My cynicism doesn't dull my appreciation for the song or the recording. They are simply the best."
— Bill Lloyd, singer-songwriter
5. "Lovely Rita" — One of McCartney's patented story songs with some humorous lyrics sprinkled in, this has always felt like one of the more underrated tunes on Sgt. Pepper. Aside from the stellar work of the McCartney/Starr rhythm section, also notable is the ragtime-influenced piano solo, played by producer George Martin.
"Of the many musical innovations the album had to offer, one that sticks out most prominently to me is the introduction of a particular rhythmic groove, one that I can only describe as a kind of barrelhouse rock cabaret military shuffle that I don't believe existed (in the rock era) up to this point. There's hints of it on the chorus of 'Lucy in the Sky With Diamonds' and briefly on the bridge of 'A Day in the Life,' but in full-length song form on 'Lovely Rita.' Of course, the groove would become almost formula by the time they cut 'Hello Goodbye,' 'Baby, You're a Rich Man' and 'Martha My Dear.' It is one of my most favorite things they brought to the table, introducing yet another style that would shape rock/pop music. And when I put it in this context, it explains why 'Lovely Rita' never fails to perk my ears. I think that if I absolutely had to choose just one favorite (from the album), that would be it. I really love those background vocals on the second verse."
— Darian Sahanaja, keyboardist for Brian Wilson, The Zombies and others
" 'Lovely Rita' — [those] floating, lilting bass lines can never be matched on a rock song. I (spent the entire) summer of 1968 learning to play all of the bass parts on the album."— Mike Skill, The Romantics
6. "With a Little Help From My Friends" — Written for Starr by Lennon and McCartney, this one would go on to become the drummer's signature song — and it remains one that fits his "aw, shucks" persona quite nicely.
"The original first verse to that was 'What would you do if I sang out of tune? Would you throw a tomato at me?' And I said, 'I'm not singing that.' "
— Ringo Starr
7. "Sgt. Pepper's Lonely Hearts Club Band" — The ditty that kicked off the entire show rocked harder than most anything on the record, with Starr's slamming drums and a full-throttle McCartney lead vocal.
"From the start, the Beatles were always the best at everything they did, right? They made the best records, wrote the best songs, looked the best and even had the best producer. But sometime in 1966, they realized they weren't the best live act out there, and I think that's why they stopped touring. I don't think they liked being less than perfect at anything. I think the decision was, 'We'll just make the best recordings of all time from this point on,' and we got 'Sgt. Pepper.' The next few albums weren't too bad either!"— Chris Carter
8. "When I'm Sixty-Four" — In which McCartney begins his cutesy "pop music as vaudeville" phase, a genre he would later mine on "Your Mother Should Know" and "Honey Pie" (not to mention "You Gave Me the Answer" on the 1975 Wings album Venus and Mars).
"Man, the Mustache Beatles. Not my favorite era by them, because I find that acid-influenced songs are usually rather self-indulgent. But there are a couple of standout tunes I really like. Being a melody freak, I have to pick 'When I'm Sixty-Four.' I love the clarinets at the beginning where they usher in the first verse. It has a nice vaudevillian melody, and the production is super-clean and warm."
— Kim Shattuck, lead singer/guitarist, The Muffs
9. "Being for the Benefit of Mr. Kite!" — Another Lennon-penned flight of fancy, this one featured all sorts of circus-themed tape loops and keyboards, which played up the carnival-type atmosphere that the lyrics —which were lifted from a poster that hung on a wall in Lennon's home — suggested. Fun fact: Pablo Fanque — the African-American man who owned the fair where Mssrs. Kite and Henderson performed — was the first non-white British circus owner. What a scene.
"It's unique. It's so different from anything they ever recorded. That's why I like it." 
— Billy J. Kramer, British Invasion artist
10. "She's Leaving Home" — A beautifully sung and orchestrated — albeit slightly maudlin and perhaps a touch overwrought — tale of a teenage runaway, this was no doubt many a young, free-spirited girl's theme song during the Summer of Love.
"My favorite song from the 'Sgt. Pepper' album is 'She's Leaving Home.' A few reasons why I love this song: The string section and harp establish the melancholy mood of the song perfectly. The sophisticated melody and poignant lyrics of the verses. The Greek chorus conveying a sense of introspective sadness. All in all, a story well told, and an amazingly unique song in their catalog."
— Severo Jornacion, bassist, The Smithereens
11. "Getting Better" — A true Lennon/McCartney co-write that's notable for its fresh and inventive backing and harmony vocals. Starr also works some percussive magic on his hi-hat cymbals here.
"It's funny, I used to think of the bad grammar coming from Chuck Berry, but it's actually more Jamaican, like writing in slang. It just appeared in one of the verses, it felt nice, it scanned nicely; rather than 'I used to be an angry young man,' [we sang] 'Me used…'We'd always grab at those things."
— Paul McCartney
12. "Fixing a Hole" — Although there were numerous drug references — some subtle, others less so — scattered throughout "Pepper," "Fixing a Hole" was not an ode to heroin, as some have suggested. Fun fact: George Burns covered the song on the Sgt. Pepper's Lonely Hearts Club Band movie soundtrack album in 1978. Say goodnight, Gracie.
"The song on 'Sgt. Pepper' that really gets to me is 'Fixing a Hole.' For my money it's the one that carries the most emotional weight on the LP. Paul sings it from the heart, and I especially love his delivery on the last verse. I also dig the harpsichord, the guitar solo (presumably George) and the way Ringo socks the snare a little harder on the outro. Interestingly, it was cut at Regent Sound, where the Stones recorded their first LP."
— Dennis Diken, drummer, The Smithereens
13. "Good Morning Good Morning" — The brass section seems a bit intrusive at times, the animal noises are silly, Lennon's lyrics seem like little more than a goof, and the whole thing has the air of a throwaway. Of course, Beatles throwaways were generally still top-notch.
"If you put a gun to my head, I gotta say 'Good Morning Good Morning' (is my favorite song on the record). It's another one of John's perfect and effortless pop melodies, (and I love) how the lyrics poke fun at everyday life and the way the brass section comes in and out like an Edwardian day at the Hyde Park bandstand (not to mention how those mics are right up there in the instruments). 'Sgt. Pepper' will always be the greatest record ever to me."
— Michael Quercio, lead singer, The Three O'Clock
"For the experimental favorite, I think 'Good Morning Good Morning' is a super-cool song. I'm not sure if it's got a dropped beat or what, but it's kooky and fun. The backwards guitar thing is dumb, but when they were all high, their minds were probably blown."
– Kim Shattuck
14. "Sgt. Pepper's Lonely Hearts Club Band (Reprise)" — This would have ranked higher on the list, but sadly, it's just too damned short.
"Looking back, 50 years after the fact, I still don't 'love' any of (the 'Pepper') songs the way I love 'This Boy' or 'There's a Place' or John's cover of 'Baby, It's You.' But asked to pick a favorite 'Pepper' tune, I'd say the most Cavern-like, gutsiest song on the album was the reprise of 'Sgt. Pepper's Lonely Hearts Club Band' on side two. It held a bit of the old sound; the Hamburg grit and winkle-picker stomp still clung to it. For the brief interval that the reprise rang, the band I knew was back again — as raw and energetic as ever. It gave me hope that they were still there inside the fancy satin disguises. It gave me hope that someday, they'd return."
— Jude Southerland Kessler, Beatles author
15. "Within You Without You" — Harrison wrote some fine, Indian-influenced songs while plying his trade with The Beatles: "Love You To" and "The Inner Light" are both shining examples of Harrison melding Indian instrumentation with Western melodies. Unfortunately, "Within You Without You" is not up to those standards. It's a rather plodding, uninvolving number that sounds terribly dated today.
"'Within You Without You' is brilliant. I love it."
— Ringo Starr
While producer Martin dubbed "Sgt. Pepper's Lonely Hearts Club Band"as "the most innovative, imaginative and trend-setting record of its time," and McCartney called the making of "Pepper" as "a wild, colorful fairground ride where all things were possible," Starr may have summed it up best: "It was flower power coming into its fullest. It was love and peace, it was a fabulous period, for me and the world."