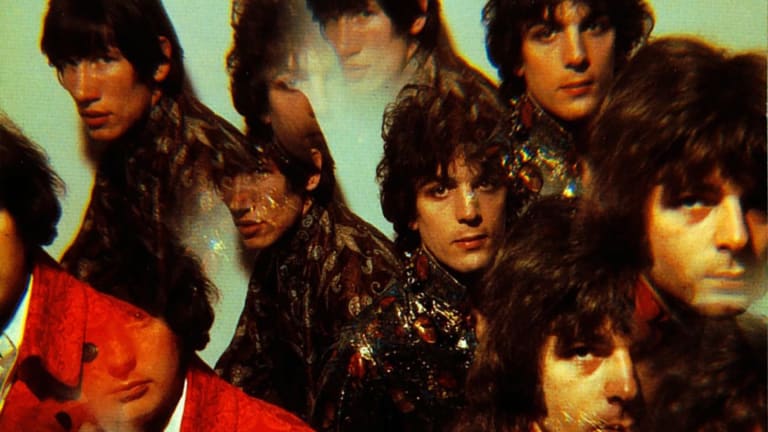 10 greatest songs by Pink Floyd's Syd Barrett
The best of the best from Pink Floyd's late leader, from "Astronomy Domine" to "Interstellar Overdrive" and beyond.
Shop for Pink Floyd vinyl, collectibles and more at Goldmine's store.
By Bill Kopp
When viewed against the backdrop of the influence he would exert upon popular music, Syd Barrett's recorded body of work is remarkably small. The earliest studio session of which he was a part took place in very late 1964, when his band was still called The Tea Set. Those sessions would be followed up in early 1967 by the first few Pink Floyd singles, and the band's debut album The Piper at the Gates of Dawn, recorded through spring of that year. By February 1968 Barrett had been ousted from the group he founded, though he would go on to cut a pair of solo albums, The Madcap Laughs and Barrett. Save a one-off performance for BBC radio, those sessions effectively marked the end of Barrett's studio work. Outtakes and scraps from his solo albums were later collected on Opel. And perhaps the most legendary Barrett track of all, "Have You Got it Yet?" was likely never committed to tape.
Taken together, Syd's known and published compositions and co-writes total roughly 50 songs. Picking the10 "best" Barrett songs is no easy task; once he started writing for Pink Floyd, Barrett maintained a consistently high standard of songwriting. It only began to flag as his mental state deteriorated. But despite the conditions under which they were recorded, his solo albums contain many cracked gems, some the equal of his work for Pink Floyd. Rather than ranking the finest among Syd Barrett's songs, they're listed here in roughly chronological order.
"Arnold Layne" single recorded January-February 1967, produced by Joe Boyd
A pop song about a transvestite-thief was considered pretty racy stuff in 1967's England. In fact, though it briefly reached No. 20 on the U.K. charts, "Arnold Layne" was (sort of) banned. Today, it is often mistakenly assumed that the BBC banned "Arnold Layne" because of its subject matter; in truth, it was the more commercial-minded "pirate" radio station Radio London (broadcasting from a ship in the North Sea) that would refuse to play the single. 
Songwriter and Barrett fan Robyn Hitchcock recalls hearing "Arnold Layne" for the first time at age 14: "My cousin lent me his portable, battery-operated record player and radio; he had it and a copy of 'Arnold Layne.'" Hitchcock — who would record a cover of "Vegetable Man (see below) with his band The Soft Boys, and take part in an all-star 2007 Barrett tribute in London — says the first song he learned on guitar was the "Arnold Layne" B-side, "Candy and a Currant Bun."
"Interstellar Overdrive"from The Piper at the Gates of Dawn recorded March-April 1967, produced by Norman Smith
Pink Floyd would record several versions of this tune, built around a Syd Barrett riff "inspired" by Love's reading of the Burt Bacharach/Hal David tune, "My Little Red Book." In live performance, "Interstellar Overdrive" took on an epic quality; even on record, it's quite lengthy by 1967 standards. The track features a sustained musical freakout, and captures Pink Floyd's improvisational side, balancing out Syd's ditties full of childlike wonder that characterize most of The Piper at the Gates of Dawn. 
The band's first manager, Peter Jenner says that the song helped establish the direction of Pink Floyd's live performances. "It was just that one riff, really," Jenner says. "And then they improvised it from there on in. That was the absolute backbone of their initial year or 18 months."
"Astronomy Domine"from The Piper at the Gates of Dawn recorded April 11-13, 1967, produced by Norman Smith
In the wake of the staggering success of The Dark Side of the Moon, Pink Floyd's record label repackaged the group's first two albums in a 2-LP set called A Nice Pair. But that set substituted the original studio recording of "Astronomy Domine" with a live version from 1969's Ummagumma, featuring David Gilmour instead of Barrett. Both versions are superb, but the studio version — featuring manager Peter Jenner on megaphone vocals — is Syd's Pink Floyd at both its freakiest and most accessible. Though Jenner's spoken part seems to come from another dimension, the source of the words would be rather mundane: "That was just an excerpt from half a page of an encyclopedia-type thing about space," he says. 
Guitarist Steve Howe — then in the group Tomorrow — was drafted to fill in for a missing Barrett one night at a show, but then Barrett showed up in time and his services weren't needed. But he saw Pink Floyd many times in those days. "The songs on the records were very well-crafted," Howe says, "but when Syd got on stage, he ad-libbed a lot more across the music. And I imagine that's what I would have done. I would have just bluffed my way through it and enjoyed it."
"See Emily Play" single recorded May 21, 1967, produced by Norman Smith
One of the earliest tracks recorded after signing with EMI, "See Emily Play" made the most of studio technology. Thanks to producer Norman Smith's experience working alongside George Martin on Beatles recording sessions, Pink Floyd had a relatively sympathetic ally for its musical excursions. Rick Wright's sped-up piano solos sound like wind-up toys, a perfect touch to complement Barrett's lyrics about playtime. 
Avid Barrett fan David Bowie would cut a version of the song in tribute to Syd on his all-covers 1973 LP Pin Ups. Years after the song's release, the Rock and Roll Hall of Fame named "See Emily Play" among its "500 Songs That Shaped Rock and Roll." Craig Bailey, host of the popular syndicated radio series Floydian Slip says that "Emily" and other Barrett songs of the era are "quintessential late '60's British pop that created the stereotype of that type of music."
"In the Beechwoods" studio track recorded late 1967, produced by Norman Smith
Quite possibly the Great Lost Syd Barrett/Pink Floyd track, the existence of "In the Beechwoods" was confirmed around 2001, when persons unknown leaked a cassette dub of the instrumental track to an online fan group. That version suffered from poor audio quality and featured drummer Nick Mason introducing the track (perhaps inaccurately) as one of the last things Pink Floyd did with Syd. Included in high fidelity on The Early Years 1965-1972, it displays not only Syd's knack for a strong melody, but his inimitable guitar style (not to mention some thrilling keyboard textures from Rick Wright). Had the band finished it with lyrics, "In the Beechwoods" could have been one of the best Syd-era Pink Floyd tunes ever.
"Vegetable Man"studio track recorded October 9-11, 1967, produced by Norman Smith
One of the last fruitful recording sessions Syd did with Pink Floyd yielded this autobiographical track. Long circulating on bootleg, it would go unissued, though the compilers of the 1988 compilation Opel had planned to include the track (Pink Floyd vetoed it). "I always was rather cross that they wouldn't let those things go out," Peter Jenner says. "Although they weren't flattering to Syd, I think they were brilliantly wonderful pieces of work in a sort of psychotic way." Jenner compares "Vegetable Man" to some of Vincent Van Gogh's paintings. "There's a sort of crazed, sort of wondrous quality; there's something about that it told you about his mental condition." Two versions of "Vegetable Man" are included on the 2016 boxed set The Early Years 1965-1972; a live version for BBC Radio includes a vamp that sounds a lot like Neil Hefti's "Batman Theme." Robyn Hitchcock notes that beforeThe Soft Boys covered the song, two other British groups — The Mothmen and The Jesus & Mary Chain — did so.
"Octopus"from The Madcap Laughs recorded June 12, 1969 with overdubs June 13, 1969, produced by Syd Barrett and David Gilmour
The making of each of Syd Barrett's post-Pink Floyd solo albums would prove problematic. Sessions with producers Peter Jenner and Malcolm Jones had both broken down; his ex-bandmates came in to help steward Barrett toward making a cohesive album. Cobbled together from basic sessions with Soft Machine's rhythm section, "Octopus" is among the most conventional and accessible tunes on The Madcap Laughs. Despite its loose-limbed, ramshackle execution, it's as close in both spirit and delivery to his Floyd-era work as Barrett would ever manage after going solo. The track would be released as a single, and Barrett discussed it in one of his rare interviews from that time: "I like to have really exciting, colorful songs. I can't really sing. But I enjoy it and I enjoy writing from experiences.
"Some are so powerful they are ridiculous."
"Golden Hair"from The Madcap Laughs recorded June 12, 1969, produced by Syd Barrett and David Gilmour
For "Golden Hair," producer Gilmour made the decision to present Syd in (nearly) unaccompanied fashion. The haunting, spare arrangement of the song demonstrates both Barrett's substantial musicality and evidence of his decline. Barrett strums a single melodic line and sequence of sympathetic chords on his acoustic guitar while singing lyrics cribbed from a 1907 James Joyce poem of the same name. Though no other musicians are credited on the track, a bit of subtle, understated organ and vibraphone help hold the tune together. That accompaniment — along with some unused electric guitar and vocal harmony overdubs — can be heard on an outtake from the Peter Jenner sessions, included as a bonus track on CD reissues of the album. The sessions also marked the debut of the then 23-year-old David Gilmour as a producer. Humble Pie drummer Jerry Shirley was involved in some of the sessions for The Madcap Laughs, and had the opportunity to watch his friend work behind the recording console. "Dave had already grasped what it took to be an excellent engineer and then producer," Shirley says. "He was learning as he went. I'm sure that whole experience was a huge learning curve for him."
"Gigolo Aunt"from Barrett recorded February 27, 1970 with overdubs April 2, 1970, produced by David Gilmour and Richard Wright
Paradoxically — considering that his mental condition was worsening — Syd Barrett's second and final solo album is a much more "together" collection of recordings than The Madcap Laughs. Jerry Shirley recalls that much of the album was recorded with him on drums, David Gilmour on bass, Rick Wright on keyboards, and Syd on guitar and vocal. "Sounds like a pretty good band, doesn't it?" he says. "We got a couple of really good things; 'Gigolo Aunt' was a live take." Though the released version is noted as Take 15, Shirley is convinced an earlier run-through was used. "I think they ended up going back to one of the first takes we did of it," he says, "because it was almost perfect...which was unheard of!"
"Effervescing Elephant"from Barrett recorded July 14, 1970, produced by David Gilmour and Richard Wright
The playful, almost nursery rhyme-styled "Effervescing Elephant" was a song Barrett had written many years earlier but never used. Producer David Gilmour rescued the tune — documented in one of Syd's last fruitful recording sessions — from obscurity. Drummer Willie Wilson played on both Barrett solo albums, and recalls Gilmour's method of coaxing music out of Syd. "Dave had all these tapes of Syd playing songs, and he remembered quite a few songs of Syd's that hadn't been recorded," Wilson says. "Dave sat with Syd for quite some time saying, 'Look, do you remember this one? It went something like this. You must.'" Barrett included the song in his only live post-Pink Floyd live performance, backed by Gilmour and Jerry Shirley; that abortive set has never seen official release.
After the Barrett, sessions, more than four years would pass before Syd would return to the recording studio. An August 1974 session at Abbey Road Studios in London — with Jenner supervising and John Leckie engineering — yielded nothing of use. Barrett would not be heard from on record again; after years living quietly in Cambridge, he passed away in July 2006.