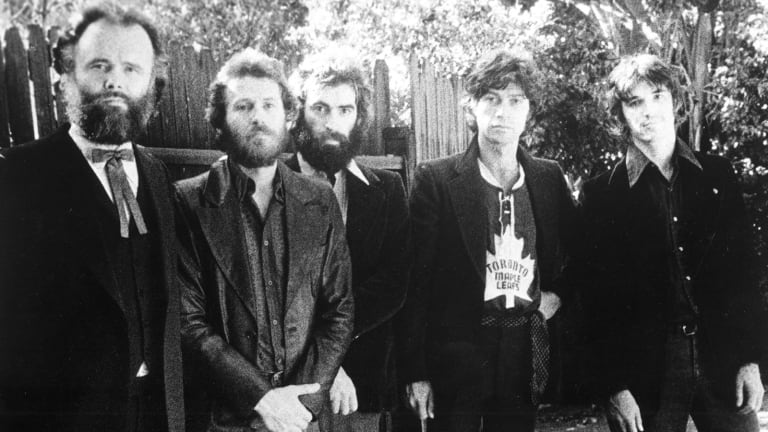 'Music From Big Pink': Robbie Robertson revisits The Band's game-changing debut
"That record was like rebelling against the rebellion, and the rebellion was this loud psychedelia, everything on 11."
By Ray Chelstowski
The year 1968 is often regarded as the most turbulent time in our history as a nation. Pop culture of that year tended to reflect the rage felt by America's youth over the developments of the day. This was well represented in the music found on albums like Electric Ladyland, Beggars Banquet, and through groundbreaking musicals like Hair. But an album considered among many to be the best of the year, Music From Big Pink, was somehow able to indirectly capture that spirit by leveraging themes and musical concepts that are inherently "American." This was done in a manner that was clever, thoughtful, approachable, complex, and remarkably calm and measured.
Fifty years later the music found on Big Pink remains fresh and equally riveting. So it was only fitting that to celebrate this milestone, band member Robbie Robertson would lead a charge to use modern technologies to "revisit" the record and some of its better known outtakes. Working with legendary engineer Bob Clearmountain (Bruce Springsteen, Rolling Stones) he is about to introduce a remix that lifts the sonic quality of the record without sacrificing any of its integrity. The result is a musical experience that feels contemporary and clean with an expanded sense of dimension.
2018's been a busy year for Robbie Robertson. Just last month he auctioned off the 1965 Fender Stratocaster that he and Bob Dylan famously shared and that Robbie used on Big Pink. Goldmine caught up with Robbie and listened in wonder as he described as only he can, how Music From Big Pink was put to tape and why it continues to influence scores of musicians.
GOLDMINE: What drove the decision to mark the 50th anniversary of Big Pink in this way?
ROBBIE ROBERTSON: Well, it seemed kind of unbelievable to me that it's 50 years. You know it's not like it's been up in the attic collecting dust. I hear pieces of music from Big Pink all over the place. But revisiting it in this way through all of these incredible photographs was something, especially with Bob Clearmountain who told me years ago of what a powerful affect this record had on him. Now it's come back and it's in his hands to put his magic potion on it. It was great. He was doing these mixes and sending them to me and I'd give him feedback. We are going inside of it and looking at it sonically for what was done at the time. There wasn't a 100 tracks like there is nowadays. You really had to figure out your sonic preferences and how things would be laid out. Back then when you recorded it was almost like going straight to vinyl. It almost felt that way.
GM: Bob Clearmountain's approach provides so much more dimension to the record. I liken it to musically pointing the bricks. Did you provide him with any specific direction or boundaries?
RR: When this came out, records were still coming out in mono and stereo. And so these very definitive decisions had to be made. There was something exciting about that. Coming back to it, Clearmountain wanted to be extremely loyal to these recordings. He wasn't interested in getting cute and putting special effects on things. He just wanted to give it more dimension and open it up in a way where you could hear more things, more detail than you ever could before. He nailed that. It was exciting all over again for me to revisit it with him.
GM: On "Chest Fever" the vocals seem pulled back during the verses then step up almost like a horn section on the choruses. On "In A Station" the lead vocals have so much more dimension. The approach reminds me of the remix of Sgt. Pepper from last year.
RR: I did listen to that because I was curious as to how far someone would go with trying to use today's technology to enhance something. I thought (Giles Martin) did a great job of just bringing things a little more into the open. More space, where the music wraps around you a little bit more. It's not as much "standoffish" as it was back then listening to those mixes. You sat in front of them and they played in front of you. Now it just feels like you're closer to it or something.
They are making a documentary on my biography and I was doing a thing with Rick Rubin (producer) out at Shangri-La which used to be my old studio with The Band out in Malibu. They brought up on the board the multi tracks of Big Pink because he was fascinated by the idea of how these things were put together then. And I was showing him how the different tracks were combined, and the amount of compression or reverb that was put on these individual tracks. It was just blowing his mind. Seeing someone who cares so much about that kind of thing was really a pleasure. Just to see the look on his face and how he would just throw himself back in the chair when I would bring up another track was a very in particular joy — to revisit this with someone who knows the difference, and who can so appreciate how something was done, the uncomplication of it, the simplicity of it and the pureness in the music.
GM: What were the recording sessions like in New York?
RR: When we went in to record Big Pink, we wanted to work at A&R studios in New York. That was known as the best sounding studio around and John Simon, our producer, really wanted us to work there. It had been the old Columbia Studio where some many great things were done. Phil Ramone at that time had taken it over and turned it around. So we go in and the engineers tell us where to set up and we do what they say because we want this to sound as good as it possibly can. We go into the first song and all of a sudden I have to stop everything. I said, "I'm sorry this doesn't work for us at all." They were like, "What do you mean? What's wrong?" I said, "We can't play like this. We need to see one another." There are baffles, and I'm in one corner and he's over there and we're operating through headphones when we usually communicate the eye signals, and gestures, and looks. It's a big part of our musical communication. We need to set up in a circle so we can all see each other. They felt that defeated the whole purpose and wouldn't work. John Simon was the one who said, "We have to try to make it work for them, and then we'll try to make it work for you." They felt the leakage from everything would be ridiculous. So Simon suggested using microphones that don't pick up a lot, just what's right in front of them. A&R was concerned that they were cheap microphones when A&R was providing the best you can use. Simon said he knew but that we didn't have a choice. So they ended up using these Electro-Voice RE15 microphones, and they had tons of them. We used them on the vocals, on the drums, on everything. The engineers were like "Oh, these guys. They just know how to ruin everything." But they set it up the way we wanted so that we could see one another and we started to record. The next thing you know they were like "Whew! This is really coming together nicely."
GM: Was everything fleshed out by the time you brought the songs to the other guys, or did magical parts just kinda happen as they worked through them?
RR: The first song we recorded for Big Pink ended up being the first song on the record, "Tears of Rage." When I think about it now, it was a very personal thing and it's just coming back to me now that the record company was saying, "You really want to start your record with a long slow song?" And we said "I guess, yeah!" In the studio we started to run through it a little bit and were kinda getting use to the sound in the room and the next thing John Simon says is, "Wow, I'm really liking this." So we ran it down, we recorded it a couple of times and then John said we should come in and listen to it to see if there were any adjustments we wanted to make. We went into the control room and that was the first time we heard the sound of The Band. That was our sound. It was us for the first time witnessing it. We had made lots of music with Bob Dylan and with The Hawks. But this was a whole different flavor. This was a different sound. This was a different texture. It was a different kind of soul, a different combination of musicalities. So we hear it and we say, "Now we're in business!"
We recorded a couple more songs and the engineers told Phil Ramone that he had to come in and hear this. So he came in and looked out at the studio. The engineers told him, "They have insisted on setting up this way." Phil looked out with an expression that said, "This is crazy. This isn't how we make records." And then they played him two or three songs and it blew his mind and he said, "If it sounds good it works." Then we proceeded in the manner that it worked for us and it was the way that we played in the basement.
It was talking about an origin. Taking into consideration how long we had been gathering musicality. How long we had been woodshedding. How long we had been together refining what we do before we went in to make a real record. It was the first time we were who we were, the result of many years of gathering gospel music, mountain music, blues, sacred heart music, things that Garth (Hudson) was turning us on to. All of these sounds, all of these elements, we put them all together and that became what the sonic of that record was. It was about a gathering.
GM: This record was released during one of the most turbulent years in American history, and yet it's not at all political. But what I think it shares with other releases of the day is that there are psychedelic touch points throughout the record that allowed it to be in step with modern music of that period?
RR: You can't help but be a result of what you're living in. This was 1968. What an incredible year. When this record came out a lot of people related to it as a reflection of 1968, which surprised me because I thought that this sound has a quality to it that reaches deeper than a current wave. It goes back in time. It goes forward in time. At the same time, there's the pain that you can hear in it, the excitement, the anger, all wrapped into this way that's not obvious. I was really happy to hear that people felt that it was a reflection of that time we were living in and that we had lost Martin Luther King and Bobby Kennedy. In the midst of all of this there is this musicality that even we couldn't recognize as different. This is what happens when you've been where we've been and done what we've done. We're not trying to do anything but be as honest in our music as we can.
GM: Your cover of Big Bill Broonzy's "Key to the Highway" is the funkiest version I think that I may have ever heard — maybe even funkier than Freddy King's take. Was this a holdover from The Hawks period?
RR: To do a song like "Key to the Highway" and it not be a shuffle was almost illegal. We took it and turned it inside out. It was something that I was feeling at the time. I said to Levon (Helm), "How does this feel to you?" And I played the rhythm in the way we did it for him. He said, "Man, let's give it a shot!" But we were quite aware of some blues enthusiasts who thought that doing in that way with that boldness was almost a sacrilege and I like that!
GM: You have said that the music of Big Pink is unlike anything you guys had ever done with The Hawks. How did your style of play on guitar differ from what you have now become synonymous with, that kind of fiery shrill?
RR: With Ronnie Hawkins in the very early days when we recorded "Who Do You Love?" it was a raging type of guitar playing. I was like 17 years old, young and on fire. Even when The Hawks left Ronnie and went out and played things they were always at a scorching level. Then with Bob (Dylan) live it was a scorching level, too. So by the time we got up to the place where we're going to record who we really were, at that stage I'd become tired of scorching. When I first started out it was rare to hear guitar players do what I was doing. By the time we were going to record Music From Big Pink there was a hundred guys doing that. I wanted to see instead of how much I could do, how little I could do. I wanted to depend on subtleties and go in a completely different direction. What was so surprising to me was that somebody like Eric Clapton would say, "That's what I want to do!" It was a learning and growing experience to be able to go to a place and turn things inside out and not just stay on that same wavelength.
That record, Music From Big Pink, was like rebelling against the rebellion, and the rebellion was this loud psychedelia, everything on 11. This was about going the opposite direction and trying to get just as much emotion out of the music as possible.
Robbie Robertson believes limited editions are new model for music industry