The Brothers Four: 60 Years...and Counting!
There's something special about The Brothers Four, but it's in addition to their uniqueness and wholesomeness as family-oriented entertainers. The group has been on the  international stage since 1960, an achievement unto itself....but it's more than that, too! Read on!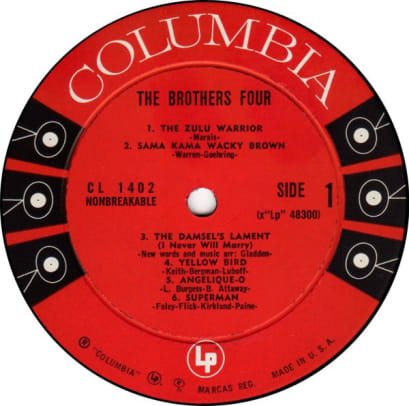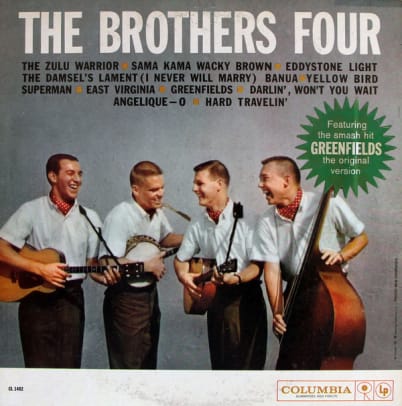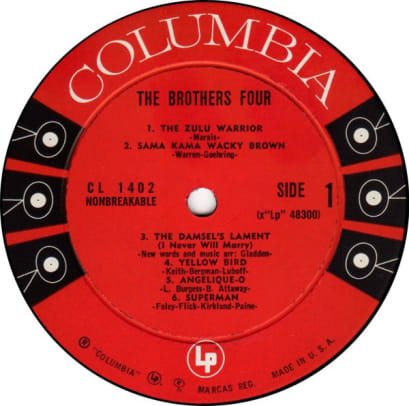 By Bill Bronk
Picking a performer or group to write about can be a lot of fun (or not!). And fun was the operative word for a fan like me in researching and writing about The Brothers Four. I happen to like reading what's on LP record jackets, in liner notes and digging through old newspaper articles. You can learn a lot. But like others who dabble in the fine art of writing stuff that you hope gets read by your target audience, along with a litany of facts you find that it can also be enlightening as well. With that said, I've learned what other fans around the world have known about The Brothers Four for over 60 years.
There's something special about The Brothers Four...really special (but it's in addition to their uniqueness and wholesomeness as family oriented entertainers). The group has been on the national and international stage since 1960, an achievement unto itself....but it's more than that too; it's because the members of the group, in its varied configurations have always considered themselves to be "pop" singers, more than "folk" singers of the same stripe as Woody Guthrie, the Weavers, Pete Seeger and others who are beloved by folk purists.
Here's founding member Dick Foley, in an interview with C.J. Skreen writing for the Seattle Daily News, 22 Sept 1963 speaking about the popularity of folk music and the group's success. "We came in on the first wave of the folk-song fad, but it is no longer a fad, it is more like a tidal wave." "As for our group", he said, "we don't claim to be an ethnic or purist group but we do all our own arranging and much of the writing, revising old lyrics for a more contemporary flavor".
And here's John Paine, 20 years later, in an interview with John Wendeborn, staff writer for the Oregonian, Portland, OR on 8 February 1984: "We always looked at ourselves as a 'pop' group. We could do Broadway, or just about anything that lent itself to harmonies," like "Try to Remember" (Columbia 45 4-43404), a memorable hit for the group. He went on to say, though, that "our influences were in the folk movement. The Weavers, Easy Riders, and Harry Belafonte, they were some of our heroes."
In the article, Paine continued with the revelation that "we played a Newport Folk Festival once and I'm sure the folk purists just cringed." But actually, as long as you're someone who just loves good music, it's not a stretch that you can also be a folk purist (whatever that engenders in your mind), and still appreciate and enjoy the genius of The Brothers Four. Put me in the latter category. While I enjoy the rootsy stuff from the folk icons of yesteryear, I've been listening to and admiring The Brothers Four from the very beginning ...when I first heard them on the radio singing their signature song "Greenfields" (Columbia 45 4-41571). The song was written in 1957 by Terry Gilkyson, Richard Dehr and Frank Miller, members of the Easy Riders folk group.
Make no mistake, though. Even while they make a deferential distinction between themselves and their folk heroes, have largely stayed away from social and political issues and added a measure of "pop" into their repertoire... what they sing is primarily folk music....the kind of stuff that you want to tap your toes and clap your hands to... and heartedly sing along with. Or be entranced by a sweet lullaby or a lovely paean to a sweetheart. Needless to say, today The Brothers Four are considered pioneers of the '60s folk revival.
The focus of this piece is to look at The Brothers Four group as it wends and winds its way along on its journey through the 60-plus years of its time in the public eye... in the auditoriums, theaters, nightclubs and concert halls here and around the globe.... their love of being entertainers, why they got together in the first place, why they stayed together and their thoughts on the music they bring to their audiences. In the jacket notes on their More Big Folk Hits LP, here John Paine talking about the group's careful selection of songs: "We are not only interested in the songs for their musical values but for their lyric values as well."
In the beginning, as relayed by Bob Flick in a 2005 interview with Gary James of www.classicbands.com, "the original four guys, Dick Foley, Mike Kirkland, John Paine and myself had no idea or dream of being professional musicians at that time. We would get together", he said, "'cause we all shared a common interest in these songs, in this music." As we'll see, their interest grew to the point of having fun singing at school parties....and beyond.
Here's John Voorhees, writing for the Seattle-Post Intelligencer in a Sep 23, 1959 article titled "Brothers Four Slated For No. 1 Spot Race," about the formation of the group of four Phi Gamma Delta students at the University of Washington, and the success of their first album." He reports that "the group came together in 1958 and started out singing folksongs for campus parties and their Fraternity Rush Week. In the interview, which covered the promotion of their album, The Brothers Four (Columbia CL 1402, CS 8197)...from which the "Greenfields" single was taken due to its popularity, an upcoming Las Vegas performance and their plan to eventually graduate (they didn't), plus Columbia Records' hope for the group's longevity in the music business, one of the brothers candidly exclaimed that "we have fun singing and kidding around together. That's enough for now"... a reasonable comment for a 21 year old kid not certain about what might lie ahead.
Reading that, who would have thought that a group formed by four college guys (then using the name Mark IV) would still be around more than 60 years later? But as can happen, things have a way of changing. Listen to Bob Flick and his prescient comments on the love of performing in an interview with Mary Campbell, AP writer for the Olympia, WA Morning Olympian on 31 August 1966: "We dig performing. We're going to be hard to stop, even when we're old and gray-haired." Talk about pluck!
So there it is. It's no great surprise that The Brothers Four, even with the several comings and goings of its members over the years, are still performing. The current members include Bob Flick, a founding member (acoustic bass), Mark Pearson (guitar & banjo, '69-'71, '85 to present), Mike McCoy (guitar, since '04) and Karl Olsen (guitar, since '08). Dick Foley and John Paine, both founding members, left the group in 1991 and 2004 respectively. Mike Kirkwood, the fourth founding member left the group in 1968. He passed away on 20 August 2020.
For a good read on how the group went from amateurs to professionals, check out their website at https://brothersfour.com/Home. It's quite a story. Another source for information on the group is an article by Bruce Eder writing for AllMusic.com (covering the impact at the time of up-and-comers like Bob Dylan and Joan Baez). The Brothers Four | Biography & History | AllMusic.
The Brothers Four are known as the "Musical Ambassadors to the World". They've been everywhere...Canada, throughout Asia and Europe and in Russia. In Japan, especially, The Brothers Four have enjoyed a strong, family-like relationship since 1962. They are honored to have a "Brothers Four Friends Club" and they have performed at the Tokyo Music Festival with a full orchestra. And yes, they can sing in Nihongo, the national language of Japan. Look for it on youtube.com.
The music of The Brothers Four charmed me and made me a life-long fan. But writing about them without delving into their music proper would be like having a peanut butter and jelly sandwich without the peanut butter and jelly-— leaving little to sink your teeth into. So here's something a bit more substantial to chew on!
Early on, according to Wikipedia, there were eight singles that made the Billboard Hot 100, with three of them in the Top 40: "Greenfields"(NO. 22 - 1960, 4-41571); "Frogg"(No. 32 - 1961, 4-41958) and "I'll Be Home for Christmas"(No. 26 – 1966, 4-43919). But for groups like The Brothers Four, it was the LPs, rather than the singles, that proved their popularity with the record buying public and their positive impact on folk music. Below, is a list of 22 LPs (U.S. Pressings), including 18 from their 10 year stint with Columbia Records.
If you're not familiar with the music of The Brothers Four, in their catalog you'll get the "whole shebang," the "kit and caboodle" of folk music from one of the premier folk-pop groups of the late '50s/early '60s up through the present day (yes, they still make albums). In other words you get just about everything you'd hope for...a wide variety of music for all tastes...sea faring ditties, romantic ballads, calypso, ethnic, side-splitting tales, blues, old-time religion, Christmas, cowboy and western, and classics from folk icons, et al.
Just for the fun of it, from a few of the categories mentioned we'll take a look at songs from 45s and LPs as well as the more recent efforts on the CDs they continue to bless us with...including live concert performances.
Romance is in the air when the guys sing the very beautiful "Seven Daffodils" (from "Sing of Our Times" and "Come to My Bedside, My Darlin'" from More Big Folk Hits). Listen while they take ownership of Woody Guthrie's iconic "This Land is Your Land" (from their Silver Anniversary Concert live recording where they invite the audience to participate)... and another iconic tune from Bob Dylan, "Mr. Tambourine Man" (from The Honey Wind Blows). If you're looking for the "blues" you'll find it in a smoky ol' honky tonk on the north end of somewhere...where the group gets low down and bluesy with "Hey Hey My Honey" and "Betty and Dupree" (both from Roamin' with the Brothers IV) and Roy Orbison's "Blue Bayou" (from New Gold).
Continuing on with our tour, you'll feel the island breezes wafting in your direction as the Brothers breathe life into the calypso medley – "Jamaica Farewell," "Yellow Bird" and "John B Sails" (From The Tokyo Tapes CD) recorded live in Tokyo in April of 1996. If trains are your thing, on the same CD you'll enjoy the tracks on the "Railroad Medley" – "City of New Orleans," "Blue Water Line," "Wabash Cannonball," "This Train" and "Rock Island Line."
The Brothers Four can do it all. Sometimes there's nothing like a rollickin', foot stompin', hand clappin', hoot and hollerin' song to get those musical juices flowing. A couple that fit that description are "Whiskey In the Jar" (from the This Land is Your Land CD) and "I Am a Roving Gambler" (from B.M.O.C.) As good as they are, it gets even better. A crowd-pleasing example is "Tie Me Kangaroo Down, Sport". It appears on the "Big Folk Hits" album but takes on a whole new dimension on their Brothers Four-Golden Anniversary CD where they perform it live for a very appreciative audience...using what seems to be a complicated, overlapping "round-like" structure which you know had to take considerable time to master. A real gem. You have to hear it to believe it! (Eh, Bruce?).
And speaking of The Brothers Four-Golden Anniversary CD, if you've ever sung in a church choir or a choral group, you'll know what I mean when I say that it can be a rewarding experience for both the singers and the audience. I can imagine that's how it was for both as the members of the Sno-King Chorale, on the 2010 Golden Anniversary CD, accompanied the Brothers on several of their greatest hits...including "Shenandoah," "Greenfields," "Michael Rowed the Boat Ashore," the Calypso Medley and "Goodnight Irene." Simply Marvelous! (For a dramatic new take on "Shenandoah," check out "New Shenandoah (Wide Missouri) on the 2018 release of The Brothers Four Renewal CD).
The Brothers Four are masters at musical high jinks, the kind of stuff that tickles your funny bone. If you enjoy humorous folk tales, these will give you a chuckle, or maybe even a hearty guffaw: "Since My Canary Died," "Boa Constrictor" and "25 Minutes to Go" (from Cross-Country Concert), "The Hippopotamus" (above, from 1970) and "A Variation on an Old English Theme" (from In Person) – live at the U.S. Naval Academy.
Lastly, but certainly not the least of them, if you love Christmas music, "Mary's Boy Child," "I'll Be Home for Christmas" and "Oh Holy Night" are gems on the Merry Christmas album. And you haven't heard Christmas carols the way The Brothers Four sing them. The album is stunning...which is why it's still in print after 55 years.
The Brothers Four have experienced many highs in their career. Here are some highlights: They performed at the inauguration of John Kennedy and at the White House for three presidents. They also performed on a navy carrier and twice for our troops in Vietnam. Their song "Green Leaves of Summer" (Columbia 45 4-41808) which appeared in the John Wayne movie The Alamo was nominated for an Oscar. They performed their song at the Academy Awards ceremony. They also appeared in the movie Hootenanny and at the Newport Folk Festival. They guest starred on various TV shows: Jimmy Rodgers, Kate Smith, Mike Douglas, Danny Kaye, Dick Cavett, Ed Sullivan, Bob Newhart, Dinah Shore, Sing Along with Mitch, American Bandstand and The Bell Telephone Hour. Lastly, they recorded the theme song for the TV show "Hootenanny" and had a recurring role (performing at UCLA, the College of William and Mary and at the West Point Academy).
And how about their trademark sound? Prior to The Brothers Four concert at the Harvester Performance Center, Rocky Mount, Virginia on 13 September 2019, Kyle, a KD Country Radio personality (Altavisa-Lynchburgh, Virginia) asked Bob Flick, as part of a wide-ranging interview, to talk about the group's harmony. "A great part of what we do with The Brothers Four," said Flick, "has always been a unison approach, or maybe 2 or 3 part harmony; or maybe some counter melodies we learned from a fella named Milt Okun, who became our musical director back around album number 2 or 3. Try to Remember"(Columbia 45 4-43404), "Yellow Bird" ("The Brothers Four" LP) and "Shenandoah"(Columbia 45 4-44058) are all a product of Milt's genius." So whether they're singing a song's melody line in unison or breaking out in a wonderful, heaven-sent harmony, the result, from the four unique baritone, bass and tenor male voices of The Brothers Four, is a full, rich, smoothly blended sound all their own. There's nothing else quite like it...anywhere.
It's not often that The Brothers Four make a swing from The Great Northwest to The Great Northeast, so it's been my good fortune to have seen The Brothers Four in concert twice, at the Troy Savings Bank Music Hall in Troy, New York and at the Caffe Lena in Saratoga Springs, New York. Both are renowned performing venues and unique in their own right: Troy Music Hall for its acoustics and Caffe Lena for being the oldest, longest running folk music venue in the U.S.
For the Troy Savings Bank Music Hall performance on 7 April 2005, The Brothers Four shared the stage with The Kingston Trio, another great pioneering folk-pop group. In an iBerkshires.com (North Adams, MA) press release on 5 April 2005, Bob Flick was quoted as saying that "I think people are really genuinely rediscovering and connecting to this American music. And we're very happy to accommodate them". My recollection of that evening was that the near-capacity audience was excited to see the two legendary groups and enthusiastically showed their appreciation for a great concert.
On 27 July 2018, before heading on to the Shalin Liu Performance Center In Rockport, MA, The Brothers Four performed two shows at Caffe Lena. It was a special night in many ways, and in particular, due to the absence of Mark Pearson, founding member John Paine, who retired from the group in 2004, came aboard to save the day (er, night) and didn't miss a beat. For the first show, Caffe Lena was packed with a lively audience who robustly enjoyed singing along with the Brothers....who performed just about every Brothers Four song you'd expect...and then some: "Greenfields," "Green Leaves of Summer," "Scarlet Ribbons," "Tie Me Kangaroo Down, Sport" and "Whiskey in the Jar" were standouts...along with the slightly off color "Frogg" which, according to Bob Flick, had them "banned in Boston."
Singing along at Brothers Four concerts is expected and welcomed. In an interview with Gale Fiege, writing for The Daily Herald, Everett, Washington on 9 Nov 2017, Bob Flick, prior to two concerts at the Edmonds Center for the Arts on Nov 11, 2017, noted that "this music is called Americana now. It's not a lost art. It's storytelling music. 'Where Have All the Flowers Gone' is just as sobering a song as when Pete Seeger first sang it. There are serious subjects and lots of joyful tunes." Flick went on to say that the concerts (at Edmonds Center) "will give people a chance to remember times that are dear to them. That's why our concerts become sing-along events".
At Caffe Lena, I was up close and personal, near the stage and, serendipitously, situated by the entrance/exit door. As the show ended, I was able to reach out and shake hands with both Bob Flick and John Paine, the two founding members of the group. That made my day!
During the performance, being as close as I was to the stage, I could clearly see the Brothers as they plucked the strings of their guitars and stand-up bass...as well as the way they used their mikes to their best advantage (The stage area was not large). Some observations: Bob Flick, in holding and maneuvering with his bass, was very deliberate with his vocals, articulating carefully while almost kissing the mike; John Paine, a consummate professional with his vocals and with his light touch, was exciting to watch with his varied guitar strumming patterns; Karl Olsen, effortlessly, beautifully finger-picking strings on his guitar while soaring above the others with his harmonies and Mike McCoy, wonderful, easy, laid back vocals with his superb guitar playing.
It's obvious a strong bond exists among the men, all of whom have been with the group for many years. The four were acutely tuned into each other and all were having fun. You could see them glance from one another as if noting approval for something done well in their singing or in the playing of their instruments on a particular song. The banter between the members of the group was a joy to watch. At one point, Karl (who has been with the group since '08) was being teased about his longevity with the group, suggesting he may not be around much longer. But then to Karl's feigned relief, Bob Flick agrees that Karl has definitely earned a permanent place in the group. It was mentioned, too, that John Paine's guitar and Bob Flick's bass are instruments that have been with the group since its beginning in 1957. Paine's guitar was especially mentioned because it was the primary instrument played on the group's first hit, "Greenfields." The comment was then made that "the guitar is still in pretty good shape", whereby Paine, to the audience's delight said..."Yeah, it's in better shape than I am."
Caffe Lena, In a recent communication to its patrons, "Who Will Carry the Music Forward?", talked about the launch of the Caffe Lena School of Music (and the welcome of any help that might come its way). Sarah Craig, Executive Director of Caffe Lena said "it's not about creating the next star, it's about music as a way to connect to our roots and to each other, and to just plain have fun."
From what we've learned about The Brothers Four, you know...through their songs (as encapsulated in Bob Flick's inspiring "I Hear America Singing" on the This Land Is Your Land and the Golden Anniversary CDs)... as well as their ability to connect with their audiences....that ideals such as those are what The Brothers Four is all about...what these four roving balladeers from Washington state exemplify.
According to the record jacket on the first Brothers Four album, The Brothers Four, their trademark is "having fun with a good song." And that's just what they've done for the past 60 plus years. As The Weavers are wont to say, "Wasn't That a Time"?
Brothers, keep on rollin'!
For vinyl enthusiasts, here's a listing of all of Columbia Records LPs (U.S. pressings) and several LPs released by Fantasy, Great Northwest Music Co. and First American. Most songs on these albums have been reissued on CDs. Many appear on youtube.com.
Columbia Records LPs (U.S. Pressings):
The Brothers Four - 1960 (CL 1402, CS8197) [shown at beginning of article]
Rally 'Round! - 1960 (CL 1479, CS 8270)
BMOC - 1961 (CL 1578, CS 8378)
Roamin' with The Brothers IV - 1961 (CL 1625, CS 8425)
The Brothers Four Song Book - 1961 (CL 1697, CS 8497)
Greatest Hits - 1962 (CL 1803, CS 8603)
In Person - 1962 (CL 1828, CS 8628)
Cross Country Concert - 1963 (CL 1946, CS 8746)
The Big Folk Hits - 1963 (CL 2033, CS 8833)
More Big Folk Hits - 1964 (CL 2213, CS 9013)
Sing of Our Times - 1964 (CL 2128, CS 8928)
By Special Request - 1965 (CL 2271, CS 9071)
The Honey Wind Blows - 1965 (CL 2305, CS 9105)
Try To Remember -1966 (CL 2379, CS 9179)
A Beatles Songbook -1966 (CL 2502, CS 9302)
Merry Christmas -1966 (CL 2568, CS 9368)
A New World's Record - 1967 (CL 2702, CS 9502)
Let's Get Together - 1969 (CS 9818)
1970 - 1970: Fantasy (F8400)
Now - 1976: The Great Northwest Music Company (GNW-4002)
Greenfields & Other Gold - 1977: First American (FA 7722)
New Gold -1979: First American (FA 7728)
Below is a listing of several vintage CDs issued in the U.S. :
Greenfields & Other Gold -1986: American Leasing Company (ALC 4799)
Silver Anniversary Concert -1987: American Leasing Company (ALC 4800)
The Tokyo Tapes -1996: Folk Era (FE435)
This Land is Your Land - 2005: Seattle Works (SWE0502)
Golden Anniversary - 2010: Seattle Works (SWE1002)
The Beautiful World of the Brothers Four- 2014: Seattle Works (SWE0414)
The latest CD issued by Seattle Works: The Very Best of The Brothers Four - Renewal -2018: Seattle Works (SWE1807)
In Addition, there are several reissue companies like Jasmine Music, Collectors Choice, Collectables and Timeless which have issued more recent multi-paks or compilations. They can be found on Amazon.com and Ebay.com.