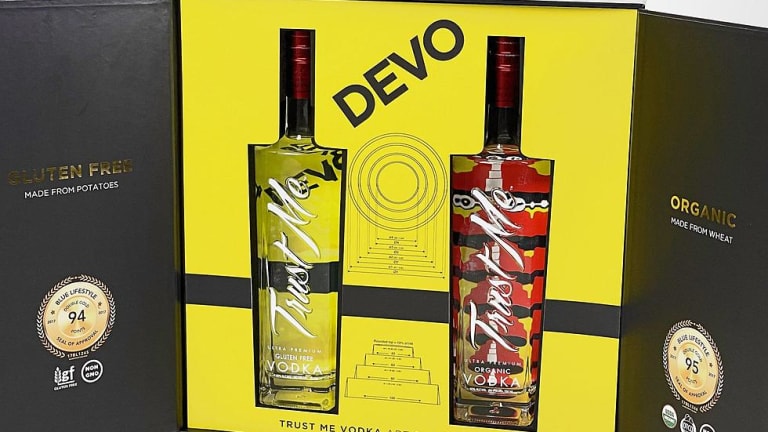 Devo's Trust Me Vodka box set is a tasty collector's item
Devo have launched a limited-edition collector's box set which contains two bottles of organic Trust Me Vodka and autographed original band artwork. The set makes a perfect holiday gift, and only 1.500 made!
Ever wonder what alcoholic beverages can go with a great DEVO tune? We have. The Goldmine staff have tried several attempts at homebrew beer (from organic Spuds, no less!), but it just didn't taste right. And then we got the answer straight from the band Devo: organic potato vodka!
The band DEVO have created their own case for vodka! And, as a collector, you can get this in a limited-edition collector box set signed by DEVO (only 1,500 made!). The set contains two bottles of Trust Me Vodka (gluten-free) which features new original artwork by DEVO — a never-before-seen graphic called "The Energy Dome Hat" — autographed by founding members Mark Mothersbaugh, Gerald Casale, and Bob Mothersbaugh. This all sets the mood for a great high-class martini!
If you don't believe us, listen to Gerald Casale talk about the DEVO Trust Me Vodka in a short video below.
And, of course, what would any box set be without a great unboxing video, shown below.
You can order the DEVO Trust Me Vodka box sets here, and catch Devo live in NYC in May.
Cheers, D-E-V-O!