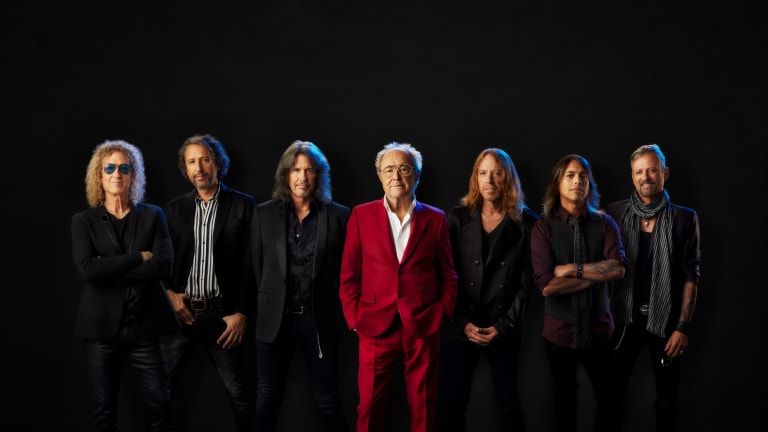 Foreigner provide hand-signed guitars to concertgoers donating 1K or more to Ukranian relief effort
Foreigner have raised more than $100K partnering with American Red Cross to raise money for Ukranian relief efforts.
During a three-week, sold out headlining residency at The Venetian Theatre in Las Vegas in March and April 2022, the rock band Foreigner partnered with the American Red Cross to donate and raise funds for Ukrainian relief efforts, raising more than $100,000. The band have donated $5,000 from each show, providing hand-signed guitars to those in the audience who donated $1,000 or more to the American Red Cross representatives on site.

The show, The Best of Foreigner 4 Live, celebrates the 40th anniversary of the band's bestselling album, 4. The album was released on July 2, 1981 and spent more weeks at No. 1 than any other album in the history of Atlantic Records. 
"Juke Box Hero" (above), a hit from the album 4, was released in January of '81 and has since become a signature rock anthem for Foreigner. For The Best of Foreigner 4 Live, the audience was treated to other songs from 4 as well as older classics such as "Cold As Ice" and "Feels Like The First Time."
Foreigner founder and lead guitarist Mick Jones says, "The plight of everyone impacted by this conflict is an international tragedy. While we face our own ongoing struggles here at home, I am thrilled at the opportunity to work with the American Red Cross in doing our part in the relief efforts. Our goal is to offer some solace or small comfort to traumatized people in the region. I could think of nothing more American than a gesture of such brotherly love to those who are feeling so displaced and alone in this world right now."

With Foreigner's newest lineup — lead singer Kelly Hansen, bassist Jeff Pilson (Dokken), keyboardist Michael Bluestein, guitarist Bruce Watson, drummer Chris Frazier and guitarist Luis Maldonado — Mick Jones guides the band to continued success. But right now, Foreigner is thinking about the conflict going on in Ukraine and how they can help on a humanitarian level. 
For more information on how the Red Cross is helping relief efforts in Ukraine, please visit HERE.
Tour Dates — FOREIGNER (foreigneronline.com)