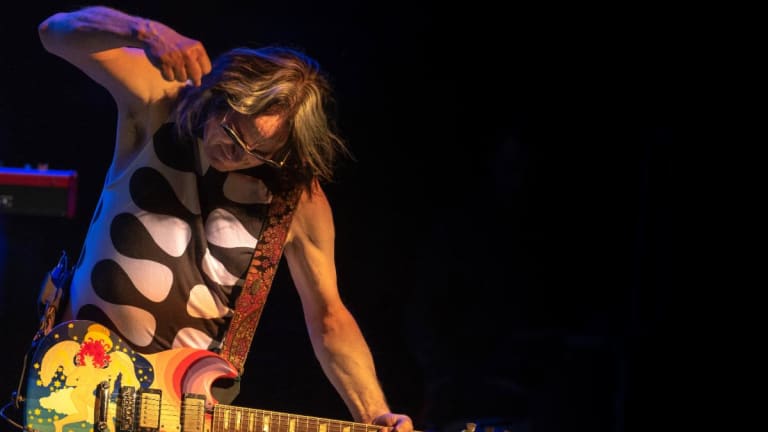 Listen to Todd Rundgren's new groovin' song collaboration with Thomas Dolby
Todd Rundgren offers up an early peek into his latest solo album "Space Force" with the cut "I'm Not Your Dog" featuring Thomas Dolby.
Todd Rundgren offers up an early peek into his latest solo album Space Force with the cut  "I'm Not Your Dog." Listen and view the video (with visuals from Kiron Hussain) below.
Teaming with Thomas Dolby — the "She Blinded Me with Science" chart-topper turned music technology pioneer — "I'm Not Your Dog" is a cathartic rallying cry against society's most formidable tools of oppression (religious, political and financial) that leave so many feeling lost. Over pulsing bass lines and swirling synths, the collaboration fuses an unwavering, iconoclastic vision with Rundgren and Dolby's unique gifts for melody and production.
You can order Space Force on a limited-edition, silver vinyl release exclusive from Goldmine, by clicking below.
"I've known Thomas (Dolby) since before we were the two most famous musicians working in Silicon Valley," says Rundgren. "All he had was an MP3 demo, but I liked the song enough to do an entire restoration, sometimes replacing or shadowing instruments and vocals to restore the audio spectrum."
"I'm Not You Dog" follows the release of Rundgren's Space Force collaborations with The Roots ("Godiva Girl"), Weezer's Rivers Cuomo ("Down With The Ship"), Sparks ("Your Fandango"), guitar extraordinaire Adrian Belew ("Puzzle") and rapper Narcy ("Espionage") with additional tracks to come featuring The Lemon Twigs, Steve Vai, Crowded House's Neil Finn, Davey Lane, Alfie Templeman and Rick Nielsen of Cheap Trick. Rundgren's relationships with these collaborators range from decades-long friendships to recent internet connections; having bonded with Thomas Dolby decades ago over their shared space as innovators and early adopters of new technology in music. Dolby has been a leader in the virtual reality space since the early 1990s and currently is a professor of Music For New Media at Johns Hopkins University. For his part, Rundgren was behind some of the first-ever music videos ("Time Heals," 1980) and commercial music downloads (1992) as well as the first online direct artist subscription service, "PatroNet" (1998).
Rundgren will continue to tour North America through the end of the year, adding a new leg to his year-long run with Daryl Hall while also paying tribute to his legendary friend on the "Celebrating David Bowie" tour with Space Force collaborator Adrian Belew (and guest appearances from Thomas Dolby on the October 31 and November 1 shows). A full list of dates for each is below.
SPACE FORCE TRACKLIST
PUZZLE (with Adrian Belew)
DOWN WITH THE SHIP (with Rivers Cuomo)
ARTIST IN RESIDENCE (with Neil Finn)
GODIVA GIRL (with The Roots)
YOUR FANDANGO (with Sparks)
SOMEDAY (with Davey Lane)
I'M NOT YOUR DOG (with Thomas Dolby)
ESPIONAGE (with Narcy)
STFU (with Rick Nielsen)
HEAD IN THE OCEAN (with Alfie Templeman)
I'M LEAVING (with The Lemon Twigs)
ECO WARRIOR GODDESS (with Steve Vai)
"Celebrating David Bowie" Tour Dates:
Oct 6, 2022 - Balboa Theatre - San Diego, CA
Oct 7, 2022 - Saban Theatre - Beverly Hills, CA
Oct 8, 2022 - San Jose Civic - San Jose, CA
Oct 9, 2022 - City National Grove of Anaheim - Anaheim, CA
Oct 13, 2022 - Mystic Lake Casino - Prior Lake, MN
Oct 14, 2022 - Copernicus Center - Chicago, IL
Oct 15, 2022 - The Goodyear Theater & Hall - Akron, OH
Oct 17, 2022 - Theatre Capitole - Quebec City, Quebec Canada
Oct 18, 2022 - L'Olympia (Montreal) - Montreal, Quebec Canada
Oct 20, 2022 - The Cabot Theater - Beverly, MA
Oct 21, 2022 - College Street Music Hall - New Haven, CT
Oct 22, 2022 - American Music Theatre - Lancaster, PA
Oct 23, 2022 - The Tarrytown Music Hall - Tarrytown, NY
Oct 24, 2022 - Sony Hall - New York, NY
Oct 25, 2022 - Sony Hall - New York, NY
Oct 27, 2022 - Union County Performing Arts Center - Rahway, NJ
Oct 28, 2022 - Penn's Peak - Jim Thorpe, PA
Oct 29, 2022 - The Concert Venue at Harrah's Resort Atlantic City - Atlantic City, NJ
Oct 30, 2022 - Keswick Theatre - Glenside, PA
Oct 31, 2022 - Rams Head On Stage - Annapolis, MD
Nov 1, 2022 - Rams Head On Stage - Annapolis, MD
Nov 3, 2022 - The Eastern - Atlanta, GA
Nov 4, 2022 - Taft Theatre - Cincinnati, OH
Nov 5, 2022 - Town Ballroom - Buffalo, NY
Nov 7, 2022 - Schermerhorn Symphony Center - Nashville, TN
Nov 9, 2022 - Orpheum Theatre (Wichita) - Wichita, KS
Nov 10, 2022 - Paramount Theatre - Denver, CO
Nov 11, 2022 - Kiva Auditorium - Albuquerque, NM
Nov 12, 2022 - Tucson Convention Center - Tucson, AZ
Nov 13, 2022 - Celebrity Theatre - Phoenix, AZ
Tour Dates with Daryl Hall:
Nov 19, 2022 - Oncenter Crouse Hinds Theater - Syracuse, NY
Nov 21, 2022 - Michigan Theater - Ann Arbor, MI
Nov 23, 2022 - DeVos Performance Center - Grand Rapids, MI
Nov 25, 2022 - Riverside Theater - Milwaukee, WI
Nov 27, 2022 - Orpheum Theater - Madison, WI
Nov 29, 2022 - State Theater - Minneapolis, MN
Dec 1, 2022 - Stifel Theater - St. Louis, MO