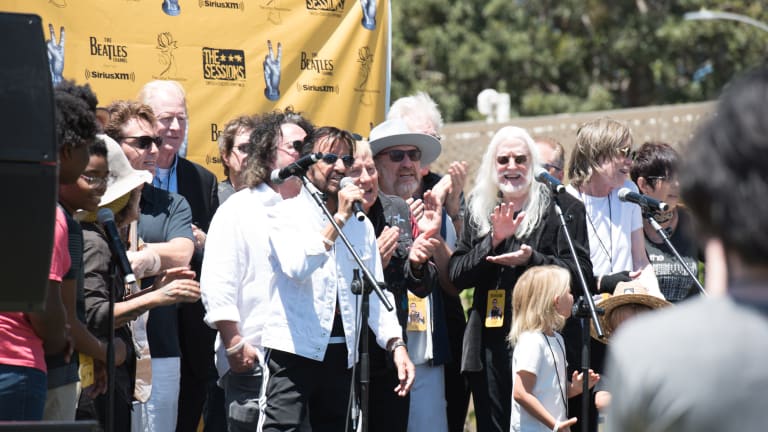 Sir Richard Starkey celebrates 82nd birthday
Ringo Starr celebrates his 82nd birthday in the heart of Beverly Hills.
As he has done for multiple years, Ringo Starr held a combination birthday celebration and peace rally, surrounded by close friends, the press and fans, a few feet from Santa Monica Boulevard. In spite of city ordinances in Beverly Hills, California, prohibiting large gatherings due to COVID-19, the faithful gathered under a cloudless sky.
The affair was kept largely under wraps to keep the crowds small and not be in violation of any laws. Nothing can stop Starr because, after all, love rules, and there is much love whenever he appears. Beverly Gardens Park features a large statue of Starr's peace sign, so it's a good guess that every year on July 7, Starr will appear, although in the days before COVID, the celebration was held at Capitol Records.

As always, Starr walked the press line, stopping to answer questions, flash his signature peace sign and entertain. At one point, his phone rang and it was his son calling. "I can't speak right now, son," he said with a laugh into his phone, and continued down the line, joking and mugging for the press.

Starr was joined by his wife, Barbara; current All-Starr Band members Steve Lukather, Edgar Winter, Colin Hay, Warren Ham and Gregg Bissonette; as well as friends Benmont Tench, Jim Keltner, Richard Marx, Matt Sorum, Ed Begley Jr., Linda Perry, Diane Warren, Roy Orbison Jr. and Alex Orbison. Also in attendance was beloved photographer/philosopher Henry Diltz.
It's very hard to believe that this man was born in 1940; Starr is in great health and looks wonderful. Not one to rest on his laurels, he continues to create new music: Starr released two EPs in 2021, Zoom In and Change the World. Prior to the big moment at noon in which everyone counts down and Starr flashes his signature peace sign, the crowd was serenaded with his single from 2021, "Let's Change the World."
His message of peace was relayed to the International Space Station so it could be retransmitted all over the world. Starr has always fought for peace, be it one person, or one world at a time. Happy birthday, Sir Richard, long may you reign!