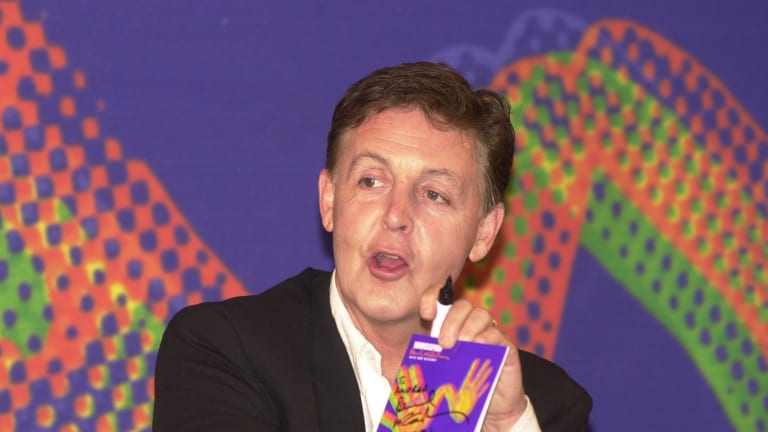 Paul McCartney's 5 best solo albums
An examination of Sir Paul's greatest post-Beatles work.
Shop for Paul McCartney vinyl, collectibles and more at Goldmine's store.
By John M. Borack
On the occasion of Sir Paul McCartney's upcoming 80th birthday on June 18, let's take a look at his five best solo releases.
1. Ram– 1971
Garnering mixed – at best - reviews upon its initial release, the passage of time has been more than kind to Ram. It's now seen by many as a high water mark of McCartney's solo career, brimming with tuneful, cute, quirky ditties.
Linda McCartney is listed as having co-written half of the disc's dozen songs, which range from the ridiculous (and ridiculously catchy) nonsensical rocker "Monkberry Moon Delight" to the sublime: the number one single "Uncle Albert/Admiral Halsey," one of Paul's miniature pop operas, chock full of his trademark musical and lyrical twists and turns.
Other standouts included the superb, Buddy Holly-influenced "Eat at Home" (one of the songs where Linda's harmony vocals work rather nicely), the semi-autobiographical charmer "Heart of the Country," the lovely Brian Wilson pastiche "Back Seat of My Car," and another sneering rocker, "Smile Away." One of the tunes that attracted the most notice was the opening cut, "Too Many People," which featured the lines "Too many people preaching practices" and "You took your lucky break and broke it in two." Most listeners took these lyrics to be a not-so-indirect shot at John Lennon and Yoko Ono, as did the Lennons themselves.
2. Back to the Egg – 1979
Not many would rank Egg this highly, but I'm of the opinion that it's a damned fine record, a winning mixture of classic McCartney sounds with a touch of the then-burgeoning "new wave." "Getting Closer" was released as the first single in the U.S. and although it barely edged into the top twenty, the insistent number was a typical upbeat McCartney ditty, albeit with some strange lyrics. (It's probably safe to say it's the only pop song ever to rhyme "salamander" with "don't answer.") "Spin it On" was as close as McCartney ever got to punk, with superb performances from guitarist Laurence Juber and drummer Steve Holley; the forceful "Old Siam, Sir" came together around a vaguely Oriental-sounding keyboard riff; "To You" sounded a bit like The Cars, particularly the vocals; and the nostalgic "Baby's Request" had originally been written for the Mills Brothers.
Elsewhere, Denny Laine's pure pop "Again and Again and Again" was perhaps his finest contribution to Wings, and a couple of thunderous-sounding songs the band recorded with what McCartney dubbed the "Rockestra" – a super-sized supergroup assembled only for one session – were both excellent. Placing two slow-ish medleys back-to-back probably wasn't the wisest idea, although I stand by my assertion that half of one of said medleys – the charming "Love Awake" – is one of the loveliest ballads of Paul's solo career. "Arrow Through Me" is pretty nice, too.
3. Venus and Mars - 1975
While generally not seen as being in the same league as Band on the Run, Venus and Mars was certainly a more than worthy follow up, with quite a few standout tracks. The first single, "Listen to What the Man Said," is a stirring example of classic McCartney popcraft. Ace session cat Tom Scott's soprano sax makes the song, which became McCartney's eighth consecutive top ten single in the U.S.
The album-opening medley of "Venus and Mars"/"Rock Show" was the perfect call to arms for Wings, and a readymade concert opener with the lyrics, "Sitting in the stands of the sports arena/waiting for the show to begin." Indeed, it would kick off all the shows on the band's Wings Over the World tour in 1975 and 1976, and the push and pull of the dynamics between the sedate "Venus and Mars" and the storming "Rock Show" was enticing and memorable.
Jimmy McCulloch contributed and sang lead on his own "Medicine Jar," an anti-drug warning (with a wonderful lead guitar solo) that would become sadly ironic in the wake of McCulloch's drug-related 1979 death at age 26. Denny Laine took a lead vocal turn on McCartney's slightly mysterious, echo-laden "Spirit of Ancient Egypt," while Paul's Marvel Comics tribute, "Magneto and Titanium Man," and another in a long line of his music hall homages, "You Gave Me the Answer," were both quite fetching. While Band on the Run may get more love from the masses, to me, Venus and Mars is probably the more consistent record.
4. Run Devil Run – 1999
Here's your wild card: it's a cover-heavy record, recorded following the death of Linda in 1998, that most wouldn't rank among McCartney's finest achievements. I do, mainly because Run Devil Run has a spontaneity and a sense of abandon that much of Paul's solo catalog lacks. Oh, and it rocks like mad.
Leading a crackerjack band that included Pink Floyd's Dave Gilmour, Mick Green, Ian Paice, Dave Mattacks, Pete Wingfield and Geraint Watkins, McCartney runs through the well-known ("All Shook Up," "Brown Eyed Handsome Man," "Lonesome Town") and the obscure (the Vipers' "No Other Baby," Carl Perkins' "Movie Magg") with a wide-eyed passion and sense of reverence for the originals. The performances are not fussed over, and the tracks were laid down quickly, which helps keep things fresh. Songs made famous by Gene Vincent ("Blue Jean Bop"), Larry Williams (an incendiary "She Said Yeah"), and Fats Domino ("Coquette") are also present and McCartney sings the hell out of everything here, clearly enjoying himself immensely.
The album is not without its touching moments. Three McCartney originals are also on the playlist, with "What It Is" described by McCartney in the liner notes as "my little tribute to Linda." The lyrics contain heartbreaking-in-retrospect lines such as "I love you so much/I can never do without your touch," and "You make me proud to be who I am" sung over a snappy, guitar-heavy backing. Definitely one of McCartney's most overlooked tunes. Another original is part of an emotional triptych that's placed towards the middle of the record: the self-explanatory "Try Not to Cry" comes immediately after the mournful covers of "No Other Baby" and "Lonesome Town," and all three could be seen as speaking directly to McCartney's loss. A gem of a record.
5. Flowers in the Dirt - 1989
Upon its original release, Flowers in the Dirtwas an artistic and commercial comeback of sorts for Paul McCartney, coming as it did after the relative disappointment of 1986's largely forgettable Press to Play. Writing with Elvis Costello, McCartney was again working with someone who had an acerbic tongue and strong opinions, as well as an artist who could balance out McCartney's polished sweetness with a little grit and some lyrical barbs; basically, he had found another partner not dissimilar to John Lennon. This is the popular train of thought and while it's certainly true, I've always felt there was another important factor at work in their successful collaboration: working with someone as well-respected as Elvis Costello, McCartney realized he needed to step up, stop coasting, and bring his "A" game to the table, which he certainly did on Flowers.
The four tunes that Costello and McCartney co-wrote on Flowers in the Dirt are centerpieces of this fine album: their memorable duet, "You Want Her Too," finds McCartney playing the role of the good guy and Costello the snarky rival vying for Paul's girl; "My Brave Face" is a wonderful approximation of the Beatles circa 1965 that is McCartney's last top forty single to date as a solo artist; and the gospel-inflected "That Day is Done" stands out as a sorely underrated number in the McCartney canon. Other noteworthy tracks on Flowers penned solely by McCartney include the ultra-romantic, hooky "This One," the charming, acoustic guitar-based "Put it There" (inspired by a phrase McCartney's father Jim liked to use, and featuring orchestration by George Martin), and "Figure of Eight," a pulsating rocker highlighted by a fine McCartney lead vocal.
And since I'm all about balance, I've also compiled my take on McCartney's five worst solo records. Read that list here.