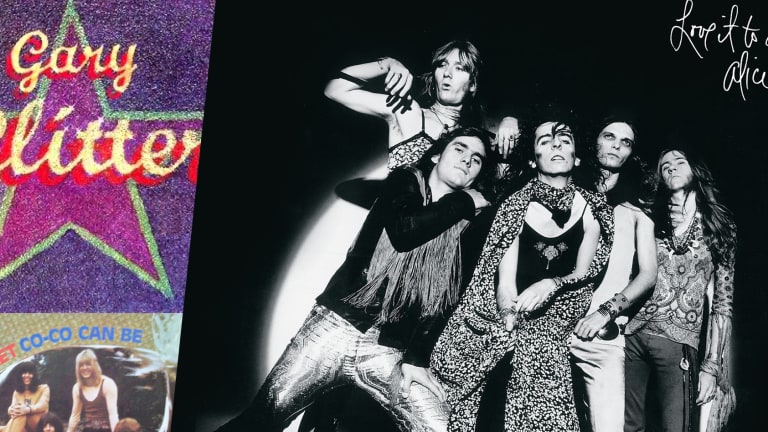 The 20 albums that invented Glam Rock
Here are the 20 full-length recordings that defined glam rock, starting in the late '60s and gaining strength into the 1970s.
By Dave Thompson
And that's real glam. None of the hyper-hairsprayed power ballad brigade, none of the Quiet Riot-play-Slade's-Greatest-Hits-Badly boyz. Just good ol' high-kickin', mascara-drippin', fist-wavin', "hey hey" shoutin', stompin', rompin' mutant teenaged lust-mongers, that wave of howling hormones that swept the U.K. pop scene in the early 1970s, and has been haunting the fringes of rock and roll ever since. It was heady stuff then, and it's even headier today, as we sulk through whatever catastrophe the news has flung at us this morning, and yearn for a return to the days when silly clothes and dafter lyrics weren't simply a saleable commodity, they were a cultural imperative.
And so, in the words of Gary Glitter… "Come on, come on. Come on, come on. Come on, come on, come on. I say."
1 — Velvet Underground - The Velvet Underground & Nico (1967)
Andy Warhol invented glam rock, no matter what anyone says. And, while he didn't invent the Velvets, his association with the band, and their absorption into his world, would do as much as the music to nail them to the flag.
2 — David Bowie - David Bowie (1967)
The hipsters say it was his second album (same title, different label) that marked the beginning of Bowie's drive for stardom. But in terms of subject matter, memorable characters and sheer downright weirdness, an album cut in the mould of English vaudeville but peopled by lecherous gravediggers, homeless pill-poppers and military transvestites had far more in common with what was to follow, than a silly little song about a space man.
3 — The Stooges - The Stooges (1969)
Slobbering three chord brain damage it may have been, but there was more to the Stooges than Iggy's leonine form, self-destructive rep and those glorious silver trousers. Bowie borrowed a lot from the Stooges, and a lot of others borrowed from Bowie. The lineage is complete.
4 — Tyrannosaurus Rex - A Beard of Stars (1969)
Before there was T. Rex, there was its oft-misspelled big brother, a weird folky duo who started in the underground, then slowly crept up the parapet. This was the pre-Boogie Bolan, but with an electric guitar to replace the pixiephone, and a clutch of songs that knew the worth of killer choruses, Ty Rex's fourth album was a direct link into T. Rex's first. And "Bang a Gong" was coming.
5 — The Rolling Stones - Let It Bleed (1969)
Glam wasn't all fun and games. Behind the masks and make-up of Roxy Music, Cockney Rebel and (late in the day) the Doctors of Madness, there lurked a darkness and disgrace that was torn straight from the pages of the Stones' finest hour. Dirty, filthy basements included.
6 — Various Artists - Performance: Original Motion Picture Soundtrack (1970)
Everything about Mick Jagger's movie debut screams glam rock, from Jagger's persona to the sleaze and damaged beauty, and onto a soundtrack that might peak with "Memo from Turner," but throws much more into the kitty, too. Because it's not the sounds alone that make something glam, it's the aura, and Performance had aura by the bucketful.
7 — The Kinks - Lola versus Powerman and the Money-Go-Round (1970)
A lumbering title and a singalong hit disguised a lot of crystal ball-gazing on the part of Mr. Ray Davies… "Lola"'s strange secret is common knowledge today, but would it feel awfully current in a few years, too. And as for "Apeman"… did you know Elton John once climbed onstage at an Iggy Pop gig, dressed as a gorilla? Scared poor Iggy half to death, he did.
8 — Hotlegs - Thinks: School Stinks (1971)
If Hotlegs had lived and died by their single hit, "Neanderthal Man," that pounding beat and chantalong chorus would still have confirmed their glam credentials. Instead, they became 10cc, and their sole LP became a blueprint for a band that never fit the glam bag in the slightest, but by their very irrelevance to all things glitter, ensured there was room inside for everyone.
9 — The Sweet - Funny How Sweet Co-Co Can Be (1971)
If we don't include this album, people will say "Hey, why did you forget the Sweet?" If we do include it, people will say "What does that piece of garbage have to do with anything?" Not much, but you can see glimmerings of the quartet's future relevance in the occasional flash of self-determination. Plus, Brian Connolly's voice was tailor-made for "Blockbuster." And that was just two years away.
10 — Alice Cooper - Love It To Death (1971)
Electrocutions, live snakes, fake blood and strait jackets, Love It To Death was Cooper unleashed, from the side two suite around "The Ballad of Dwight Fry" to the ultimate anthem of teenaged disaffection, "I'm Eighteen." Plus, a withdrawn cover design saw Alice's finger in a very suggestive position.
11 — Elton John - Madman Across the Water (1971)
Included less for what it is than for what it could have been — in 1971, Elton John went into the studio with Mick Ronson, Mike Chapman and Rick Kemp to record half an album's worth of songs. Including a sprawling, epic psychodrama take on the title track, plus an unknown number of other, unknown songs. U.K. label head Dick James scrapped the lot and only "Madman" itself has since surfaced. But it alone could have changed history.
12 — Mott the Hoople - Brain Capers (1971)
It would have been their final album without Bowie's kiss of life, but what a way to go out. For all Mott's later protestations that they were nothing to do with glam, producer Guy Stevens' greatest ever studio performance signposted the way in all but intent, brash and tight and just not giving a damn. Yep, that sounds right.
13 — Sparks - A Woofer in Tweeter's Clothing (1972)
Even without Sparks's subsequent rebirth as quirky U.K. hitmakers, the Todd Rundgren produced Woofer tweeted out all the right messages, including a stampeding "Do Re Mi," a wicked "Whippings and Apologies," and the positively yearning space fable "Moon Over Kentucky." What more could you ask for?
14 — Sensational Alex Harvey Band - Framed (1972)
Hard rock with a sideways grin, few sights in rock have ever beaten the image of Alex teetering towards the edge of the stage, arms outstretched and intoning, menacingly, "Let me put my hands on you." "Faith Healer" was glam in everything but its seven minute length, and the rest of this album danced happily in its wake.
15 — Slade - Slade Alive! (1972)
Recorded while the band was still just one hit old, it seems strange that an album comprising in-concert covers of John Sebastian, Ten Years After, Janis Joplin and Steppenwolf could ignite anything more flashy than a post-Woodstock hangover. But the band's innate showmanship bleeds through even on vinyl, and Noddy's voice was a rallying cry that no-one could resist.
16 — Gary Glitter - Glitter (1972)
When Gary Glitter recorded "Rock and Roll," he thought he was paying tribute to the '50s sound of the title. Instead, he either blueprinted (the shouts, the chant, the call-and-response) or amplified (Slade's stamping feet, Bolan's glittered clothes) everything that had not already been injected into the incipient glam stew. And, though everyone says it was Bowie who got the glitterball really rolling, remember this: "Rock and Roll" was already at No. 2 in the U.K. when "Starman" entered the Top 30. It did better in America, too.
17 — Roxy Music - Roxy Music (1972)
Glam was still getting off the ground when Roxy debuted, but one look and you know that they were a part of the basement furniture. Snobs prefer the U.K. version of their debut, without the hit "Virginia Plain," but America got it right in this case. It lifts a high art project into the star-spangled firmament where Roxy truly belonged.
18 — Lou Reed - Transformer (1972)
David Bowie and Mick Ronson's production notwithstanding, the fact that Lou was still working his way through a backlog of Velvets-era songs dismisses any claim that this album was written with glam rock in mind. But the likes of "Wagon Wheel," "Make Up" and of course "Walk on the Wild Side" ensured that no glitter freak carnival could be complete without it.
19 — The Rocky Horror Show - Original London Cast (U.K.) (1973)
The glam thing was firing on all cylinders now, but like Queen (below), there was still more that could be added, and where better to find it than in an underground cult stageshow about transsexual spacemen, Frankenstinean sex toys and two naive young lovers named Brad and Janet? Plus, didn't Riff Raff look just like Brian Eno?
20 — Queen - Queen (1973)
At heart, Queen were basically an over-amped metal band with an eye for pretty interludes. But add the operatic lungs of Freddie Mercury, and a refusal to be nailed to any single genre, and the pre-Bo Rhap monarchy was responsible for at least three of the glam era's signature hits. See if you can name them.