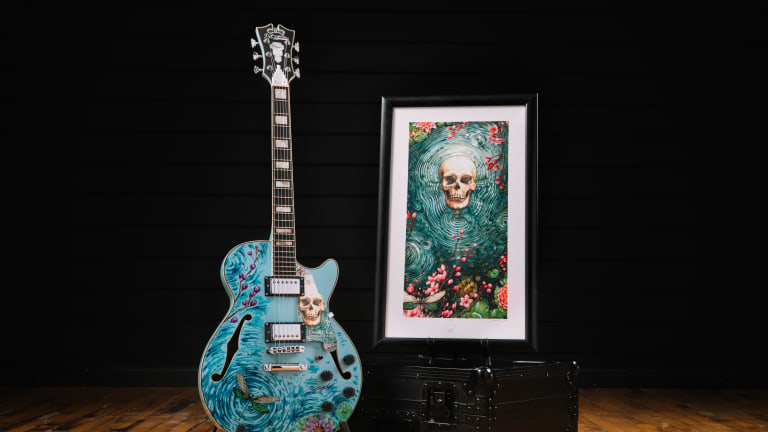 Dead & Company raise astounding $650K for charity while on tour
Dead & Company partnered with nonprofit to raise over $650,000 through various auctions during their summer tour
Get Grateful Dead vinyl and collectibles in the Goldmine shop
During their summer tour, Dead & Company raised over $650K via auction.
The total amount, $658,600, was raised to support nonpartisan and nonprofit voter registration organization HeadCount, environmental organization REVERB, and a handful of other charities selected by Dead & Co. The total amount was raised from all auction items over the entire tour (posters, the guitars, drumheads, etc.)
A one-of-a-kind D'Angelico guitar (shown above) features artwork by contemporary artist & Grateful Dead poster collector favorite AJ Masthay.
Weir, who serves on HeadCount's board of directors and has been a vocal advocate of voting and democratic participation, first played the guitar at Shoreline Amphitheater in Mountainview, CA on June 13th, after which the bidding immediately popped up to $74,000. Then, when he played the guitar again at Chicago's Wrigley Field on June 25th, it zoomed to $250,000.
The D'Angelico Premier SS Guitar played onstage by Dead & Company's Bobby Weir closed out its bid at $300,000 on July 16 at CitiField, the last stop of the tour.
The guitar and other auction items were on display each night at "Participation Row," the charity social action village which travels with the Dead & Company tour.
ABOUT HEADCOUNT:
HeadCount is a non-partisan non-profit organization that harnesses the power of music, culture and digital media to register voters and inspire participation in democracy. Since 2004, we've registered over one million voters through our work with musicians like Ariana Grande, Beyoncé, Dead & Co, Harry Styles and Megan Thee Stallion; events including Lollapalooza, Bonnaroo, Pride Festivals, and RuPaul's DragCon; plus partnerships with brands like Spotify, Ben & Jerry's, and GrubHub. Our award-winning online campaigns have been seen over a billion times, while our 50,000 volunteers can be seen at more than 1,000 live events each year. We reach young people where they already are – at concerts and online – to inform and empower.