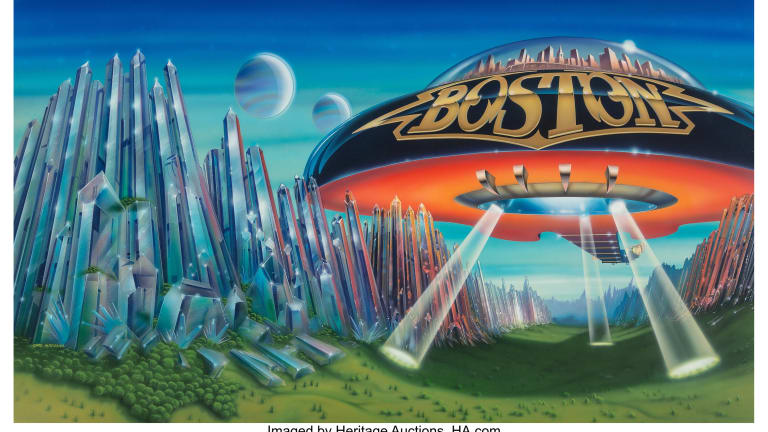 "We are beyond thrilled with the results of our auction," Heritage Auctions Fine & Decorative Arts Consignment Director Meagen McMillan said about the auctioneer's April 30 Illustration Art auction ($2,297,692 in total sales)."From the original artwork for Boston's Don't Look Back album cover by Gary Norman to Alberto Vargas reclaiming of his name with Mara Corday – this sale was filled with excellent examples by illustrators of every genre."
The only album cover Norman ever painted during a long career as a commercial artist, Boston Don't Look Back album cover (1978) soared to $81,250, more than 11 times its high pre-auction estimate. The album that reached the No. 1 on the Billboard charts and was among the first compact discs released upon the format's debut in the early 1980s, Don't Look Back featured Norman's upside-down guitar/spaceship design that is as recognizable to some as the music in the album.
"I am totally blown away and very pleased with that – my heart is still pounding," Norman said of the result. "That's gonna be something I remember for the rest of my life. Looking back at Don't Look Back, it's quite amazing. Totally amazed."
Don't Look Back artwork was straight from the collection of Norman. The artist used acrylic and airbrush on board 25 x 46 inches (63.5 x 116.8 cm), signed on the lower left. The artwork was not framed. There was mild wear along the extreme edges with loss. Three, 1 inch lines of skinning in the upper left quadrant. It sold on Apr 30, 2021 for $81,250.