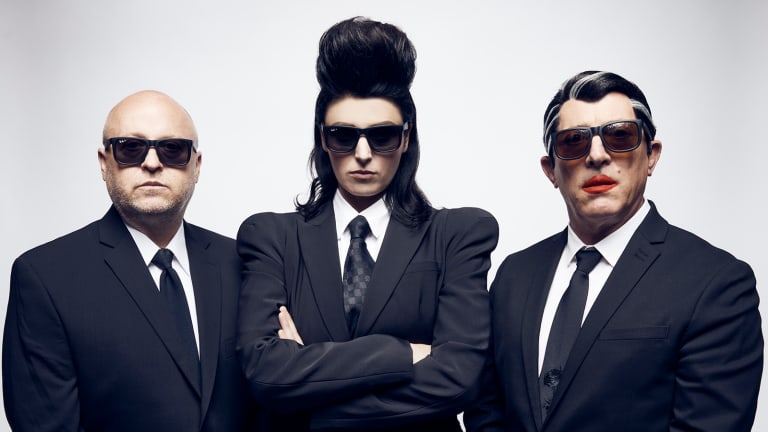 Puscifer vinyl stampers become one-of-a-kind collectibles
Your chance to own a part of the 'Existential Reckoning' origin story.
Visit the Goldmine store — it is a music collector's one-stop shopping of vinyl, CDs, box sets, collectibles, collecting supplies, audio equipment, music history books and Goldmine-only exclusives. Click HERE! 
By Andrew Daly
Vinyl collectors and music obsessives come in all shapes and sizes, but at their crux, they share one core value: the need to obtain fetishized objects.
If you love a band and their music — specifically, on vinyl — what's a record fiend to do when owning a simple slab of tasty wax isn't enough? Well, traditionally, you've got a few options, including box sets, colored vinyl, collector's editions and the like. But alas, you want more now, don't you?
Worry not: Goldmine and Revolver have you covered with their latest endeavor, which finds the stampers used to press the uber-limited runs of Puscifer's 2020 album, Existential Reckoning, being transformed into something assuredly special. Intrigued? Let's dive in.
To understand the project's origins, we checked in with Dan Yashiv, the Head of Production at Sunpress Vinyl, the fine folks who took on the endeavor at its onset.
"Puscifer had gone on tour in support of Existential Reckoning and wanted to do something special regarding having limited records for sale at the merch tables," Yashiv explains. "So, we ended up working with them to have 27 variants of 50 each available at each tour stop. We used clear as the base color, and we did different splatter effects, with each one being totally unique. The result was Puscifer has had 50 of these unique variants for each stop on tour, which proved to be very special to both the band and their fans."
As many enthusiasts well know, however, most vinyl runs are typically for larger quantities and generally have a longer timeline, a.k.a. the production of these sanctified discs takes time. But in this instance, Yashiv and his team were under a tight deadline, which proved tricky.
"I don't think we'd ever done anything like that before in terms of providing specific variants for individual shows," admits Yashiv." It goes without saying that time was very tight because, obviously, tour dates were booked, which presented us with a strict, definitive deadline. But we were able to turn the whole thing around and deliver in about six weeks, which is pretty much unheard of in today's climate. It was a real challenge but also an exciting one. It was tough, but they all sold out, which made it even more rewarding."
You can imagine the inherent collectability of a limited-run, splatter-colored disc already unique to each Puscifer show. But Goldmine and Revolver had another idea, which is entirely unprecedented — the authentic stampers used to press these rare vinyl variants have been turned into a one-of-a-kind collectible for auction.
So, what exactly is a stamper? Yashiv explains: "It's funny because I have a background in production, and when I first started, I thought I knew it all, but when it comes to pressing records, there are so many intricacies," he says. "Look at it this way, when you're pressing records, the stamper is kind of like the negative of a photograph. So, what we do is use a three-step process, with the first being cutting a master to a disc that's made of lacquer. That lacquer will ultimately contain the audio from the original source, which is cut into the grooves continuously by a lathe. So, that's the first and second step.
"At the end of the lacquer process, you've essentially got a record," Yashiv continues. "You could even play that lacquer, but we never do because it needs to be sent to the electroplating phase. This is where the lacquer basically is dipped in baskets full of molten metal — nickel in this case — and after that, we let it harden, and once it's cooled, we've got our stamper. Once the stampers are ready, we take them to our pressing plan, install them on our presses, and start pressing vinyl."
Now that we've cleared up what a stamper is, we can finally bask in the glory of the singular collectible: the Puscifer Existential Reckoning Custom Framed Stamper Plate. On the surface, it might seem like a piece geared only toward vinyl obsessives, but it's more than that. You don't need to collect vinyl to appreciate this one — because, for the first time, fans can take home a piece of a beloved album's origin story.
"This project is extraordinary," Yashiv enthuses. "These stampers are one-of-a-kind, and for a long time, these types of things were never made available to the general public. The package is very compelling, with gold flake covering the stampers, and the whole thing is mounted in a really nice frame for display. There's also a certificate that authenticates it, with details to commemorate the piece. The cool thing is that the stampers look beautiful, but they also have a beat-up quality due to the process of pressing vinyl, which is rough. I like that, though — it adds to the history and authenticity of the stampers."
To be sure, a ton of pressure and heat passed through those hardworking grooves en route to pressing the initially limited runs of Existential Reckoning, which only adds to the lore of the collectibles. For too long, these hardworking nickel-covered workhorses were relegated and forgotten, but now, the stampers used to press the music that fans love will forever be on display, proudly bearing the scars of their labor.
But one might wonder, "What if the stampers are used to bootleg the records?" It's a fair question because, if we're being honest, record collecting is as much about obtaining as it is about listening. To that end, if you've got a rare record, you'd hate to see its value decline due to unsavory types. Not to worry: Yashiv and the team at Sunpress Vinyl have taken care of that.
"Of course, to press vinyl, you need a pressing machine," quips Yashiv. "A lot of people who might want to bootleg an album don't have that. Still, some do, so we've taken steps to ensure that won't happen. It was important that these stampers remain commemorative artifacts, and were never used for the wrong reasons, so we cut a notch in the edge of each record, rendering each stamper useless from a pressing perspective. So, even if you have a pressing machine, you'll never be able to use these stampers for anything but beautiful wall art, as they're intended to be."
For some, the things we surround ourselves with define us at our core. Music has meaning, and if the last few years have shown us anything, vinyl has meaning, too. The Puscifer Existential Reckoning Custom Framed Stamper Plate is yet another step in tributizing the music we love in new, inventive ways. The truth is that the modern collector wants more, is always seeking to move the needle further, and will continue to push the envelope of their passion. If that sounds all too familiar, this one's for you.
"This project is the first of its kind, so if anything, we'll always remember it for that," Yashiv concludes. "This project and these stampers are the founders of something new that wasn't available to people before. And this stamper is even more special because of the limited run of tour vinyl that they were used to press — that's an incredible thing. I think anyone interested in Puscifer and likes this album will be into this."
In a world where it's easy to feel increasingly disconnected, collectibles like this dial us back in and bridge the gap. The Puscifer Existential Reckoning Custom Framed Stamper Plate gives fans a tangible means to plug into the epicenter of their musical muse. And so, if a simple slab of black wax isn't enough, now is your chance to feast your eyes on and lay your hands across a piece of the process that started it all. These stampers represent a distinctive piece of the puzzle.
So, want to get your hands on the Puscifer Existential Reckoning Custom Framed Stamper Plate? Now's your chance. To get in on the action and have an opportunity to bid on this unique collectible, head to https://shop.goldminemag.com/collections/puscifer-auctions to place your bid!
The auction will run starting on January 24th at noon EST and conclude on February 27th at 3 p.m. EST. Further details regarding the auction are as follows:
Auctions will begin with a starting bid of a set amount. Users must first log in to their Goldmine/Revolver Magazine Shopify account to place a bid. Once logged in, users must place a bid at least 10% higher than the previous offer in order to become the current highest bidder. For example, if the highest bid is currently $100.00, you will have to bid $110.00 or greater.
Once you place a bid, you will receive an email confirmation. If another user bids higher than you, you will receive an additional email stating you've been outbid and will be given a chance to bid again.
Be sure to check how many items are being sold in the auction — it could be for a 1-of-1 where there is only one winner, or there could be multiple winners.
Auctions last until the countdown timer reaches zero — there is no other way to end an auction. If a bid is placed in the last five minutes of the auction, an additional five minutes will be added to the auction time to allow for anyone else to beat that bid. This five-minute extension will continue until no more bids have been placed.
During the last five minutes of an auction, it is recommended that active bidders refresh the auction page frequently to get the most up-to-date information about the sale in progress. Any additional costs (applicable taxes/VAT, shipping costs, etc.) will be added to the winning bid at the end of the auction and charged to the user.
The winning bidder will receive an email to complete the transaction of the auction. They will have 48 hours to complete the transaction. In the event the winning bidder does not complete the transaction, an email will go out to the second-highest bidder.
PLEASE NOTE: COUPON CODES ARE NOT APPLICABLE TO THIS AUCTION ORDER. PLEASE DO NOT APPLY COUPON CODES, OR WE WILL VOID THIS ORDER.
Go to the auction HERE.