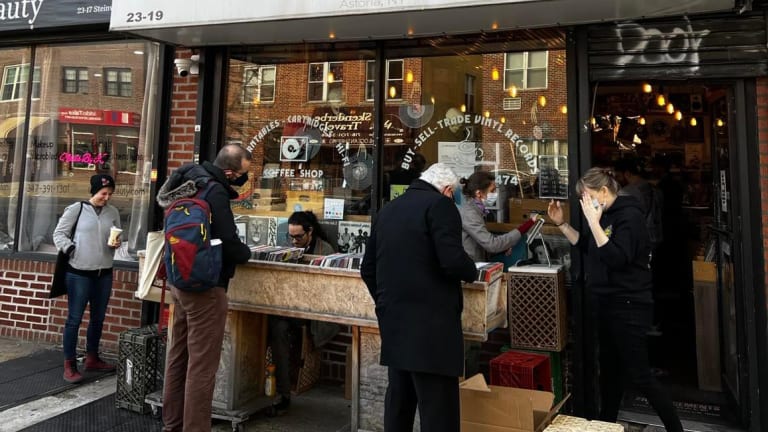 Share your Record Store Day experience with Goldmine while we share ours!
That's right, share your Record Store Day experience with Goldmine! Tell us what you picked up, what you missed, how many record store stores you visited, etc. All the positives and negatives, gush and/or vent — and send your photos to go along with it! But first, here's our experience!
Goldminers, we want you to share your April 23, 2022 Record Store Day experience with us! Tell us what you picked up, what you missed, how many record store stores you visited, etc. All the positives and negatives, gush and/or vent — and send your photos (if you have them) to go along with it! Post it in the comments on one of our social media sites (Facebook, Twitter or Instagram) or send to goldminemagazine@goldminemag.com (subject line: RSD experience) and we will post it in the comment section for you on your favorite social media platform.
But first let us tell our experience on Record Store Day.
Record Store Day was a lot of fun for the Goldmine staff (as it usually is). Hanging out in the record stores, being turned onto what's spinning on the store's turntable ... sometimes the RSD releases would be playing, sometimes not. Chatting with the record store day staff. Food, drinks (all in-between store stops). Restrictions, no restrictions. Long lines, no lines (our favorite). And, of course, the RSD releases and the record store itself. 
It all started early morning at 6 a.m. on this Record Store Day and that was the one part that really sucked. We aren't morning people at Goldmine, especially not on the weekend, but you should get up early on a RSD Saturday to improve the chances of getting the releases you want. No guarantees, of course, but the odds are better with an early rise. You don't have to be the first person in line, nor do you have to get there exactly when the store opens. But early is good. 
However, the secret, if you really want to improve your chances of getting the record releases you desire, go to a record store that is off the beaten track or not trendy. Think: Where would the mainstream record buyer go for Record Store Day? And DO NOT go there first. In fact, maybe don't go there at all! It's probably the 'Apple Store' of record stores around you (if there is one), right? Pretty much.
Anyway, we waited a bit for one particular store to open and for its RSD line to clear. Then we pulled up to a parking space right in front (George Costanza would be proud!) of HiFi Records &  Cafe in Astoria (that would be in Queens, New York City for those of you unfamiliar with Gotham). A reader had recommended this store and we LOVED it. HiFi had their entire RSD selection outside on a beautiful — slightly chilly — New York City day; about eight feet of records in a well-displayed, sturdy wood bin on wheels, no less. And there was nearly everything we wanted. Favorites: A cool reissue of John Fred and His Playboy Band on "Psychedelic Purple" vinyl (none of the group's albums have ever been re-released on vinyl, btw), Cold War Kids 10-song compilation (curated by a super fan!) on silver vinyl, ABKCO's reissue of The Rolling Stones' More Hot Rocks (gorgeous collector's edition!) and the Judas Priest compilation Hero Hero with a beautifully embossed album cover. A few of these were a little pricey, but the collector's heart wants what it wants, it does not care. We weren't crate diggers on a budget at this moment in time, and we certainly weren't flippers wanting to get the vinyl at the cheapest possible price to sell later on eBay. (God forbid!) So, we dished the money out and didn't bitch about it like a bunch of old-school, cranky record collectors at a local record show. We've been those people (we're making fun of ourselves here) but we weren't on this day. This was about celebrating, helping (financially) and giving thanks to the independent record store you were visiting. In other words, dish that money out without a complaint. This only happens a few times a year, after all. Be cheap another day.
And the staff at HiFi were great hosts. It was their sort of red carpet treatment. "You want several bags? You want recommendations? You looking for anything besides RSD releases?" Etcetera. And they didn't laugh at our picks either. One of us considered RSD Madonna vinyl. And we actually got a high five for getting the Judas Priest's Hero Hero release. And that was from an employee who thought that Judas Priest's 1970s music was superior than their later output. We agreed.
The inside of HiFi is small, but not by NYC standards — basically one room that is very welcoming for a music fan. The used vinyl selection is excellent, especially for classic rock and rock in general... It's High Fidelity without Jack Black's Barry Judd and his snobbery. They do have used audio equipment priced right, and supposedly you can get a cup of coffee there (we didn't trust that part).
After that, it was into Manhattan. Academy Records & CDs on 18th Street (an old Goldmine haunt) was not participating in Record Store Day this year and Academy Records on 12th street would not be opening until 11 a.m. So, we went to Rough Trade in midtown Manhattan. During the pandemic it is easier to find a parking meter spot on the street than pay $20 for just pulling into a parking garage (a racket, for sure!). And, since the parking gods were smiling on us, we found a space one block from Rough Trade, in the middle of tourist central. This is Rockefeller Center, people. You know, 30 Rock, like the TV show, just steps from Radio City Music Hall. 
As we walked straight for the store, the vibe wasn't good. First off, let us say, we love Rough Trade. Nothing can beat visiting Rough Trade when in the U.K. and this U.S. location is fun ... but the line for Record Store Day was already around the block (and then some!) at 10 a.m. It was an estimated 2-3 hour wait. The store was letting customers in by capacity (i.e., for every two customers who leave, two customers are let in). 
The store was handing out RSD lists to those waiting in line (and pens if you didn't have them). Apparently, you had to check off what you wanted on the list and hand it to the clerk when you got into the store. This sort of "wait in line a very long time and then rush out of the store" like an assembly line seemed to go against the inner spirit of Record Store Day; that is, the celebration of the culture of record stores. We stood in line and debated this, talked to some of those in the line (mostly newbies to RSD) and then sent some recon to the front of the store. We finally decided we could sit down, relax, eat and hit two other record stores in the time it would take to just step inside Rough Trade. We bailed. 
We were glad we did. By the time we got to Academy on 12th, they were still preparing to open. The line was short, so we went a few stores down to the eatery Smør, sat outside at a table and ordered egg sandwiches. The food was delicious, btw, even if a tenant from the balcony above dropped a roach clip on our table. When you visit Academy, drop by Smør for nourishment — we can't guarantee the extras, though.
Academy's line disappeared in literally five minutes and we were in. Goldmine has always loved this treasured record store in the East Village. They have just about everything that can possibly fit into one smallish store. The employee in charge of the turntable popped on RSD's Lou Reed I'm So Free 1971 Demos on vinyl, and that was enough to convince us to pick up this gem. One of our editors recommended it last week, but it took hearing it on a turntable to want it. There weren't as many RSD releases as HiFi's selection (at least it appeared that way) and a few pickers were rudely bumping other customers and grabbing every RSD release in sight. Flippers? We think so.
There was one lone copy of The Jackson 5's ABC reissue (a sweet score on 180 gram blue vinyl) and enough of the RSD Punk 45 rock compilation for all of us. There's a cool little corner in the store with fanzines, local papers and flyers to pick up, and the used vinyl at Academy is always good to look through, too ... and we went through all  of that before leaving. 
Instead of exploring more Manhattan favorites, the crew decided to take a ride to Long Island to Mr. Cheapo Records in Mineola, NY. This was another recommendation from a reader and it turned out to be a good one. Superchunk's reissue of Incidental Music, which is a collection of B-sides and unreleased tracks, and The Replacements' Unsuitable For Airplay, an early soundboard recording of the band, were (finally) found there. And our list was complete, except for one record: The reissue of Detective's self-titled debut album. Hey, no Record Store Day is ever perfect. 
The used turntable/audio equipment selection at Mr. Cheapo was pretty damn good (as well as the sticker prices) and the used CD and DVD selection was as grand as the used vinyl stock. Some of the used vinyl was priced a bit high, especially the Led Zeppelins and the Beatles, etc., but you can get very good prices on lesser known bands. But what really made our Cheapo experience was finding the boxes of past RSD releases. That was a nice find and too many to name, from 101ers to The Smithereens.
Our Record Store Day was not over, however. There was an Irish American pub down the street (good food/good drink) as a place to look over our collective haul, and later we all went to one of our apartments to play all our goodies. 
Now for the next Record Store Drop on June 18! Read the RSD list for that HERE.
Check out Goldmine's own record shop for exclusive vinyl and collectibles curated by the magazine's own editors! Check it out by clicking HERE.