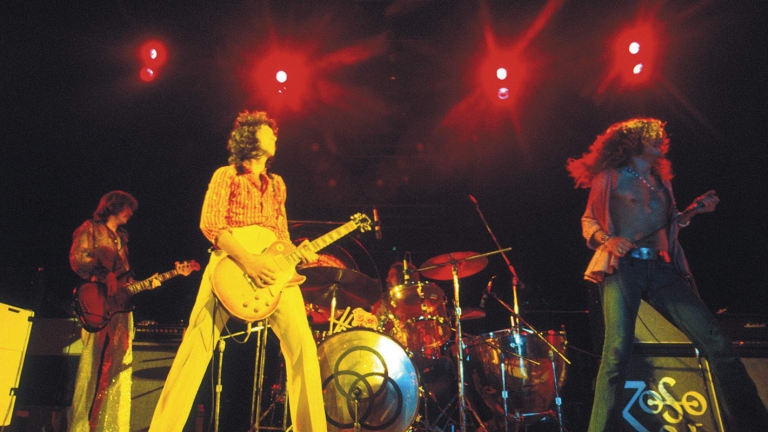 6 most collectible Led Zeppelin singles
From a Japanese pressing of "Immigrant Song" to an Angolan "Over the Hills and Far Away" rarity
Shop for Led Zeppelin vinyl, collectibles and more at Goldmine's store.
On January 30, 1971, Led Zeppelin were in the middle of working on their fourth album – the record that would propel them from stardom into super-stardom, selling over 24 million copies (to date) in the United States alone. But on that date, the group were still struggling with overcoming the perception that their third album sounded more like folk than blues. The band's roots were in R&B, in old-fashioned rock and roll. As they prepared to work on the song that wound up as the B-side of the album's second single, drummer John Bonham began playing the drum intro from Little Richard's classic song "Keep a-Knockin'." Jimmy Page spontaneously added a guitar riff. The music sounded so good that they decided to set aside "Four Sticks" for the time being and work on this song, which they temporarily dubbed "It's Been a Long Time." According to Page and Robert Plant, it was very natural and spontaneous — from start to finish the process took about an hour.
When "Rock and Roll" came out as a single (officially on February 21, 1972), Record World noted that since it had already received so much airplay as an album track, it clearly deserved to be released as a single to get a "run at the top." While the song didn't make it to the top of the charts, that bit of heart-pounding rock and roll instantly became a classic.
Led Zeppelin have released quite a few singles over the years. As a magazine about collecting, we might ask which ones are the most collectible today? While individual collectors might create different lists, if we do not count acetates and test pressings, these records surely belong in any collection of Led Zeppelin singles.
"The Immigrant Song"/ "Out on the Tiles"
Atlantic (Japan) DT-1180 with sleeve $3,500+
Japanese Atlantic (Nippon Grammophon) prepared this single, with its sleeve, in December 1970. Their chosen B-side, "Out on the Tiles," would prove to be different than the one that became part of this single release worldwide. However, Warner/Pioneer was formed in Japan in November 1970. At the beginning of 1971, Warner/Pioneer took over the Japanese Atlantic catalog. They reissued "The Immigrant Song" in January, with a different sleeve and the usual B-side, "Hey, Hey, What Can I Do." That made the original coupling a rarity — as a withdrawn release.
"Over the Hills and Far Away"/ "Dancing Days"
Atlantic (Angola) ATS-610 $2,000
In a country not known to be a focus of Zeppelin fans, Atlantic of Angola released this single during the Angolan war for independence — shortly before the Portuguese government was overthrown. The struggle for liberation dominated the minds of most citizens, who were not as concerned with obtaining a new record from a British musical group. As a result, the record remains a sought-after rarity.
"Whole Lotta Love"/ "Livin' Lovin' Maid"
Atlantic (U.K.) 584309 $1,750
Withdrawn edited version of the A-side
There are two early British singles that are highly prized by Zeppelin collectors. The "other" one is "Communication Breakdown," which only came out promotionally because the band themselves objected to its release. In a similar fashion, "Whole Lotta Love" certainly would have made a great single, but the record was withdrawn over a disagreement with the decision to edit the A-side. Each of these rare British singles is a prize for collectors today.
"She Just Satisfies"/ "Keep Moving"
by Jimmy Page, Fontana (U.K.) TF-533 $1,750
Before Jimmy Page joined Robert Plant, John Paul Jones and John Bonham to form the band we know as Led Zeppelin, he was a member of The Yardbirds for roughly two years. Before that, he was a highly respected session musician. In 1965, he recorded his first single for Fontana Records. The single sold a few copies, but Page wound up on a path that took him to the formation of Led Zeppelin.
"Babe, I'm Gonna Leave You"/ "Dazed and Confused"
Atlantic EP-A-1019 $1,200
Mono, with title sleeve
Atlantic promoted the group's first album in January 1969 with two promotional singles — one in stereo and the other in mono. The mono singles were intended for AM radio, while the stereo promos went to FM stations. Since most people in the United States were unaware of Led Zeppelin at the time, these became collectors' items later on.
"Stairway to Heaven"/ "Stairway to Heaven"
Atlantic PR-175 with title sleeve
$1,000 Stereo/Mono
Although it would become one of the group's most famous songs — and indeed one of rock's most famous songs — Led Zeppelin did not want to release "Stairway to Heaven" as a single. However, Atlantic did press copies more than once as promotional records. This one, PR-175, was the first of the promos, featuring the stereo mix of the song on one side and the mono mix on the other. Because of the song's significance, this is also one of Led Zeppelin's most prized singles.
In the United States, Led Zeppelin only released 10 commercial singles from their inception until Bonham's death in 1980. They were, and are, far better known as an album band than one that released singles. This makes their single records somewhat of an interesting niche worldwide. Typically, the more obscure the record, or the more unusual its country of release, the more collectible it is. The group released singles in Costa Rica, Ecuador, Finland and El Salvador — to name a few. Locating copies of these singles in near-mint condition might be easier than finding some of their scarce American mono promotional albums.
It has now been far longer since the band first lamented that it had been a long time since the days of early rock and roll. In fact, if 15 years had elapsed between the rise to popularity of Little Richard and the release of Led Zeppelin's "Rock and Roll," consider that it has now been 50 years since the "Rock and Roll" single came out. Time flies when you're rockin.'