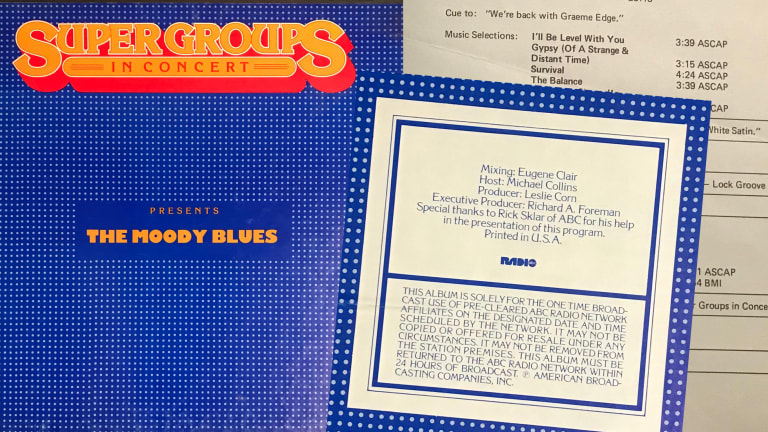 Collecting "press" records — Super Groups In Concert
IN THE 1970S, TURNING CONCERTS INTO "PRESS RECORDS," LIKE THE SUPER GROUPS IN CONCERT SERIES, WAS A SUCCESSFUL ENDEAVOR. NOW THESE VINYL SETS ARE CHERISHED BY RECORD COLLECTORS.
By Ray Chelstowksi
During the 1970s, rock concerts began to be broadcast on mainstream radio, and quickly developed a strong following. The King Biscuit Flower Hour was the first to break through, and it ran on Sunday nights for over 20 years, across almost 300 stations. The Flower Hour would send the stations reel-to-reel tapes within weeks of the original performance. That quick turnaround helped fuel interest in the artists, their tours and radio in general. Unfortunately, a fire in 1982 destroyed many of those original recordings. That lost inventory seems to have moved collector interest toward the ABC Radio Network — the other radio concert pioneer that emerged at that time.
In 1978, then Vice President of ABC Radio Network Programming, Richard A. Foreman, developed a way to move the network beyond news and sports by tapping into the lucrative entertainment space. He did that through concert programming and by getting ABC to agree to actually "press" records. The concerts captured on this vinyl would be sent in box sets to affiliate stations for air in prime time on Saturday evenings. The concert platform would begin with the already proven rock genre and be called Super Groups In Concert. Airing 8-10pm, the program debuted with a performance by the band Chicago. It premiered on May 12, 1978, on over 300 affiliate stations, and the results were immediate and impressive. Almost eight million listeners tuned in, which was three times as many people typically delivered for that period. More than three million of them were in the highly desired age group of 18-24. Station managers across the country raved. WBUF in Buffalo said they had received more listener phone response than any concert they had run before. WXKX in Pittsburgh said the recording delivered impressive technical quality, that it was "exceptional." Most programming directors wanted to know when they could get more. Big name acts like The Moody Blues and Peter Frampton followed, and the program grew to other genres, and it drove special themed packages that would enjoy multiple airs. It was an all-out success that continued into the mid-1980s with a who's who roster of blue-chip performers.
Now, these limited edition box sets are finding their way into the used vinyl space and commanding surprisingly high price points, some selling for almost $400. These concerts were recorded with the best fidelity available at the time and aren't burdened by any advertising messages, overuse of network promos, nor are they laden with exhaustive interviews. The focus is the music, and there these sets truly shine. As for the interviews, they are snippets that open and close album sides. They aren't intrusive, and actually offer up nuggets that fans will find brief but enlightening.
Goldmine had an opportunity to talk to Richard A. Foreman, the architect of this rich audio programming. Credited as the executive producer for many of these concerts, Foreman left ABC in 1981 and founded Richard A. Foreman Associates Inc. Since that time, he has been involved extensively in media brokerage and consulting. In our exchange we learned how Super Groups In Concert came about, what worked and what didn't, along with who ABC always wanted to get on air but just couldn't lock down.
GOLDMINE: So how did Super Groups In Concert come about?
RICHARD A. FOREMAN: Most things in life come about due to an absolute need. Before I arrived at the network in 1977, every program that they had was really related to the spoken word, whether it was news or information. The reason why is twofold. First: The line that was carrying all of the network broadcasts was 8 kHz (kilohertz), which is about less than a half of what is required for music fidelity. So we saw ourselves missing a whole opportunity. We were dealing with the news and information stations, but they were just a small part of the populous of radio companies. The big populous was related to music and entertainment. We had networks that were designed for that, but we just couldn't do anything. So I came up with the idea to go ahead and publish records, and send them to the affiliates. This would allow for music fidelity and would allow for us to expand our base of programming beyond the news and sports category. I'll never forget a meeting in early '78 with all of the chieftains from the radio network. The president of the radio network, Hal Neal, asked, "How are you going to do this?" I said, "I'll tell you what we're gonna do. We're gonna press records." Neal responded by asking, "You're gonna press records? So they can go on the air?" I said, "That's right, Hal, that's what we're gonna do." That was the beginning of it. Super Groups In Concert was more involved with classic rock. We had The Cars, The Moody Blues, The Allman Brothers ... they each have a story behind them. For instance, when we did The Allman Brothers, we did them down at Merriweather Post Pavilion, right outside of Columbia, Maryland. We did The Moody Blues up in Seattle. We actually did Chicago out in Hawaii. The music was the easy part, because we'd get the record company to give us the music. We had to go to where they (the bands) were to interview them about their lives, their careers and how the road was treating them. We even interviewed Peter Frampton in the back of his plane at the Fort Worth airport. All of these have their own story.
GM: How did the program evolve?
RAF: We went on and did some major specials. We did one with Barbra Streisand, and we did another one with Neil Diamond. The other one we did was Elvis Memories. That's a three-hour program, and it ran about seven times. The record companies were delighted. I remember being in the RCA studios in New York when they gave us the original Elvis masters. In those early days in '58 and '59, labels were looking toward the advent of stereo. Those albums, and singles, were actually recorded in stereo. They just couldn't be released in stereo at that time. So we were playing back music on air that in fact nobody had ever heard this way until we pressed that record into vinyl — in the stereo format.
GM: The roster of acts was impressive. How did you secure them?
RAF: The person who was really involved, and assisted me with many of these contacts, was Rick Sklar, who was the maven of radio at that time. He was the vice president of programming for all of the networks, and all of the owned stations like WABC in New York, WLS in Chicago, LOS and ABC in Los Angeles. He was in charge of the product for all of those stations reporting directly to Hal Neal. So he was really on the forefront with these artists. They really wanted to be involved with Sklar and curry his favor, because of his position and his wide outreach.
The program had to be related to a promotional scheme that the artist was involved in. Most likely they would be doing this at their concert tour. What would happen is they would do an album release and a concert tour at the same time. If they weren't involved in either a concert location or involved in a new album release, they didn't have much interest in doing Super Groups.
GM: What act was on your concert wish list that you could never get on board?
RAF: One group we never got, that we had talked about for years, was the Eagles.
GM: Was the physical product high quality or truly one use only, disposable?
RAF: They were very high quality; you could play them again and again. By the way, these records turned out to be a nightmare in the early stages, because the record company that sent them out to the stations would mix up the albums. One station would be missing hour two. One station would be getting two hour threes, and it just became a logistical nightmare.
GM: Was the Saturday night air time the preferred slot or just what was available?
RAF: Yes, we dedicated that time. We would sell advertising with the program. It wasn't on the discs themselves, but we'd sent the commercials to the stations, and the advertisers expected that their ad would be played between eight and 10 that Saturday night, within that program. It was a very novel concept at that time and met the test of what needed to happen. We wanted to relate to our radio stations, and we couldn't do it without having some kind of a vehicle that would allow for the transmission of high-quality music. It wouldn't be needed later because we had satellite.
GM: Station managers seem to have received great listener feedback. What did advertisers say?
RAF: It was really great, because for the first time in many years, advertisers could be in an environment that they specifically wanted in audio. It was well underway in television. But it wasn't that way in audio — where people could be in a program that was designed to really meet the tastes of the consumer who bought the product that was being advertised.
GM: The packaging instructed stations to send the records back to ABC? It's surprising to see so many of them in circulation after all of these years.
RAF: Especially since it's always been illegal to sell these records. They have a specific dispensation in terms of what they refer to as "a needle drop for broadcast only."