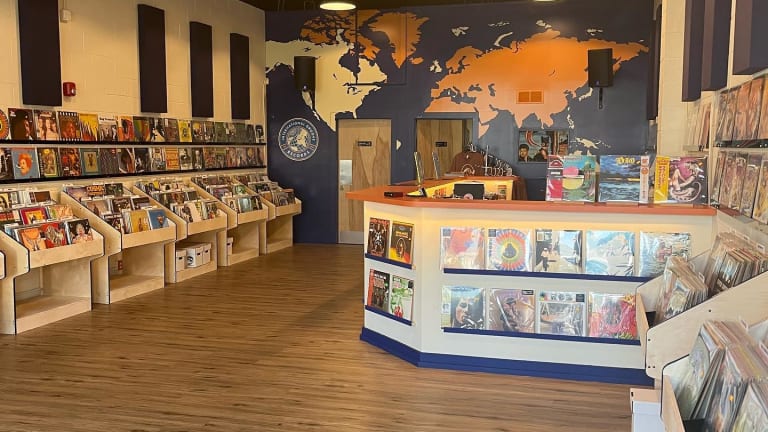 Getting your International Groove on in Delaware
Dave Thompson visits an entire world of music at Newark DE's latest vinyl store
Well, that's another Record Store Day over and done with, but Newark, Delaware, had something else to celebrate this year, with the official grand opening of the town's newest record store, International Groove Records.
The brainchild of nearby Rainbow Records' owner, Todd Brewer, International Groove Records stands out not only locally, but regionally too, in that its focus — as the name suggests — is wholly on international recordings.  Which in turn takes in everything from roots reggae to European pop, from Bhajan to Conga and, if you need an A-Z of such things, from Anison to Zouglou.
Equally impressively, if you don't know exactly what you're looking for, the store's staff are happy to point you in possible directions. You can also test-drive any album you want on the store's private listening stations.  So no more falling in love with a dynamite sleeve, only to find yourself unable to subject yourself to more than the first half of side one... now, you can venture into the unknown with confidence.
International Groove Records was born out of Brewer's own love for what was once called "world music," at least until the inadequacy of that term became apparent.  And the awareness, after nine years at Rainbow, that there was a lot of excellent international music becoming available today that he simply didn't have the space to stock. From reissues of classic Serge Gainsbourg and Fela Kuti albums to painstakingly curated compilations of Cambodian pop and Caribbean mento, vinyl now embraces not only the whole world, but also great swathes of its recorded history.
"We'd bring in two copies of, say, a Turkish psychedelic compilation, and they'd be gone by the end of the day," he recalls. "I realized that a lot of people want to hear this music. They just have to find out about it first, and that means being able to walk into a store and see it on the shelves, or on the walls."
International Groove Records specializes in vinyl, and the stock is tremendous. Three-level vinyl racks line a wall and a half of the store, more albums are displayed on every available surface, and the categorization is almost granular - individual artists, individual nations, genres (and sub-genres) are all laid out clearly. There's a thriving section of used vinyl, too, although customers so far are more drawn to the new releases.
"It's still early days," Brewer understates. "As our stock grows, I intend to bring in more collectibles - albums that are in demand that have never been reissued on vinyl or even CD." Already he stocks an enviable selection of Japanese pressings of western rock (the store's sole concession to the theme), but there's plenty more to come.
Other plans include stocking a selection of books devoted to the shop's specialties… the Rough Guide series and beyond; regular live vinyl DJ slots (there were three on Saturday, spinning everything from Caribbean jazz to the French language soundtrack to Hair) and possibly low-key live performances; and monthly indoor flea markets, inviting private sellers and friends to set up a table to sell music, books, memorabilia, posters, original art and more.
It is a bold undertaking. And yet, on a day when Rainbow Records had a line of early birds winding around the block, and more than a few shoppers being reduced to tears when they discovered Taylor Swift's RSD 45 was long since sold out (the Deadheads, thankfully, were somewhat more stoic)… on a day such as this, International Groove Records, which didn't stock RSD releases, saw a steady, and sometimes heavy flood of customers, most of whom ended up walking out with at least an album or two. And most of them promised they'd be back when the place was a little less crowded.
International Groove Records is at 260 E Main St, Suite #116, Newark DE 19711. Or visit the store via Facebook, Instagram and Discogs.