"HEAL THE WORLD" - ABOUT THE COLLECTION
We are proud to present one of the world's premiere collections of signed rock n' roll memorabilia. Amassed over two decades, the collection consists of more than 2,000 items including autographed guitars, drumheads, albums, posters, photos and various miscellaneous items. This special collection features a plethora of very valuable, hard-to-get pieces signed by a number of legendary artists, including some who are no longer with us.
From AC/DC to ZZ Top and Aerosmith to Zappa, the collection encompasses a wide range of music legends and contemporary artists spanning almost 70 years of rock n' roll history. Rare signed guitars and memorabilia from music icons such as Eddie Van Halen, Paul McCartney, The Rolling Stones, David Bowie, Eric Clapton, Pink Floyd, Jeff Beck, The Everly Brothers, and Paul Simon are just a few of the included treasures.
To view further in-depth details of this comprehensive collection, please click on the following link: www.healtheworldrocknrollmemorabiliacollection.com
WHAT MAKES THE COLLECTION UNIQUE?
Firstly, the vast majority of signed music memorabilia available on the market consists of fake autographs. The FBI reports that at least half, and possibly as much as 90%, of the signed memorabilia market is counterfeit. Many so-called authentication services are also sham businesses to help perpetuate forgeries. Even the best curated collections will possibly include some suspect items but the HTW collection, by the very nature of how it was acquired, has practically removed this risk. All major items in the HTW collection are also subjected to highly-reputable third-party forensic review (PSA/DNA, JSA, REAL and Beckett) or supported by signing photographs and artist/agent letters of authentication.
Secondly, unlike the typical music memorabilia market where, for example, guitar pickguards are signed and then attached to cheap instruments, the vast majority of HTW guitars are signed on the actual body of the guitar and includes some of the highest-quality instruments available – Gibson and Fender Custom Shop, for example. This process typically involves artists handling, strumming, and signing actual name-brand guitars that they play and represent professionally. Most collections simply can't make this claim.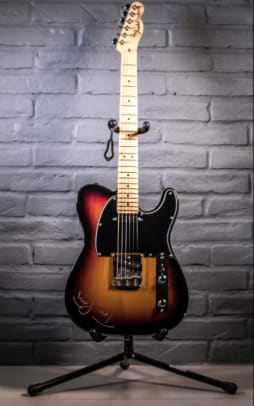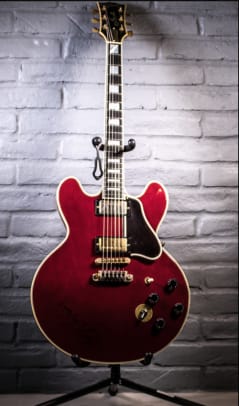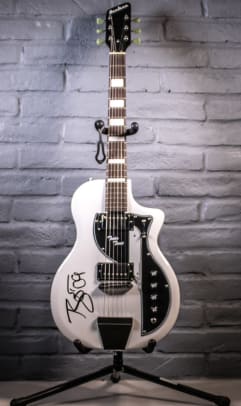 IS THE COLLECTION STILL EXPANDING?
As HTW representatives continue to reach out to, and meet with, musicians and other celebrity opinion leaders, the HTW collection will continue to grow. If you are a music artist, we'd love to hear from you to let you know how you can make a difference in the life of a woman or child with a simple stroke of a pen! If you're a collector and wish to donate signed memorabilia to the cause, please note that we only accept items than have been authenticated by one of the means previously mentioned. This ensures the collection will continue to grow with veracity and integrity.
IS THE COLLECTION FOR SALE?
The collection is only for sale as a whole. In the past, individual items have been auctioned off or sold at charity events to meet the charitable mission of the involved organizations and partners. It is the preference of HTW, however, that the entire collection stay together as a whole because of its common history and purpose. HTW would consider the sale of the entire HTW collection to the right collector/supporter. The collection would be perfect for the discerning private investor or for museum installations, themed restaurants or other rock n' roll ventures.
ITEMS IN THE COLLECTION:
Guitars 149
Drumheads 114
Albums 795
Backstage Passes 887
Photos 66
Posters 19
Magazines 8
Pickguards 7
Misc 2
Contact: Bruce Church, CEO
Mobile: (281) 732.0534
Office: (303) 647.4747
Email: bruce.church1@healtheworldrocknrollmemorabiliacollection.com