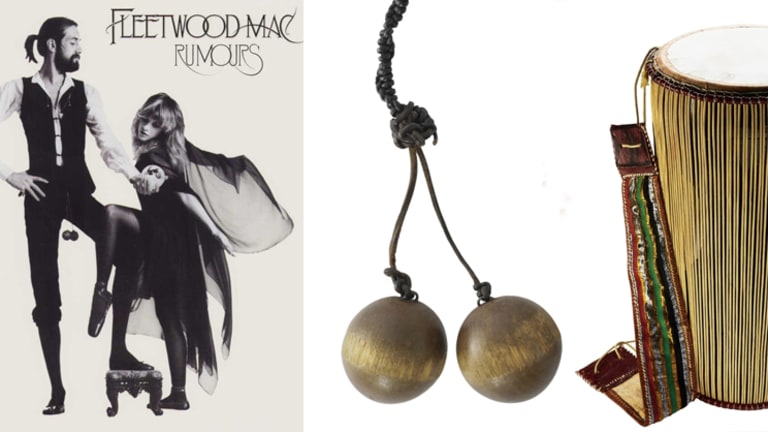 'Rumours' becomes reality as Fleetwood Mac treasures available via Julien's Auctions
If you had a shot at owning a piece of Fleetwood Mac history, would you take it?
The Goldmine store is a music collector's one-stop shopping of vinyl, CDs, box sets, collectibles and Goldmine-only exclusives. Click HERE to visit!
By Andrew Daly
If you had a shot at owning a piece of Fleetwood Mac history, would you take it?
Fleetwood Mac has long been the über-stylish darlings of the classic rock world. Sure, their music is as good – if not better – than many of their contemporaries. But their aesthetic and ability to cast a vibe via hypnotic musical spells have been the London-bred act's calling card.
With that context in mind, Julien's Auctions is ringing in the holiday season with some truly eye-catching news: a new collection will be available this December. But not just any collection, this once-in-a-lifetime collection is sure to be a Christmas gift for fans of Fleetwood Mac's Christine McVie, John McVie, and the charismatic energizer bunny himself, Mick Fleetwood.
In a stunning cache-steeped turn of events, Julien's Auctions has skillfully outdone itself via the upcoming Fleetwood Mac: Property from the Lives and Careers of Christine McVie, John McVie, and Mick Fleetwood collection (12/03/2022 10:00 AM PST to 12/04/2022) itching to strut its stuff for astounded rubberneckers.
"A spectacular collection of memorabilia from the members of the GRAMMY award-winning iconic pop rock band, Fleetwood Mac," Julien's informed via its press release. "The collection features stage-played instruments, touring gear, wardrobe, jewelry, personal items, and more from Fleetwood Mac's legendary five-decade career in music. The collection takes the stage in a two-day auction event in Beverly Hills, Saturday, December 3rd, and Sunday, December 4th, 2022."
So, if you've got the means and the time, it looks as if the esteemed Julien's Auctions has the goods to make any fan of the Mac salivate. But what sorts of items are featured in the collection? For the curious and potentially interested, here are some of the highlights:
From vocalist and keyboardist Christine McVie, Julien's will feature the same dress the songstress wore on the band's legendary 1977 record, Rumours. Worth anywhere from $10,000 to $20,000, studious fans will remember the dress in all its late-'70s glory: a vintage maxi green, yellow, red, and cream leaf regalia, vividly depicted on Rumours' lush back cover.

But that's not all; more treasures from McVie's career, such as a '60s era stage-played Hammond Organ, worth somewhere between $5,000 to $7,000. Dubbed McVie's "No. 1," the organ was chopped, customized, and has been used on many tours throughout the Mac's career. If the organ isn't your thing, perhaps you'll be interested in a Baby Grand Yamaha Piano worth around $40,000 to $60,000. Of course, this isn't just any old piano; no, this is the infamous "Songbird Piano," often deployed by McVie at the end of Mac shows to plaintively close out the band's set in front of tear-eyed onlookers.
"This baby grand, where I have played "Songbird," the song I'm most proud of, has been such an important part of my life and career," said Christine McVie. "Though it's hard to let go, I'm happy that it will find a new home and owner who will hopefully cherish it as much as I have through the years. I'm additionally pleased that the proceeds of this instrument and my other pieces in this auction will go towards MusiCares to help so many music people in need."
Perhaps fans of John McVie are curious about what the band's bassist is bringing to the party. Look no further if it's memorabilia attributed to John McVie you're after. Come December; eager bidders will have plenty available, such as the same custom Alembic "continuously fretted" stainless steel fingerboard electric bass guitar depicted on the Rumours cover. Valued at an estimated $40,000 to $60,000, the bass was used quite often by McVie in the studio and onstage in the band's 1976-180 heyday. But diehards and audiophiles will recognize it as the same bass McVie used to record the iconic bassline featured in radio and concert staple, "The Chain."
Alas, the old guard who has stuck around from the very beginning might feel a bit jilted by this point, being that many of the historic relics seem to date back to the '70s era of Fleetwood Mac. Lifers fear not; the Peter Green era of the Mac is represented as well, and gloriously to boot. One of the most notable pieces to that end is a 1962 Fender VI six-string bass, which Green gifted to McVie in the band's early years. And while the bass is only valued at around $8,000 to $12,000, it's easily one of the more historically significant pieces.
If you're not one for instruments and more into kitsch, Julien's has got you covered there too. How about a surfboard that the bewitching Stevie Nicks gifted John McVie sometime in the '70s? If you'd like to have this beige Island Fin custom adorning the wall of your home office, man-cave, or she-shed, it'll run you anywhere from $6,000 to $8,000, according to Julien's estimations.
Finally, no Fleetwood Mac-themed auction would be complete without the man who bears part of the band's namesake, drummer, and founding member, Mick Fleetwood. And of all the available items in this wonderous collection, the most unique and playfully artful may well be Fleetwood's Rumours cover-worn "hanging balls," which come with a signed art print. These biblical balls handily steal the show (and come with their own pouch!), valued at $100,000 to $200,000; old Mick famously wore the balls as part of his attire for the iconic album cover.
Every band has its stories and confounding lore, and the story of "the balls" is undoubtedly the stuff of Fleetwood Mac legend. Attached to leather strings, while nestled in a beauteous maroon case and atoned in gold thread, these balls are a real showstopper. Over the years, the balls have been lost and found numerous times but always seem to find their way back home, refusing to be a forgotten footnote in Fleetwood's fairy tale jaunt through history.
The balls were handmade by Fleetwood out of lavatory chains that he "borrowed" from a club the Mac was playing in the late '60s. Initially, Fleetwood incorporated the balls into his attire to pay homage to the blues tradition of carrying a good luck charm. But mostly, the balls were an afterthought and were never expected to bear historical significance, let alone massive monetary value. But stick around, the balls did, starring across the Rumours cover, and now, come December, those same toilet chains will be gracing the stage at Julien's, eagerly awaiting their new home.
Other Mick Fleetwood associated treasures include a stage-played "talking drum" valued at an estimated $100,000 to $200,000; a 40-inch stage-played Zildjian gong, also valued at around $100,000 to $200,000, and a hyper-unique drumhead and concert setlist signed by former president Bill Clinton. Said to be worth around $80,000 to $100,000 and bearing an inscription that reads, "With thanks for hosting me from beginning to end! / Bill Clinton/ 6/22/2001," this is yet another piece that you will not find anywhere else.
For over 50 years, Fleetwood Mac has gifted the masses with music deemed essential to the FM radio-driven zeitgeist. A listener's and critic's delight, you'd be hard-pressed to find anyone who outright hates the band. Even if you're not a fan of their music, at the very least, surely you can respect and admire the dynamic talent, seamless shift from blues to classic rock, and crafty songsmith that the often combustible outfit harbors. No one understands this better than Julien's, and that's why this collection is in their able hands.
"Julien's Auctions is honored to offer this exceptional collection of music history coming directly from the legendary three members of one of the most influential rock and roll bands of all time, Fleetwood Mac," said Martin Nolan, Executive Director and CFO of Julien's Auctions. "These pieces from their storied five-decade career represent the mystique and magic of Christine McVie, John McVie, and Mick Fleetwood."
"The trio's renowned musicianship, songwriting, vocal harmonies, and camaraderie have given the world a lifetime of illustrious performances and some of the most beloved and best-selling music ever recorded. We are also pleased to announce that a portion of the auction proceeds will benefit MusiCares, who honored Fleetwood Mac in 2018 as the organization's Person of the Year to support the charity's work providing critical services to underserved members of the music community."
Collectables and tchotchkes are plentiful, as are copies of Rumours; head down to your local thrift store, and you'll find that to be true. But this collection is a different animal, one which has defied father time, logged miles as a road warrior, and has been ingrained into the history of a titanous band year after year.
Come December, supporters of the London legends will have their chance to take home a piece of Fleetwood Mac's history and support a charitable cause in the same breath. In life, there are so few precious opportunities to hold an actual part of a band you love in your own hands. But for fans of the Mac, that time is now, and there's little time to waste. These pieces have long been interwoven within the tapestry of rock mythology, but it's time for them to be untethered in their quest to find a new home.
Aficionados, buffs, devotees, and enthusiasts, history is paging you to the pulpit. Will you be there to answer the bell?