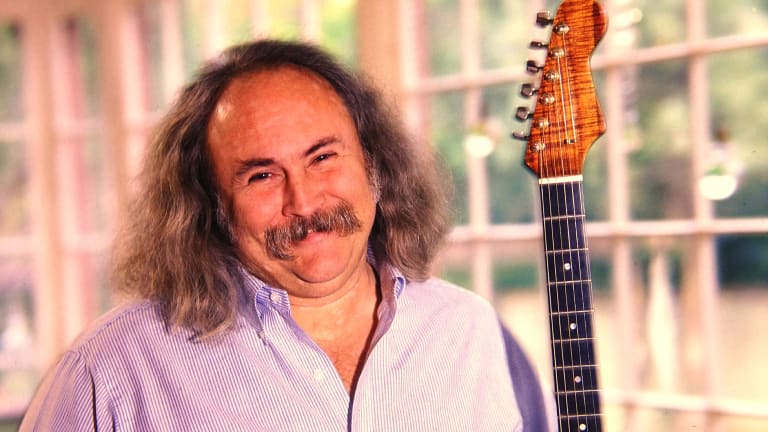 Top-5 Wax: Valuable David Crosby-Related Albums
Looking back over a music legend's remarkable career and giving record collectors the skinny on five of the most valuable records that David Crosby aided in creating.
Visit the Goldmine store — it is a music collector's one-stop shopping of vinyl, CDs, box sets, collectibles, collecting supplies, audio equipment, music history books and Goldmine-only exclusives. Click HERE! 
By Andrew Daly
If you love music, then you know all too well the pain of losing an artist you love. Sure, musicians create art for them initially, but once they release it into the world, it's no longer entirely theirs.
In the case of the legendary David Crosby, fans have quite a swath of music to choose from. Be it his early endeavors with the Byrds, what came next with CSN/CSNY, or his solo work, throughout a nearly 60-year career, Crosby unleashed a whole hell of a lot of music.
Painful as it is, and though it feels entirely too soon to lose him, David Crosby lived an eventful 81 years and left us with so much to enjoy. And so, Goldmine is looking back, giving record collectors the skinny on five of the most valuable records that David Crosby aided in creating.
5) Déjà Vu, Crosby, Stills, Nash & Young (1970)
SD 7200 (DJ) – White Label Promo -Stereo - $75
It's CSN's second record, their first with laconic discontent Neil Young, and, oh yeah, one of the greatest all-time records. What's not to love? It's hard not to get lost in Déjà Vu's timeless grandeur, and you'd be hard-pressed to find a person who doesn't know at least a song or two from this one. But being well-known and relatively common hasn't stopped certain copies of this 1970 masterpiece from being pretty valuable. If you're the type that wants just a touch more than the ordinary, we'd recommend the white label promo copy, which is, in fact, a DJ copy. It's not mono, but it's got quite the soundstage for a stereo joint. Depending on who you ask, this one won't riddle your wallet with too many bullet holes, with Goldmine valuing near-mint copies at $75 hard-earned American dollars.
4) Crosby, Stills & Nash, Crosby, Stills & Nash (1969/1982)
Nautilus Recordings NR-48 - Audiophile Vinyl - $175
After David Crosby left the Byrds for pasture anew, he teamed up with Stephen Still and Graham Nash, forming a trio that would record some of the most transcendent music of the late-60s and '70s. Sprawling three-part harmonies, sublime songsmith, and songs that become lodged in your brain are just some of the things that made CSN great. From a collectability standpoint, you'll want an original pressing from '69, but what if you're looking to take the next step in your vinyl odyssey? Not to worry – or maybe you should, depending on budget – the tasty audiphone reissue from 1982 on Nautilus Recordings will do quite nicely. Indeed, this one shall cost you, with Goldmine showing this one is worth $175 in near-mint condition.
Read about Mo-Fi's latest audiophile release of Crosby, Stills & Nash
3) The Notorious Byrd Brothers, The Byrds (1968)
Columbia CL 2775 (M) – Mono - $175
For the uninitiated, The Notorious Byrd Brothers ended up being Crosby's final record with The Byrds – from his '60s tenure, at least – and boy, was it a doozy. Retrospectively lauded, The Byrds' 1968 harmonious twang-fest was a record to remember, to be sure. Loaded with great songs, this one is a great album, to begin with, if you don't know The Byrds too well, and is entirely essential, in general. Wonderous tunes aside, from a sheer collectability standpoint, Byrd-brains probably recall seeing the red-striped "Stereo 360" version peppering record shelves worldwide. But how about the much less and oh-so-lovely mono slab? Yeah… that's the one you want. Want it? OK, but it will cost you, with Goldmine pricing this one at $175 in near-mint condition.  
2) 4 Way Street, Crosby, Stills, Nash & Young (1971)
Atlantic 2-902 9 (M) – White Label Promo – Mono - $250
If you thought CSN was good, then how about CSNY? All of these guys were nothing short of masterful on their own, and the original CSN was akin to heaven on earth but add proto-grunge anti-hero Neil Young into the mix, and you've got yourself a recipe for transcendence. If you dig this type of music, then yeah, you know the foursome never disappointed – despite their inherent dysfunction – and that is a big reason why their records are consistently occupying used record bins. But what's a record collector do when they've got 'em all but still want more? Of course, you grab a white-label mono copy of 4 Way Street. We're of the belief that records – no matter the price – are meant to be played. But, with Goldmine valuing this disc at $250 in near-mint condition, you might have second thoughts about spinning this one.
1) Month (Celebration Copy), Crosby, Stills, Nash & Young (1974)
Atlantic PR 165 (M) – White Label Promo - Mono $300
Compilation albums are a great way to go if you're not a completist or are looking to dive into some new music for the first time. In most instances, a record that claims to contain "12 tracks from their best-selling albums" wouldn't be expected to fetch big dollars. Indeed, conventional wisdom normally finds that to be true… but in the instance of CSNY'S Month (Celebration Copy). If we're being honest, this incredibly rare white label promo in mono is one for the diehards, as casual fans probably won't want to spring for the $300 price tag that Goldmine has valued near mint copies at. Still, if you've got the money, and are a super-fan, throw caution to the wind and claim what is rightfully yours. You only live once – money be damned – surround yourself with the sounds and slabs you love.