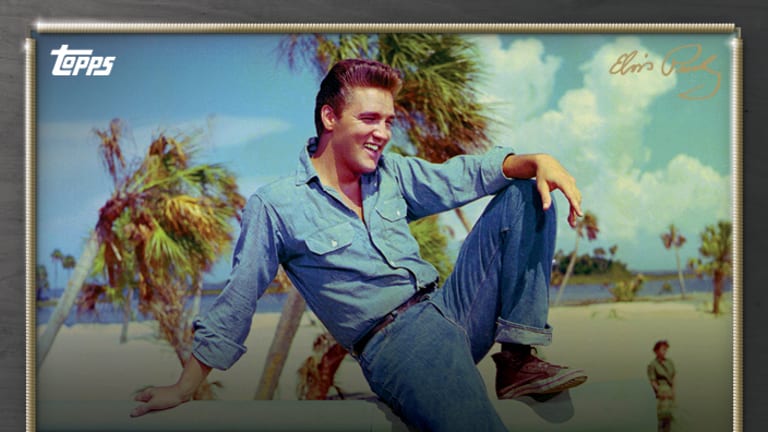 Topps Elvis Presley trading cards: Everything you need to know about new set
Career-spanning "The King of Rock and Roll collection" honors 45th anniversary of Presley's passing.
For Elvis vinyl and collectibles go to the Goldmine shop
By Andrew Daly
Do you collect for nostalgia and pleasure? Or do you collect for value and future gain?
There is a fine line between the two, but if you ask Wendy Freedman, the Director of Marketing at Topps her opinion of what signifies a "collectible," and how that might change from person to person, she'd tell you, "A collectible is an object that has meaning to someone, whether it be trading cards, memorabilia, comic books, toys — it's something that brings a person joy, and is meaningful in its own way to the collector."
It's with this in mind that as we begin to evaluate Topps' latest foray into the ever-growing trading card circuit, we also need to understand the genesis of why Topps — a company predominately known for its sports collectible, specifically trading cards — would want to take a headfirst dive into the deep of the swirling, ravenous pool that is The King himself, Elvis Presley.
For those not in the proverbial know when it comes to Presley — his fans are ravenous. Well, perhaps "ravenous" isn't the right word, no, "obsessive" might be more appropriate, but in this instance, "passionate" would suffice, too. It's with this in mind, that from an objective perspective, one has to ponder, "Why would Topps, an already established zeitgeist giant, want to subject itself to an undying fanbase, which is one part loving, and one part fickle?"
Topps' 'Elvis Presley: The King of Rock and Roll collection'
To answer that question, we once again turned to Freedman for comment, where she quipped, "Elvis and his fans are innumerable and being that we produced the first set of Elvis trading cards in 1956, we feel as though this collection appeals to both of our fan bases. The success of this series lies in the product itself; this is the most comprehensive, biographical trading card set for Elvis' existence, and we've received wonderful feedback from our collectors."
It's with historical perspective in hand, that the intention now comes into focus: not only does Topps intent to appeal to Elvis fans, but with these cards, the trading card giant intends to tap into its legacy fans as well. A two-pronged approach that almost guaranteed success, right?
Well, actually, there's more.
Couple that with the fact that these trading cards are also to honor the 45th anniversary of Presley's passing, and you've got yourself a three-headed monster surely able to set the market not only for this particular set of cards but for these types of collectibles in general. Simply put, when you start with the gold standard, you've effectively set the bar for all your competitors going forward.
To that end, Freedman commented on the initial ideals that defined to project by saying, "We're constantly keeping tabs on the pulse of cultural events, pop culture moments, and entertainment news, and will continue to innovate our product line with new products tied to these for all those who love to collect? 
Freedman then went on to comment on the future projection of the Presley series, "There is great value in creating trading cards that are unique, creative, and continuously sought after by collectors, and traders alike. We look to deliver high-quality trading cards, and collectibles that will continue to have value for years to come.
While hard to quantify, still, it seems to be at least a safe bet that these trading cards will most certainly have value going forward. But what if you're the type (like many of us), who simply loves Elvis Presley, and his music so much, that you want to take the next step, and surround yourself with King-inspired memorabilia?
For some, collecting isn't about monetary gain. Instead, it's about the act, meaning the ritual of harnessing one's passion and then subsequently seeking out artifacts that residually define, and further develop that same passion. Obtaining these oh-so-priceless objects is the game.
Topps understands this, which is the other side of this proverbial coin, to which Freedman commented, "With the Elvis Presley: The King of Rock and Roll collection, we wanted to honor the forty-fifth anniversary of Elvis' passing and provide fans and collectors with pieces of history that capture some of his greatest moments and milestones."
If you're collecting these cards for the sheer joy of it AKA the love of Elvis in general, here's where this thing gets interesting. The cards will feature some of The King's most iconic moments, which were carefully cultivated through painstaking research, "The lead on this project spent hours and hours researching Elvis' life, from start to finish, to the sound of his music. Elvis was enigmatic, and he plants the seeds that many stars that followed would enjoy the fruits of. As a result, his personal and professional life was so rife with card-worthy moments, that the moments practically picked themselves. The lead then went through the thousands of images, hand-picking those from the moments we wanted covered," said Freedman.
If this series is piquing your interest, you might be wondering aloud, "I want these cards! How numerous are they, and how often will I be able to obtain them?" Well, luckily, the release schedule is as straightforward as it gets, "Each week, Topps releases three new cards as part of the Elvis collection, with the full collection totaling 150 cards over the course of the year," with Freedman further commenting that more interesting collections are on the way in, "Our annual Allen & Ginter collection, Topps NOW cards, and much more."
So, what's the verdict on Topps' Elvis Presley: The King of Rock and Roll collection? Well, if you're even slightly familiar with the products that Topps provides, then you're aware that as a giant in the industry, Topps provides products of the utmost quality. More so, their standards are unflinching, and simply out – Topps wouldn't release a set of this magnitude, and cultural importance if due diligence wasn't in place.
From a buy-to-sell standpoint, it goes without saying that these cards will have value, which is always pendant on many factors, such as: having the set in its entirety, having the first run (if they print more), keeping them in pristine condition, etc. Furthermore, the presence of Elvis fanatics, who simply want to surround themselves with all things King-related, nearly guarantees that you'll have a buyer, should you choose to give these up down the line.
Flipping over to the other side of the pillow, for those that want these cards for nostalgia bred through music, this set is a home run. Where else will you find such a comprehensive set, depicting so many legendary, but also, so many underexposed moments in Presley's storied career? And then, of course, there is the educational angle to this whole thing, where these cards perhaps could serve as an entry point for new fans, or as a means to remind fans of the lesser spoken about, but still all together iconic moments of Elvis' history.
It's with that in mind, that we asked Freedman her favorite moment captured within the set, to which she thoughtfully answered, "My personal favorite card is #20 'Performance at State Fair," highlighting Elvis' groundbreaking performance from the Mississippi-Alabama State Fair and Dairy Show. Elvis had performed at this fair when he was just ten years old, but when he returned in 1956 after his star had risen, it was a truly historic event. More than anything else, to me, it showed Elvis' true colors and probed he'd always find time for his hometown. To me, Elvis' loyalty to his roots was one of the most admirable faces to The King."
From an outside perspective, it's the care taken to highlight these moments, and in turn, highlighting the multi-faceted person that Elvis Presley was, that makes this series worth paying attention to. At the end of the day, you don't have to be a huge fan of Elvis, or even a huge fan of rock 'n' roll to appreciate what Topps has done here. Ultimately, there is a myriad of historically significant moments in music history, moments which need to be diligently cataloged, documented, and remembered, and with its Elvis Presley: The King of Rock and Roll collection, there is no doubt that Topps has done just that.
Collecting is an act that for some can be hard to understand. Collecting is about passion, reverence, and most of all, surrounding yourself with the things that hold meaning to you. And while the initial trigger or eventual outcome might change from person to person, the act in and of itself is quite simple: enrich your life with things that bring you joy, and keep the flames of passion for what you love burning for as long as you can.
We can remember Elvis as the man who could not be tamed in the 50s. We can remember him as the man who shook his hips in front of a live audience, guitar slung over his shoulder, moussed hair flailing across his brow. We can remember him as the leather-clad comeback kid who took the stage on live television in the late 60s. Or we can remember him as a veteran showman, who made Vegas his own in the 70s. That's the beauty of both Elvis' career and his music, it means something different to each and every person who has loved him, and that's why he's ever-iconic, and forever generational.
Regardless of how you remember Elvis, Topps' series has you covered. As for how Wendy Freedman sees it ultimately shaking out, Topps Director of Marketing signed off by saying, "The Elvis Presley: King of Rock and Roll collection highlights the career of an icon, celebrating the 45th anniversary of his passing. Through this collection, we hope that fans will enjoy getting to relive Elvis' greatest moments and learn about the happenings in his life that made him a real legend admired by many. This project further expands the Topps' portfolio into a new audience and fan base, continuing upon our rich heritage in the trading card industry for many years to come."
For those interested in the series, you can head to www.topps.com to see all the trading card has to offer in regard to The King, and more.