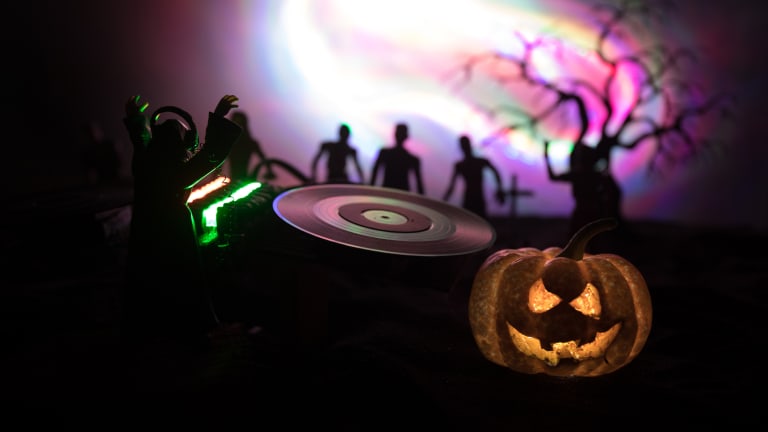 10 best Halloween vinyl records to own, ranked
The top records to soundtrack the Halloween season for vinyl collectors.
For Halloween vinyl and more go to the Goldmine shop!
By Andrew Daly
Vinyl collectors seldom need a reason to buy more records, but to be sure, the arrival of the holiday season certainly provides one to expand one's collection.
After all, no collection is complete without a holiday section. Taking that one step further, many collectors also love movies and TV shows. With that comes further opportunities – further need – to flesh out the ranks. There's a certain feeling connecting the dots between the things we consume can elicit, and if you've fallen in love with a movie, isn't it great to add the soundtrack to your stacks of wax? We think so.
As such, in celebration of the spooky season and the eternal need to have a record for every occasion, what follows are 10 records to soundtrack the Halloween season for vinyl collectors.
10) Tales from the Crypt: Demon Night S/T by Various Artists (1995)
If you're the type of Halloween movie connoisseur that revels in a quality screenplay, grandiose directorial vision, or a generally "good" movie, Tales from the Crypt: Demon Night is an odds-on favorite to disappoint. And while the film is loaded with so-bad-it's-almost-good camp, its soundtrack is an out-and-out winner. Packed to the brim with some of the best metal acts of its day, Demon Night's soundtrack is ballsy enough to make any headbanger feel at home. Your best bet is to skip the movie and hit the Goldmine store and score yourself the green and purple swirled vinyl (above). That way, your All Hallows' Eve can be accompanied by the sweet sounds of Pantera, Megadeth, Melvins, Biohazard, and more.
9) It's the Great Pumpkin, Charlie Brown by Vince Guaraldi (1966)
Not surprisingly, the also Vince Guaraldi scored A Charlie Brown Christmas seems to get all the Peanuts-related holiday attention. But in truth, the mighty It's the Great Pumpkin, Charlie Brown, may well be a better slice of jazzy heaven. Children of the '60s will remember the Halloween-themed Peanuts special from its initial premiere on CBS and its countless reruns over the years. At its core, Halloween will always be about ghouls, ghosts and goblins, but Charlie Brown and his pals will always hold down a small stronghold in the corner of our collective consciousness. If you're looking to add this piece of nostalgia to your collection, the Goldmine store has a too-cool-for-school translucent orange version in the shape of a pumpkin (above). What's not to love?
8) The Munsters S/T by Zeuss (2022)
The original Munsters score by Zuess is iconic, and no one would blame any self-respecting vinyl collector for scooping up the orange and black splatter version (above) from the Goldmine store and calling it a day. But if you're of a different age or simply prefer the modern era, perhaps Rob Zombie's version of The Munsters is more your soup de jour. Zombie is no hack; he knows how to make a remake with the best of 'em, but he's nuanced enough to understand when not to reinvent the wheel. As such, he stuck with Zeuss' original score, reintroducing it to the modern era. For Rob Zombie fans or Munsters completists, the green and silver swirl version in the Goldmine store is the ticket to occupy this gaping hole in your Halloween-related vinyl section.
7) The Exorcist II: The Heretic S/T by Ennio Morricone (1977)
When it comes to soundtracks and film scores, there are few certainties, one being if Ennio Morricone was involved, it's a safe bet that you're going to want it in your collection. With that in mind, vinyl enthusiasts, you can file the soundtrack for The Exorcist II: The Heretic under "records to blind buy" in your want list. An eclectic mix of electronic, jazz, funk, and experimental music, the soundtrack for the second installment of the Exorcist series is undoubtedly ubiquitous, and that's putting it mildly. Considering this one was pressed in the '70s, it's no surprise that the sound quality of the original pressing is only decent, with the highs and lows lacking a bit of definition. Still, that can easily be overlooked if you're not an audiophile. What's more, it could be said that the shoddy soundstage adds to the kitschy B-movie aesthetic.
6) The Original Monster Mash by Bobby 'Boris' Pickett and The Crypt-Kickers (1962)
Perhaps the most well-known Halloween-themed record of all time, and certainly from a pop culture standpoint, The Original Monster Mash needs no introduction. There are many choices vinyl collectors have in this niche, and while it's probably essential and has earned its place in history, there are better records than Monster Mash. Many often wonder why "original" is included in the title, so if you're one for history and enjoy a bit of context to pair with your listening, we'll clue you in. It's simple; the herky-jerky title came from the need to differentiate itself in the marketplace from another record called Monster Mash. John Zacherle had covered the song for Cameo-Parkway Records, and the fine people at Garpax Records had to stake a claim to what they felt was rightfully theirs. While the 1962 purple cover art is iconic, the 1973 reissue features a debatably more interesting graphic. For the unsure, the safe choice from a sheer collecting standpoint is to go ahead and obtain both.
5) Beetlejuice S/T by Danny Elfman (1988)
Time traveling to the late '80s, we've got the slice of soundtrack heaven that legendary composer Danny Elfman crafted in support of Tim Burton's Beetlejuice. Beetlejuice's theme is über well-known, and you'd be hard-pressed to find someone who isn't familiar with it. It's so preeminent that you don't even need to be a Beetlejuice fan to know and love it. The rest of the soundtrack follows suit, with a sprinkle of Harry Belafonte for good measure. Elfman's Beetlejuice score is one of whimsy and flair, with several stellar pressings of the score having been pressed over the years. 
But if you're a hardcore collector with money to burn, there's one pressing that you will want: the 2018 Waxworks Records. Elfman's score was remastered and pressed in several different colored slabs in all its grand splendor. The best part? That would be the gorgeous artwork by Phantom City Creative adorning the jacket. So, if you're prone to catching a vibe, your best bet is to pair it with the white-colored wax and a handful of candy corn for good measure.
4) Suspiria S/T by Goblin (1977)
First, Halloween lovers, have you seen Dario Argento's Suspiria? If not, you've got your marching orders for your next Netflix or Hulu binge. Film recommendations aside, at the very least, have you heard the supernatural mind-benders accompanying soundtrack? If not, you've got listening fodder for your next spooky season stroll through your local graveyard. Pressed in 1977 by Cinevox Records, Suspiria's soundtrack was handled by Italian prog outfit, Goblin, which is rather perfect. One might not associate Halloween with prog-rock, so this will require a suspension of all your previously held tropes. But if you're up for new and exciting musical challenges or simply like prog music — take the journey. Original copies are aplenty, and for a myriad of reasons that aren't even related to Halloween, you need this one in your collection.
3) Psycho S/T by Bernard Herrmann (1960)
In what could be considered one of the greatest horror-related collaborations of all time, Bernard Herrmann's score to Psycho is nearly as impactful and everlasting as Alfred Hitchcock's directorial work. The symbiosis between the film and its score is immediately apparent, even to those not particularly astute at evaluating film. Psycho is one of the earliest examples of a psychological horror film in the modern era, and Herrmann's score personifies the barely-there onscreen violence. Herrmann is a titan of film and TV scores, having logged miles with his orchestra in soundtracking The War of the Worlds, Citizen Kane, The Twilight Zone, and more. Still, with Psycho, Herrmann epitomized suspense and terror for a generation of unsuspecting viewers and listeners alike.
2) Rosemary's Baby S/T by Krzysztof Komeda (1968)
Essential as Herrmann's work on Psycho was to the damaged psyches of '60s consumers, just eight years later, Roman Polansky would solicit the services of Kryzstoff Komeda to accomplish one simple task: better the Psycho score for his film Rosemary's Baby. Simple, right? Simple indeed, at least it seemed that way for Komeda, as he spun off a score for the ages in support of what is often bandied about as the greatest psychological horror movie of all time. A bold statement? Yes. But if there was ever a season to die on a hill, it's the spooky season. Komeda based his score in jazz, with orchestral flourishes swirling out and about to cascading glory, exemplifying the film's most surreal and damning moments. Merits of the film aside, musically, this is an essential score, and collectors would be well served to log in to Discogs and make haste.
1) Halloween S/T by John Carpenter (1978) - Yellow and green vinyl
Was there ever any doubt? Alas, while it might have been nice to try and get cute and insert something else at the top slot, it would ultimately prove a disingenuous exercise. Accordingly, John Carpenter's score for the infamous 1978 film Halloween is slotted at numero uno. Carpenter not only composed and performed the score, but he wrote and directed the film to boot. Halloween's soundtrack is nothing-short-of-essential and sent filmgoers into convulsions with its eerie electronic sounds, which perpetually signaled the murderous villain Michael Myers's impending entrance. The Halloweenscore is simple, but its importance is felt far beyond the tracks' structures. Like John Williams's score for Jaws, the score provided queues to viewers and rejiggered the way music could be used in film. If there's one score that has defined Halloween over the last 40-some-odd years, it's John Carpenter's Halloween. You need it in your collection, and the Goldmine store has got you covered with a sickly sweet version, which includes waterfalls of yellow and green swirls oozing across the slab.
For more Halloween vinyl go to the Goldmine shop!