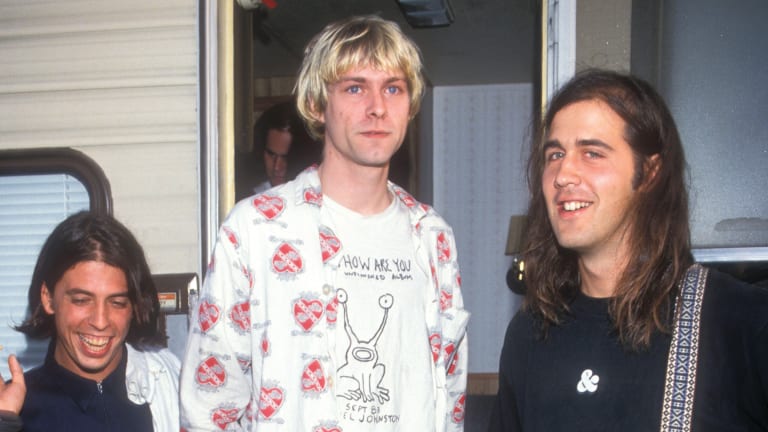 A look at Nirvana's collectible recordings
Nirvana records have always been popular among music collectors, so Goldmine decided to highlight some of the band's most collectible recordings.
By Gillian G. Gaar
In November 1988, Kurt Cobain and Krist Novoselic drove to Seattle to pick up copies of Nirvana's first ever single, "Love Buzz"/"Big Cheese," from their label, Sub Pop Records. It was an exciting moment for both musicians, who were keen record buyers themselves. Anxious to hear the single as soon as possible, they asked to play it on the office stereo. "We played it for them and I don't think I ever saw Kurt happier," Daniel House, the label's sales manager, later told Cobain biographer Charles Cross.
The single became an instant Nirvana collectible, and not just because it was the band's first official record. "Love Buzz" was also the first release in the Sub Pop Singles Club, a subscription service the label had devised to increase cash flow; for $30, subscribers would receive a year's worth of limited edition singles. The singles were mostly available only through subscription, though in the case of "Love Buzz," copies were also sold in local stores.
"Love Buzz" was the first in what's become a long line of collectible Nirvana recordings. Since 1988, the band has released well over 30 recordings on vinyl, CD, and cassette (not counting their numerous appearances on compilations), and they remain a highly collectible band. Indeed, record companies continue to release records they hope will attract collectors; the recent reissues of Nirvana's Live and Loud and Unplugged shows on vinyl each had a limited edition run on colored vinyl (though the collectors at the livenirvana.com forums remained unimpressed, as the records had no previously unreleased material).
Generally, it's Nirvana's pre-Nevermind releases that are considered the most valuable, and most of this list focuses on that era. Initial runs of records came on colored vinyl; singles and EPs featured songs that then weren't available on any other release. But the band's later years produced its share of rarities too, and this list mentions a few. Collectors were consulted regarding prices, as well as online sites like Discogs. With a few exceptions, this list primarily focuses on official releases, not promos or test pressings. The website www.nirvana-discography.com has a lot of insightful information about Nirvana's official releases, and useful information on identifying known counterfeits.
"Love Buzz"/"Big Cheese" 1988
Just 1,200 copies of this single were pressed. Numbered editions (1 through 1,000) have a number handwritten in red ink, on the back sleeve, in a white box in the lower left corner; the 200 unnumbered editions have a red slash through the box.
Unnumbered editions have been described as "promo copies." But Nils Bernstein, who worked for Sub Pop in promotions/publicity, has said that's not necessarily the case: "I think the idea was to slash all the promos, but then we lost count (since a bunch of people were doing them), so rather than repeat a number, we just slashed the rest. I know tons of slashed ones ended up in stores (I know some people who got numbered ones as promos), so it's not just as simple as being a promo." Currently, a numbered single has a going rate of $3,000, with lower numbered and unnumbered copies going for more.
The site www.lovebuzz7.com lists every known owner of every edition of the record. Contact the site if you have a copy.
Bleach 1989
Originally released in 1989, this album has been reissued numerous times in the wake of Nirvana's success.
The first run of the record on Sub Pop Records produced 1,000 albums on white vinyl (though not a pure white; black smudges can be evident), and 2,000 on black. Some early editions also included a poster. An online dealer was selling the white vinyl edition with the poster for $3,296.
The first U.K. edition, from the Tupelo Recording Company, came in a run of 200 copies on white vinyl. It's been selling online ranging from $448 to $1,900.
Around the time Nevermind was released, Bleach was repressed on vinyl. The pressing plant decided on its own to make a small run (a Sub Pop employee guessed it was around 200) on light green marbled/"iceberg" vinyl. It's valued between $2,000 and $4,000.
A 1992 reissue, sold in Europe, came on red and white swirled vinyl, and was packaged in a limited edition set of 500 that also included Nirvana's "Sliver" single (on blue vinyl). It's been selling online for between $1,400 and $1,800.
Australia's Waterfront Records pressed an edition on green vinyl (the sleeve also tinted green) to promote Nirvana's 1992 tour of the country, packaging the record in a cloth bag with the tour dates printed on it. It's been selling online for between $1,098 and $1,373.
Sub Pop created an inadvertent cassette rarity of the album, when they cut "Blew" and "Love Buzz" from Bleach's master tapes when they were needed for the Blew EP — and then forgot to restore the tracks when the next run of cassettes was manufactured. Yet that didn't hurt sales; "People actually went out to the store and began buying them up, because it was a mistake and a collector's item!" says the album's producer, Jack Endino. Though hard to find, it's been seen selling for a modest $75.
Blew 1989
Released in the U.K. on 12-inch vinyl and CD by the Tupelo Recording Company, this four track EP featured "Blew" and "Love Buzz" (from Bleach) and two new songs, "Been a Son" and "Stain." Dealers are starting to charge upwards of $100 for this, but copies can be found for sale under $50 as well. For years, this version of "Been a Son" only appeared on this release, until it was included on the 2002 compilation, Nirvana. Any copies on colored or picture vinyl are not official.
"Sliver"/"Dive" 1990
The vinyl single version of "Sliver" features a conversation between Sub Pop co-owner Jon Poneman and a hungover Novoselic, accidentally recorded on Novoselic's answering machine, which is exclusive to this release. The initial run of 3,000 copies was pressed on black, marbled blue, or clear pink vinyl. Blue goes for the highest price ($238 to $528), pink seen at around $200, and black for less than that.
In addition to the 7-inch single, the Tupelo Recording Services also released versions on 12-inch vinyl and CD, with the live track "About a Girl"; the CD added a fourth track, a live "Spank Thru" (misspelled as "Spank Through"). The live tracks, from a February 9, 1990 show in Portland, Oregon, were exclusive to these releases until the 2009 reissue of Bleach, which included the entire show. Online dealers have been listing the 12-inch ranging from $10 to $50, the CD ranging from $10 to $133.
"Molly's Lips"/"Candy" 1991
This single was Nirvana's last release for Sub Pop, part of the buyout deal when DGC took over the band's contract. It was also another Sub Pop Singles Club release, and a split single with the Fluid's "Candy." Not wanting to put much effort into the record, the band simply handed over another live track from the February 9, 1990 show in Portland, Oregon, an exclusive track until the complete show was released as part of Bleach's reissue package in 2009. The initial run was 7,500 copies, 3,500 on black vinyl, and 4,000 on green. Ironically, Sub Pop's penchant for releasing limited editions on colored vinyl has led dealers to price the green vinyl editions higher, though the first run actually had fewer black vinyl editions. Online dealers have listed sales prices for the green vinyl ranging from $80 to $365, with black vinyl ranging from $45 to $219.
"Here She Comes Now"/ "Venus in Furs" 1991
Nirvana's cover of "Here She Comes Now" was included on the compilation Heaven and Hell Volume 1: A Tribute to the Velvet Underground, first released on Imaginary Records in the U.K. in 1990 (the label reissued the album in 1994 under the name Fifteen Minutes: A Tribute to the Velvet Underground). When released in the U.S. in 1991, on Communion Records, it was accompanied by a single, with Nirvana's track on one side, and the Melvins' "Venus in Furs" on the other.
The album can be found on vinyl and CD for under $50. But with far fewer copies of the single available (it's believed that 1,000 copies were pressed, on varying colors of vinyl), it commands a higher price, ranging from $250 to $1,200. The song was only available on the single and compilation until 2004, when it appeared on the With the Lights Out box set.
Hormoaning 1992
This six track EP was only released in Australia and Japan, to tie in with the band's 1992 Pacific Rim tour. The Australian edition came in a run of 15,000 copies; 10,000 on CD, 4,000 on red and blue swirled vinyl, and 1,000 on cassette. Even though the cassette is the smaller run, it's the vinyl that rates higher, from $500 on up (one hopeful seller was recently offering a copy for $6,750). In 2011, the record was reissued on brown vinyl for Record Store Day.
"Pennyroyal Tea"/"I Hate Myself and Want to Die" 1994
This was scheduled to be Nirvana's next European single released from In Utero. But it was cancelled and recalled in the wake of Cobain's death in April 1994, as the record company didn't want to be seen as cashing in on the tragedy (not to mention that unfortunately titled B-side). The single featured a remix of the track that first appeared on the "censored" version of In Utero (Walmart had objected to the back cover art, which was altered so the store would carry it). The remix later appeared on the 2002 Nirvana compilation.
No vinyl singles were manufactured, though some sleeves exist. CD singles (which added "Where Did You Sleep Last Night" from Nirvana's Unplugged appearance) were manufactured and distributed, but were recalled before being put on sale. Recalled copies were then supposed to have been destroyed, but some (it's not known how many) survived. Recent sale prices range from $346 to $1,100. Some CD promo singles also escaped destruction, misspelling the title as "Penny Royal Tea." Expect to pay upwards of $1,000 (a copy was recently on sale for $2,597).
In 2014, the single was reissued on vinyl in the U.S. for Record Store Day. More about this single's complicated history can be found at: https://www.crimson-ceremony.net/pr3/index.php.
The Songs of Kurt Cobain 2007
This promo set was compiled by Primary Wave Music Publishing, who'd acquired the rights to Cobain's compositions, for the purposes of promoting interest in licensing his music. It features five CDs, packaged in a wooden heart-shaped box, which is itself packaged in a larger white cardboard box. Three CDs feature Nirvana recordings; the other two feature cover versions of Nirvana songs by 11 different artists, including Patti Smith ("Smells Like Teen Spirit") and Sinead O'Connor ("All Apologies"), as well as seven "Lullaby Renditions" by Michael Armstrong, and six tracks by The Tallywood Strings. The set is limited to 500 copies. Discogs gives it a high value of $699.99, but one dealer on the site was selling it for $2,086.
Verse, Chorus, Verse 1994
The first album DGC initially planned to release after Cobain's death was going to be Verse, Chorus, Verse, a live set featuring both Nirvana's Unplugged appearance and a concert drawn from their numerous live recordings in the vault. But Novoselic and the band's drummer, Dave Grohl, felt too overwhelmed to work on the project, so Unplugged was the sole album that came out that year. A provisional live album had been compiled at the time, with cassette copies made for DGC staff and the band. A similar album, From the Muddy Banks of the Wishkah, was ultimately released in 1996. But the 1994 "rough draft" has a different track listing, with most of the 17 songs drawn from different shows than Wishkah. Only one copy has been known to come up for sale, via memorabilia specialists Recordmecca; coupled with an advance tape of Unplugged, the set went for $5,000.
Gillian G. Gaar's first book on Nirvana was In Utero, for the well-known 33 1/3 series. She is also the author of Entertain Us: The Rise of Nirvana and The Rough Guide to Nirvana, among others. She was a project consultant/photographer for Nirvana's With the Lights Out box set, and edited Krist Novoselic's book Of Grunge and Government. 
Cedric Vanoverstraten provided all Nirvana images from his personal collection, except the Pennyroyal Tea promo, owned by Fred Philippe.