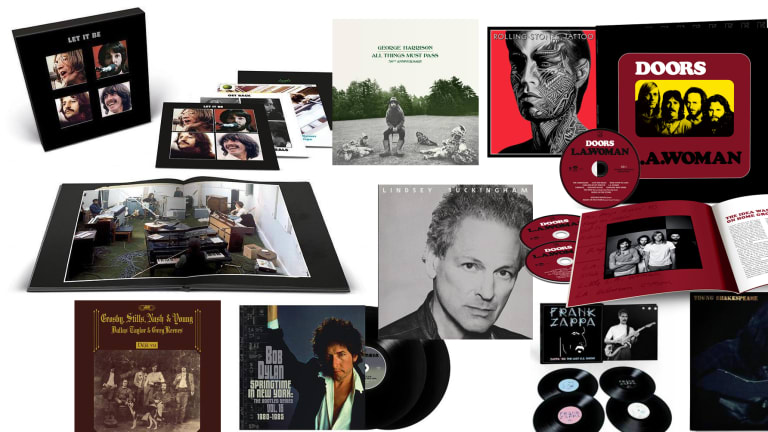 Goldmine Picks: The best music releases of 2021!
Goldmine's staff and contributors review the best music releases that 2021 had to offer the music collector.
Goldmine's staff and contributors reviewed the best music releases that 2021 had to offer the music collector. These are releases that Goldmine reviewers thought deserved a five-star rating. 
Here they are, in no particular order.
BOB DYLAN
SPRINGTIME IN NEW YORK: THE BOOTLEG SERIES VOL. 16: 1980-1985
SONY LEGACY (2-LP or 5-CD BOX SETS)
One would think that by this point in Bob Dylan's storied career, The Bootleg Series would have run its course. Having found fruition in highly coveted live recordings, early outtakes and Big Pink leftovers, Sony/Legacy has managed to further explore nearly every vital aspect of his output from key phases of a timeless trajectory.
Still, some might question whether a focus on the '80s would warrant similar investigation, especially as it applies to a five-disc box set. And while it shares a limited timespan — and one not necessarily associated with his prime pedigree — it's a consistently quality collection nevertheless, one that doesn't offer any impression whatsoever that the producers had to scrape the bottom of the barrel. While it will hopefully help fill the coffers, it also reaffirms the fact that the Bobster's early '80s output — specifically, the albums Infidels and Empire Burlesque — has its highpoints, even compared to his '70s prime. Granted, Shot of Love, also from that era, had its flaws, given that it, like its predecessors, Slow Train Coming and Saved, took root in his zealous so-called Christian rebirth. However, like the other two offerings that spawned this material — more than 50 unreleased recordings in all — there's consistent quality to be found throughout.
Disc one is devoted entirely to rehearsals, and within that sphere, it finds Dylan tackling a few covers Self Portrait-style — among them, takes on the Dave Mason latter-day standby "We Just Disagree," Dion's "Abraham, Martin and John" and the seminal standard "Mystery Train." CDs two, three and four are devoted to alternate versions and outtakes from each of the aforementioned albums, and in many instances, they work as well as the originals. "Clean Cut Kid," "Jokerman," Blind Willie McTell" and "Sweetheart Like You" remain prime examples of Dylan's revival and renewal and, indeed, some of the best examples of his post-'70s efforts. Notably, too, he still hadn't lost his trademark phrasing and delivery, a refreshing reminder of Dylan's distinct vocals prior to the raspy croak found in his latter-day recordings.
The final disc offers more Empire Burlesque outtakes, as well as two live tracks, a version of "Enough Is Enough," recorded at Slane Castle in Ireland, and "License To Kill," taken from a rare TV appearance, this one culled from Late Night With David Letterman in 1984. Here again, the offerings are of a consistent quality, so much so that the castoffs favorably compare with the keepers that originally made the cut. As a result, Springtime in New York ranks high in the Bootleg Series, simply in terms of its superb selection of songs. Is it Dylan at his best? Well, that would be a difficult question to answer, especially considering all the comparisons that would be culled from his catalog as a whole. Suffice it to say however, this is very nearly as good as it gets.
— Lee Zimmerman
THE BEACH BOYS
CAPITOL/UME (2-LP or 5-CD BOX SETS)
Feel Flows — The Sunflower & Surf's Up Sessions 1969-1971 is the latest in the series of expanded releases of The Beach Boys' catalog that began with 1997's The Pet Sounds Sessions and continued through releases as The Smile Sessions (2011), 1967 — Sunshine Tomorrow (2017) and digital-only collections like I Can Hear Music: The 20/20 Sessions(2018). Sunflower and Surf's Up get the full 5-CD box set treatment on Feel Flows, with plenty of bonus material allowing you to experience a song in various stages of developments.
Take "Add Some Music to Your Day," from Sunflower, for example. You get the newly remastered album version, and a previously unreleased live version from 1993. Then there's a track and backing vocals mix, and a beautiful a cappella mix. Finally, there's a previously unreleased alternate version with different lyrics. It's the kind of "deconstruction" (in co-producer/compiler/mixer Mark Linett's words) that reveals just how much work went into creating these songs, and brings a focus to the care and attention to detail that's so much a part of The Beach Boys' music.
Which is something that Linett and Alan Boyd, the other half of the production team, delight in doing with Beach Boys releases. "When you dissect the music and see how all the pieces fit together, in some ways, it's just as fascinating as the (final) record," Linett says, "particularly their background work, the background vocals. So that's the kind of thing that we always try to expand on."
"I am still blown away by the sheer inventiveness of the arrangements, both in the backing tracks and the backing vocals," Boyd agrees. "And so any time that we can share that with people and give them a peek into the artistic process and the various components, let's go for it."
On Feel Flows, that means presenting the two albums, track/backing vocals and a cappella mixes, some live tracks, and then rounding up the numerous outtakes from the sessions. "We've never been lacking in terms of bonus tracks for any of these periods," Linett says. "It's just amazing how much they worked on and how much they didn't use." Which results in a treasure trove of offerings for listeners.
Sunflower and Surf's Up are rightly regarded as among The Beach Boys' best efforts, and the bonus tracks enrich the experience. The alternate version of "Til I Die," which opted for more positive lyrics (e.g., "That holds me up" versus "I lost my way"), shows that the group made the right decision in using Brian Wilson's original lyrics. You get a hint in how "Surf's Up" might have turned out in a track that matches Brian's 1966 vocal with a newly recorded 1971 backing. An alternate mix of "Cool, Cool Water" transforms it into something that's completely different, and just as remarkable as the album version. Boyd cites it as one of his favorite tracks. "It's the same song, it's the same multitracked source. It's just a different emphasis on which of all those interlocking vocal parts to put a spotlight on. It's like a favorite scene from a great movie, but this one's shot from a different camera angle. There's so much going on in that track."
While Sunflower has some of Dennis Wilson's best work and vocal performances ("Forever," to mention one), he doesn't even get a lead vocal on Surf's Up. That's rectified here by the inclusion of the 1970 stereo mixes of the "Sound of Free"/"Lady (Fallin' in Love)" single, the "All of My Love"/"Ecology" medley, the atmospheric "Hawaiian Dream," and an extended version of "(Wouldn't It Be Nice To) Live Again," to mention a few.
The a cappella mix of Dennis' "Got to Know the Woman" is especially entertaining (even Dennis can't help but laugh at himself), but such mixes of Beach Boys songs are always enticing, considering their superb vocal skills; the a cappella "Til I Die" is another sublime moment.
Feel Flows is an excellent set that nicely covers a sometimes overlooked period in Beach Boys history (especially in regards to Sunflower). "I've always felt that this band recorded and left behind more amazing material than anybody else on earth," says Linett. The proof of that can be found on collections like Feel Flows.
(Feel Flows is also available in 2-CD, 2-LP, and 4-LP editions.)
— Gillian G. Gaar
THE BEATLES
LET IT BE (SUPER DELUXE EDITION)
APPLE CORPS LTD. / CAPITOL / UME 
(5-CD or 4-LP/1-EP + 1 BLU-RAY SETS)
Did The Beatles' albums need to be remixed? It's a question that's been debated with increasing frequency since the 2017 Sgt. Pepper remix, and has continued through the release of the remixed The Beatles and Abbey Road. But even remix naysayers might agree that Let It Be is the album that really benefits from the process.
It was, after all, the album that The Beatles themselves lost interest in, to the point that John Lennon even considered releasing Glyn Johns' early mix precisely because it might bring down the group. "It would break The Beatles, it would break the myth," he told Rolling Stone. "'This is what we're like with our trousers off. So would you please end the game now?'" Paul McCartney's dislike of Phil Spector's work on the final album is well known, but even Lennon's observations about it indicate that he too was underwhelmed: "It wasn't fantastic, but I heard it; I didn't puke."
Now comes the Giles Martin remix that hits a point between Spector's 1970 work and 2003's Let It Be…Naked. It's not a "de-Spectorization"; the strings are still there on "The Long and Winding Road." But instead of feeling pieced together, the album sounds more cohesive. There's a welcome clarity to the new mix, and a more robust feel as well. "Across the Universe" might not have the beautiful simplicity of its Let It Be…Naked incarnation, but it nonetheless now has more room to breathe. The thumping bottom end of "Two of Us" helps flesh out the song. The sparkle of "I've Got a Feeling" builds anticipation for what the rooftop concert will sound like in the Get Back: Let It Be documentary.
Glyn Johns' May 1969 mix of the album has been widely bootlegged, but it's here presented in a great sounding, newly remastered edition. It's a better reflection of the sessions, as the Spector version is a better reflection of the film.
Similarly, though many of the bonus tracks have been bootlegged, they're presented in improved sound. And it's fun considering how different Let It Be could've been. George Harrison's "All Things Must Pass" was one of the first songs the group worked on, the performance here compiled from numerous rehearsals; elsewhere, he asks for help in completing the lyrics of "Something" ("attracts me like a… pomegranate?"). There's a brief, folky take of Lennon's "Gimme Some Truth," while McCartney's "Oh! Darling" has a stronger harmony vocal from Lennon, and a spoken word section. Overall, the two bonus track discs are a judiciously chosen overview of the sessions, minus the dialogue and quick riffs of a line or two, thus making it more listenable.
In the oddest decision, only four songs are on a disc titled "Let It Be EP." It features new mixes of the single versions of "Let It Be" and "Don't Let Me Down," and two very interesting previously unreleased Johns mixes from 1970: "Across the Universe," which uses the backing vocals provided by female fans when the song was first recorded in February 1968, and a shorter "I Me Mine," without the Spector edit that lengthened the song. Why place them on a separate disc when they could've been added to, say, the disc with the Johns mix of the album, thus freeing up another disc for more bonus tracks? This is one aspect of the set you can expect to hear fan complaints about.
The Blu-ray presents the new stereo mix in high-res stereo, 5.1 surround DTS, and Dolby Atmos mixes. The 105-page book has information on all the tracks, and is nicely illustrated; it's a surprise to turn the page and see the reproduction of Harrison's diary entry for January 10, 1969: "Got up went to Twickenham rehearsed until lunch time — left The Beatles — went home and in the evening did King of Fuh at Trident Studio — had chips later at Klaus and Christine's went home."
The biggest disappointment is that there aren't more bonus tracks, when there was clearly room to include them. Also missing is audio of the entire rooftop concert, presumably being saved for the documentary. Since so much of the sessions has been bootlegged, fans will certainly have their own ideas of what should and shouldn't have made the cut. Nonetheless, Let It Be has never sounded better than it does here. And the bonus tracks, book, and Blu-ray make it worth purchasing the Super Deluxe edition.
— Gillian G. Gaar
CROSBY, STILLS, NASH & YOUNG
DÉJÀ VU 
50th ANNIVERSARY EXPANDED EDITION
RHINO (4-CD/1-LP SET)

Déjà Vu defied any play-by-numbers scenario. It was the second to feature David Crosby, Stephen Stills and Graham Nash as a combined collective but the first that found them expanding to a quartet with the addition of Stills' old sparring partner in Buffalo Springfield, Neil Young. As such, it was a landmark album, as much so as CSN's much-heralded eponymous debut. Each member of the band was given ample opportunity to shine — save bassist Greg Reeves and drummer Dallas Taylor, who were, naturally, relegated to secondary roles — and each rose to the occasion with some of the best songs of their individual careers. The fact that the material found a fine fit within their collective combine attests not only to their abilities, but also to their cohesive chemistry as well.
Nevertheless, those fragile relationships would be severely tested over the years, leaving a fraught tangle of ego, anger and temperament that persists to this day. Aside from the live 4 Way Street that followed a year later, it would be another 18 years before the full foursome would reunite for the much-belated American Dream. Other attempts would be made, but ultimately only three studio albums would emerge from the quartet and, it seems, just barely at that.
Consequently, Déjà Vu represents the essential CSNY offering, not only because it provided a rare moment of solidarity, but also due to the fact that the band were in peak form. There's not a single track that couldn't be considered memorable, be it the indomitable "Carry On," the tender trappings of "Teach Your Children and "Our House," the stoic sound of "Woodstock," the lamenting of lost love shared in "Helpless" and "Country Girl" or the haunting and harrowing title track.
All of which explains why this expanded 4-CD/1-LP box set seems so essential. It boasts a generous 29 unreleased tracks, including demos, alternate versions and songs that didn't make the final cut. Many of the offerings would end up on individual solo albums, but hearing them here in rudimentary form and the earliest stages of development is a fascinating glimpse into the group's creative trajectory and reason enough to acquire this compilation, cost be damned.
There are revelations here as well, most of which come courtesy of Nash's unreleased offerings — the lighthearted demo of "Our House" with his muse Joni Mitchell, barebones versions of "Teach Your Children" and "Right Between the Eyes," and two unreleased takes of "Horses Through a Rainstorm," a song written and later recorded by English rocker Terry Reid and rendered here as a solo demo and as a CSNY outtake. Crosby also shines with a solo take on his expressive ballad "The Lee Shore," although early reads of "Almost Cut My Hair" do little to enhance the song's attempt at gravitas.
Stills' outings encompass the bulk of the disc of outtakes, although the most notable are the two revisits to his Buffalo Springfield catalog, courtesy of "Know You Got to Run" and "Bluebird Revisited." Young's only semi-solo offering is a rough-cut demo of "Birds" sung with Nash.
Cameron Crowe and Joel Bernstein's essay and liner notes, included in the pull-out booklet, are well worth the price of admission alone, and with a host of archival photos, it provides an excellent in-depth opportunity to share the backstory of the quartet's early origins.
Ultimately then, Rhino has outdone itself with this expanded box, giving the quartet's admirers a treasure trove of gems that supplement the original offerings. There's no better way to celebrate Déjà Vu all over again. — Lee Zimmerman
GEORGE HARRISON
ALL THINGS MUST PASS – 50TH ANNIVERSARY
UME/CAPITOL (8-LP or 5-CD + BLU-RAY SETS)
Six weeks after Paul McCartney officially announced the breakup of The Beatles in April 1970, George Harrison entered EMI Studios with Ringo Starr and Klaus Voormann in tow and began tracking demos for what would become his true solo debut and his magnum opus, the triple-disc All Things Must Pass. All 30 of these demos (26 of which are previously unreleased) are included on the new 50th anniversary reissue of ATMP, available as an 8-LP (180g) set and a 5-CD + 1 Blu-ray audio disc collection. (Other physical and digital configurations — ranging from a basic, 2-CD set of the original 23-track album to an Uber Deluxe Edition box set that'll set you back $1,000 — are also available.)
Along with the large clutch of demos, outtakes and studio jams, another selling point of the latest reissue is Paul Hicks' complete remixing of the bulk of the album's original tracks (sans the "Apple Jam" cuts, which have been newly remastered but not remixed). Stripped of Phil Spector's often overly grandiose production flourishes, the listener is left with 18 cuts worth of Harrison as a plaintive, spiritual, playful and at times an almost rustic-sounding troubadour, no doubt sonically affected by his then-recent hangs with Bob Dylan, Delaney & Bonnie and The Band.
Much of the remixing is subtle — Harrison's trademark slide guitar and the backing vocals "pop" a bit more on the classic "My Sweet Lord" and some of the percussive touches are now a bit muted on "I'd Have You Anytime," for example — but in some cases, the changes are more noticeable. On "What Is Life," some of the guitar figures on the final verse now sound almost completely different from the original recording, and the glorious title track now features Harrison's impassioned vocals more prominently. Overall, the effect is as if a layer of murk has been removed from the tunes.
The "Day 1 Demos" feature the Harrison/Starr/Voormann trio running through several of the album's tracks, as well as gems such as the Sun Sessions/Buddy Holly pastiche, "Going Down to Golders Green" and "Sour Milk Sea," which Harrison had gifted to Apple Records artist Jackie Lomax the year previous. It's interesting to note that many of the tunes' arrangements were already very nearly fully formed in the demo stage, minus Harrison's slide.
The "Day 2 Demos" (all presented in pristine clarity) are by and large solo Harrison, accompanying himself on acoustic and electric guitar. Take 1 of "Wah-Wah" is quite lovely, with the snaky electric six-string runs and an understated lead vocal sounding quite transcendent together. The previously unreleased "Cosmic Empire" is a jaunty ditty that finds Harrison adding some cool falsetto vocals, while an acoustic run through of "Beware of Darkness" is both moving and a bit of a cautionary tale. (In a line that was excised from the final version, Harrison intones, "Beware of ABKCO," a swipe at unsavory Beatles manager Allen Klein.) On another previously unreleased cut titled "Nowhere to Go," Harrison details his frustration with being a Fab, referencing his 1969 drug bust and getting off lines such as, "I get tired of being Beatle Geoff/talking to the deaf." An early, unreleased run through of Bob Dylan's "I Don't Want to Do It" is another wonderful find; Harrison would revisit the tune when he recorded it for a 1985 single.
Included in the "Session Outtakes and Jams" are a more sprightly and slightly more upbeat take of Dylan's "If Not for You" than the one that appeared on ATMP; a horn-infused take of The Beatles' "Get Back"; and a hilarious (albeit brief) snippet of "Isn't It a Pity (Take 14)," where Harrison sings, "Isn't it so shitty/isn't it a pain/how we do so many takes/now we're doing it again." All told, the three discs of rare/unreleased demos and outtakes provide a fascinating glimpse at the musical genesis of the album.
With a total of 42 previously unreleased tracks, a top-notch remixing job and a nicely curated, 60-page booklet with studio notes, recording information and more (sadly, no track-by-track musician credits, though), the 50th anniversary edition of All Things Must Pass is a must for fans of George Harrison's music.
— John M. Borack
NEIL YOUNG
YOUNG SHAKESPEARE
REPRISE (CD, LP, DVD)

Recorded on January 22, 1971, at The Shakespeare Theater in Stratford, Connecticut, only a few months following the release of After the Gold Rush, this recording features a stripped-down, solo Young accompanying himself on acoustic guitar, piano and harmonica. And the intimate environment had Young in good spirits, talking to and joking with the audience during different parts of the show. Young's between-song comments provide great insight into the songs. And the concert gave the crowd an outstanding preview of Young's 1972 album, Harvest, as he performed four songs that would appear on that album at the show.
In his introduction to "Old Man," Young said that he wrote the song about the 70-year-old foreman of his ranch who had been living there for decades. The version of the song that follows is perfect, with Young in great voice. Prior to performing "The Needle and the Damage Done," Young discusses the deaths of Jimi Hendrix and Janis Joplin and how their deaths inspired him to write the song. He then delivered a raw and beautiful performance of the song.
Young's powerful and emotional performance of CSNY's "Ohio" is jaw dropping, which is not surprising since this show took place only eight months after the four Kent State students were murdered by members of Ohio's National Guard. He lightens the mood a bit with the following song, "Dance Dance Dance," which he described in his introduction to the song as "hoedown music."
Young switched to piano for the outstanding "A Man Needs a Maid," which goes right into a terrific take on "Heart of Gold." And still at the piano, Young delivered a quite beautiful performance of "Journey Through the Past."
Back on acoustic guitar, Young provided a perfect vocal on the rendition of "Down by the River," which received a huge reaction from the crowd. He closed the show with a beautiful, extended performance of "Sugar Mountain," which he said he wrote on his 20th birthday. While performing the song, Young made humorous comments to the crowd between verses.
A deluxe box set edition is also available that has the CD, LP and DVD. — John Curley
FRANK ZAPPA 
UME/ZAPPA (4-LP BOX SET)
In March 25, 1988, Frank Zappa played the final show of his latest U.S. tour. Backed by his current 11-piece band, and with a concert repertoire of some 100 songs, Zappa would be embarking on a European tour a few days later. All was well in Zappaland.
Today, the memory of that performance appears impossibly poignant; it was the last gig Zappa would ever played in the USA and, 33 years on, Zappa Records/UME have released a recording of the full gig as the very sensibly titled 4-LP Zappa '88: The Last U.S. Show.
We get it all, from a few moments of the intro music to the farewell "America the Beautiful." There's a first-ever official release for Zappa's 10-minute Beatles medley, opening with an amusingly reworded "Norwegian Wood" ("isn't it swell, Texas motel"). "Lucy in the Sky," "Strawberry Fields" are all similarly twisted during the medley, but later in the set, "I Am The Walrus" receives a surprisingly straightforward rendering. Sandwiched, incidentally, between 10 minutes of "Stairway to Heaven" and seven of "Whipping Post."
That latter pair were not recorded at the final show (they hail from earlier in the month), but their intrusion is seamless and are as welcome as any of the on-the-night highlights — a neo-reggae version of Ravel's "Bolero," a lovely "Sharleena," a dramatic "I Ain't Got No Heart," "Dickie's Such an Asshole," "Jesus Thinks You're a Jerk," "The Torture Never Stops"….
Further classical interludes pop up in the show, while we also get such momentary interludes as the theme from Bonanza, "I Left My Heart in San Francisco," a message from NY Governor Mario Cuomo, and a round of "Happy Birthday" for drummer Chad Wackerman — they're just little things, but they add a genuine sense of occasion to the album. And while the full track listing might not necessarily scream "greatest hits," in terms of arrangement and virtuosity, the sensation that you're spinning through a recap of Zappa's past 20 years is never far from the surface.
The sound quality is impeccable, the packaging is exemplary. This is the first posthumous archive release to feature this particular band, and we can only hope there will be more.
— Dave Thompson
LINDSEY BUCKINGHAM
REPRISE (LP, CD)
A new Lindsey Buckingham album descends (Reprise), an eponymous set which marks just his seventh such outing across the years, and it's safe to say that the apple has not fallen far from the tree.
Buckingham more or less completed establishing the parameters of his vision around the time of Tusk, meaning cleverly-written songs, very cleverly designed arrangements and, perhaps, he occasionally strikes one as being too clever by half. But when he's on top form, the ear worms are irresistible, and if great swaths of the soundscape sound like a medley of old Mac numbers, that's really not a bad thing.
We loved Mac for a reason, and Buckingham doesn't forget that. Besides, with his voice having mellowed from the yelp that used to insist "it's not that funny," although we all knew it was, Lindsey Buckingham might, unlikely though it seems, be the best of the seven so far.
— Dave Thompson
THE ROLLING STONES
TATTOO YOU (2021 REMASTERED, 40th ANNIVERSARY EDITION)
On the face of things, The Rolling Stones' 1981 album Tattoo You was doomed from the outset. Pressed for a new LP by their label, the Stones sent producer Chris Kimsey down to the basement to hunt out two sides worth of outtakes. Looking for a single, the label picked a track that Keith Richards didn't even want on the album. And stuck for a cover, somebody agreed to one of the ugliest sleeves the band had ever used.
Of course the thing was enormous. Of course "Start Me Up" became the new "Satisfaction." Of course Tattoo You became one of the year's favorite designs. And, of course, to mark the monster's 40th birthday, there's a 2-LP package that kicks off with the original album (Universal).
It still sounds patchy, a fate that even Bob Clearmountain's mix couldn't wholly repair. Of the two new songs, specifically recorded for the set, "Heaven" was exquisite, but the ranting, raging "Neighbours" was dull. Of the oldies, scraps dating back to Exile on Main St. were joined by outtakes from the Munich and Paris sessions later in the decade, and proved a mixed bag at best. "Worried About You" and "Slave" (from the former) are the finest, "Little T&A" (from Paris) the daftest. And so forth.
It's no surprise, then, to discover that a far better album was just busting to escape, and disc two of the box is it, a nine-track beast, which includes a pounding bar band cover of "Shame Shame Shame" and a gloriously dignified "Drift Away" (release of the latter scotched by Rod Stewart's 1975 decision to record the same song), the extraordinary "Come to the Ball," the rollicking "Fiji Jim" and… fanfare, please… an alternate take of "Start Me Up," in the reggae guise that was always Richards' preference.
"It's a Lie" would have slipped effortlessly onto Some Girls; "Fast Talking," paradoxically, is one of the Stones trademark stately ballads, a la "Fool to Cry"; "Living in the Heart of Love" is a straightforward rocker; "Trouble's a Comin'" a lurching boogie.
Some of this material has been bootlegged in the past, although usually in different form — "Drift Away" here seems a wholly new version, and the jury's out on whether or not it's superior to the familiar one. There's also the matter of the band themselves rerecording elements of the songs, but that's their prerogative. The arch collectors may want the warts and all, but the Stones themselves prefer to do things properly, and for the most part, they have.
These two collections make up the opening blast of the 4-CD or the 5-LP set, (shown, which includes a 124-page book); the real meat there, however, are the discs surrendered to another archive live show, Wembley, London, in June 1982, and what a gig it was. Spin Cycle was there and personally reckons it to have been the greatest Stones gig of the '80s and beyond. Forty years on, the set agrees.
Of course, the Stones set will be familiar to all — the Still Life live album back in the day, and the Roundhay Park, Leeds show from later that same summer have both preserved the shape of the show. But there was an energy to Wembley that neither could match, and an audience that had just been buffeted heavenwards by an amazing Black Uhuru opening set. From the opening "Under My Thumb" on in, the Stones are on a different planet, and the highlights just keep on coming — "Let's Spend the Night Together" rolls as seductively as it ought; "Shattered" is as frenetic as it's fractured; "Let It Bleed" is an absolute triumph, even though it is taken just a little faster than it should be.
There's a colossal crunch of covers flying bang bang bang into the stratosphere — "Just My Imagination," "Twenty Flight Rock," "Going to a Go Go," "Chantilly Lace"; and "Miss You" is magnificent. Oh, and wait till you hear "She's So Cold"!
So that's the Tattoo You box, and it has to be said that the album itself is the weakest link in the package. The unreleased bonus material, though, establishes this as one of the finest deluxes in the Stones' entire catalog.
— Dave Thompson
THE DOORS
L.A. WOMAN: 50TH ANNIVERSARY DELUXE EDITION
RHINO (3-CD/1-LP SET)
The 2006 reissue of The Doors' L.A. Woman featured two bonus tracks. The 2012 40th-anniversary edition featured a second disc with nine bonus tracks. The new 50th-anniversary edition of the album ups the ante once again, giving you 19 bonus tracks, all but one of them previously unreleased.
Those bonus tracks will likely be the primary drawing card for those considering whether to buy this reissue. The album's original stereo mix is presented in a newly remastered version on both CD and 180-gram vinyl. The two-plus hours of extras offer the deepest dive into the album's creation that's ever been made officially available.
One of the most unexpected treats is a version of "Riders on the Storm" from the album's initial sessions at Sunset Sound, when they were still working with producer Paul Rothchild. It's already fairly worked out, longer in its final version due to the extended instrumental sections; indeed, though listed as a "demo," some Doors aficionados feel it's actually an early alternate take.
It shows the band already had a clear idea of what they wanted to do with their songs, and that holding on to Rothchild as producer might well have been a hindrance. The other thing that comes through listening to the outtakes is just how much fun they're having. In contrast to the sessions for The Soft Parade, which took months, the band sounds relieved that they've finally taken over production duties themselves and can work at their own pace. Listen to the half hour of outtakes from "L.A. Woman," for example, and you'll hear a band brimming with confidence and the sheer joy of making music.
There are outtakes for every track on the album, save "L'America" (which wasn't recorded during the L.A. Woman sessions). And there are some fun asides (Jim Morrison introduces "Cars Hiss By My Window" as "The Bastard Son of Jimmy and Mama Reed"), though you wish there was more than just a snippet of "Mystery Train" and "Baby, Please Don't Go."
This is a great reissue of a classic album. But because bonus tracks from earlier reissues (e.g., "She Smells So Nice," "[You Need Meat] Don't Go No Further") aren't included, you'll likely want to hang on to those, too.
— Gillian G. Gaar