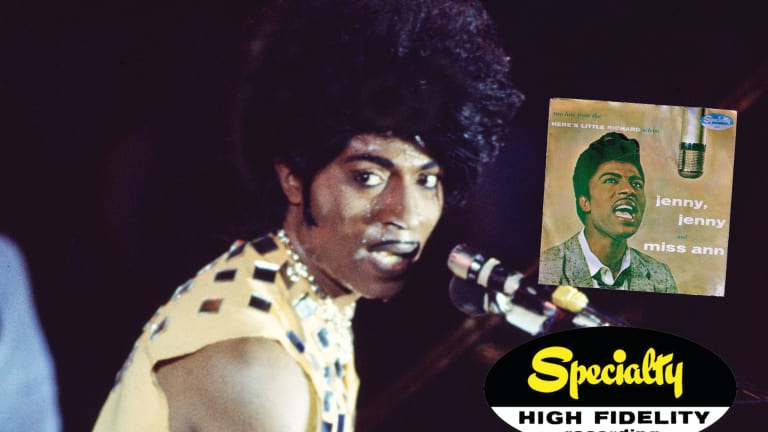 Little Richard on Specialty Records
Little Richard's music on Specialty Records was a special era during the rock icon's career.
By Gillian G. Gaar
A wop bop a loo bop a wop bam boom!
It's the rallying cry of rock and roll, a clarion call that Rolling Stone once referred to as "the most inspired rock lyric ever recorded." As the opening salvo of the song "Tutti Frutti," its impact was immediate, and would span continents; when John Lennon, then a 15-year-old growing up in Liverpool, first heard the record, "It was so great, I couldn't speak." Released in October 1955, it was an instant classic that would become one of the touchstones of rock and roll.
And for its singer and co-songwriter, Little Richard, it would be the career breakthrough he'd been waiting for, the first of a string of Top 10 pop and R&B hits he'd enjoy over the next three years. And while he would continue recording and performing long past the 1950s, it was Little Richard's years with Specialty Records that marked the period of his greatest influence, his musical achievements making him one of the primary architects of rock and roll.
His beginnings were humble. Richard Wayne Penniman was born on December 5, 1932 in Macon, Georgia, one of 12 children. With a father who was a church deacon (who sold moonshine on the side), and a mother who was just as religiously inclined, it was natural for Richard to begin his performing career singing in church. His parents and siblings even performed together as the Penniman Singers. "I could always sing loud and I kept changing the key upward," he told Charles White, author of The Life and Times of Little Richard, adding that he was stopped from singing in church due to his "hollerin' and screamin'." The family was too poor to own a record player, so he spent hours listening to music on the radio. Even his immediate environment gave him ideas for future material. "Black people lived right by the railroad tracks and the train would shake their houses at night," he explained. "I would hear it as a boy and I thought: I'm gonna make a song that sounds like that." It's a key to the excitement his records would later generate.
Already possessing a flair for showmanship, he wanted to become a preacher. That changed the day one of his favorite performers, Sister Rosetta Tharpe, came to town. Richard had a part-time job at the Macon City Auditorium selling soft drinks, and on the day Sister Rosetta appeared at the venue, he greeted her by singing her current hit, "Strange Things Happening Every Day." His impromptu performance led to an offer to sing during the show itself. Afterwards the star handed him what seemed like a veritable fortune — $35. "I'd never had so much in my life before," he said. A new career beckoned.
Richard started out with little more than a strong sense of self. "God gave me a strong mind, and a strong will," he told White. "I've always had a fierce determination to excel." He'd need that determination in the years ahead. At the age of 14, he decided he'd had enough of school and dropped out. Problems with his father also led to his leaving home, signing on with a traveling troupe called Dr. Hudson's Medicine Show.
He spent the next five years touring with similar outfits, such as B. Brown and His Orchestra, singing the likes of "Mona Lisa" and "Goodnight Irene." Not that they were staid renditions. "I just wanted to tear up the house!" Richard told Rolling Stone. He also took on the stage name "Little Richard," partly because people mispronounced his name as "Penny-man," and also following the example set by similarly-named acts like Little Esther and Little Willie John.
It was also during this time that he met a performer who would have a great influence on him, Billy Wright. "I thought he was the most fantastic entertain I had ever seen," he said of the man who was called "Prince of the Blues." He admired Wright's pompadour and flashy clothes; Wright also introduced Richard to the benefits of using stage makeup.
And it was Wright who would help launch Richard's recording career, introducing him to Atlanta DJ Zenas Sears, who used his influence to get Richard a deal with RCA in 1951. The label released four singles by Richard, none of which met with much success, though "Every Hour" and "Get Rich Quick" got enough local airplay to convince Richard he was on the right track.
Richard then met an even more flamboyant performer, Eskew Reeder, Jr., who went by the stage name Esquerita, and had a pompadour that was even more towering that Billy Wright's. In addition to sartorial tips, Esquerita also taught Richard the basics of piano, so that he could accompany himself while performing. Richard's extravagant stage appearance would eventually surpass both Billy Wright's and Esquerita's.
Richard next recorded with the Tempo Toppers, signing with Peacock Records, and releasing two singles (credited to "Tempo Toppers Featuring Little Richard"). But the records failed to find an audience, and Richard began assembling a new band, the Upsetters.
In February 1955, Richard was back in Macon, and caught a show by Lloyd Price at the Civic Auditorium. Price was best known for his 1952 hit "Lawdy Miss Clawdy," and Richard envied both his success and Price's lavish black and gold Cadillac. After the show, Price suggested that Richard might find a home at the label he was on, Specialty.
Specialty was a Los Angeles-based label owned by Art Rupe. Rupe, originally from Pennsylvania, had come to California to work in the movies, but found it easier to get into the record business. After first running the labels Atlas Records and Juke Box Records with other partners, Rupe set up Specialty on his own in the mid-1940s. The label released records by gospel and R&B acts, music that hadn't yet crossed over to a white audience. "No white people fooled around with this kind of music," Rupe said. "I had no idea that it would have any permanence and I had no idea that it would ever appeal to white people." In addition to Price, Specialty's acts included Roy Milton, Guitar Slim, and the Soul Stirrers, featuring Sam Cooke.
Richard didn't hesitate to act on Price's advice, recording a demo of "Baby" and "All Night Long," two mid-tempo blues numbers, at local radio station WBML. He mailed it on February 16. There are different accounts as to what happened next. Rupe told Charles White that he wasn't initially interested in Little Richard because he was looking for a singer like B.B. King, and that his A&R man, "Bumps" Blackwell, "didn't think much" of Richard's tape either. But in the same book, Blackwell says he thought Richard's voice "was unmistakably star material."
Rupe goes on to tell White, "If it hadn't been for Little Richard's persistence and aggression, we would never have signed him," explaining that Richard began pestering the label with phone calls as soon as he mailed off his tape. But in the liner notes for the 1989 box set The Specialty Sessions, Rupe contends he was interested in Richard as soon as he heard the demo, and tried to set up a recording session a few weeks later, in March 1955.
"If it hadn't been for Little Richard's persistence and aggression, we would never have signed him." —Art Rupe, owner of Specialty Records
One problem all parties agree on is that Richard was still signed to Peacock Records. Specialty eventually loaned him the money to buy out his contract, after which sessions were set up on September 13 and 14 at J&M Recording Studio in New Orleans, with Blackwell on hand to produce. One reason the session was in New Orleans was to draw on the city's excellent roster of studio musicians, who had played on records by Fats Domino, Lloyd Price and Professor Longhair.
Recording for two days also provided the label with more material to work with. "We did eight or nine sides with Little Richard the first time, as opposed to four, because Bumps was untried as a producer and we didn't know the kind of material we would be able to get," Rupe explained. "So we wanted to have a lot of options."
The material was solidly in the blues camp. "Lonesome and Blue," "Wonderin'," "All Night Long," and an early version of "Kansas City" were recorded on September 13, with "Maybe I'm Right," "I'm Just a Lonely Guy," and "Baby" recorded the following day.
But while the performances were good, Blackwell was underwhelmed. "It wasn't really what I was looking for," he said. "I had heard that Richard's stage act was really wild, but in the studio that day he was very inhibited … it certainly wasn't coming together like I had expected and hoped." Richard agreed: "They had me singing like Ray Charles, B.B. King. They wanted me to sing the blues and that was not me."
Then, during a lunch break, the wilder side of Little Richard finally emerged. While at a local restaurant for lunch, Richard saw a piano and decided to cut loose. Sitting down and pounding the keys, he started bawling out a raucous, rude number that tickled audiences when he performed it live: "Tutti frutti! Good booty! If it don't fit, don't force it! You can grease it, make it easy!"
Blackwell was spellbound. This was the kind of excitement he wanted to capture. But the lyrics were far too suggestive, so he asked songwriter Dorothy LaBostrie, whose "I'm Just a Lonely Guy" Richard had just recorded, for cleaner lyrics. While she got to work, the session continued with "Directly From My Heart."
Finally, as the session was winding down, LaBostrie returned with new lyrics about a gal named Sue, who "knows just what to do" and another named Daisy, who "almost drives me crazy." Blackwell had Richard play piano on the track; there wasn't time to teach the studio pianist how to play the part, and anyway Richard's playing was part of what gave the song its vitality. Three takes later (some accounts say there were only two takes), and rock and roll history was made.
"Tutti Frutti" was released the following month and raced up the R&B chart to No. 2, reaching No. 17 pop, making the record an immediate crossover success. It might have gone even higher on the pop chart had Dot Records not rushed out a cover version by Pat Boone, which reached No. 12, the white star finding it easier to get airplay than a wild looking black performer. Elvis Presley also the covered the song, performing it on two of his first national TV appearances on Stage Show in early 1956, and recording it for his first album.
Not that Richard minded, entirely. Asked by Rolling Stone whether Boone's cover helped or hindered his career, he replied, "I believe it was a blessing. I believe it opened the highway that would have taken a little longer for acceptance. So I love Pat for that." He also felt Presley helped "open the door for this kind of music. I thank the Lord for sending Elvis to open that door, so I could walk down the road, you understand." "Tutti Frutti" ended up being Richard's first million seller.
In the wake of his single's success, Richard came to Los Angeles, finally meeting Art Rupe, who was anxious for a follow up single. Richard first recorded some demos in Specialty's offices: "Chicken Little Baby"; "Slippin' and Slidin'," "Miss Ann" and "She's My Star," (all three later appeared on Specialty Sessions); "Trouble in My Way," and "True Fine Mama" (both since lost).
A more formal session was held November 29 at Radio Recorders in L.A., which saw the recording of the single version of "Kansas City," and "True Fine Mama (True Fine Baby)" and "Wonderin'," both future album tracks. "Miss Ann" (a nod to a Macon woman who had run the club Ann's Tic Toc Room) and "Baby" would appear on Specialty Sessions. A version of "Slippin' and Slidin'" recorded at this session has been lost.
But the song earmarked for the single was "Long Tall Sally." Blackwell claimed the lyric was written by a teenager — whom he never named — who'd supposedly come all the way from Mississippi to have Little Richard record her number. Yet the mysterious teen's name appears nowhere in songwriting credits, which are shared between Richard, Blackwell and Enotris Johnson, a man from Georgia who'd helped look after Richard when he was younger.
The track was initially called "The Thing," and it would take a few sessions to perfect. "We cut 'Long Tall Sally' three times on different dates before I was satisfied," said Rupe. "We just kept changing the tempo, just like we changed the name, until it sounded the best." Richard tackled the song again at L.A.'s Ted Brinson Studio, along with an early version "Miss Ann."
Early versions of "Long Tall Sally" were markedly slower, as Richard worked his way up to the song's trademark rapid fire vocal delivery. He perfected it at the next session, back at J&M, February 7, 1956, which also saw the recording of "Miss Ann" and "Slippin' and Slidin'." At a second session on February 9, "The Most I Can Offer (Just My Heart)," "Oh Why?" and "Heeby Jeebies Love" were recorded. A version of "Tell Me Why" recorded at this session was lost.
"Long Tall Sally"/"Slippin' and Slidin'" was released in March. Though Richard claimed authorship of "Slippin' and Slidin'," the songwriting credit proved to be more complicated. He'd based it on "I'm Wise" by Eddie Bo (Edwin Bocage), which itself drew on "I Got the Blues For You" by Al Collins. The songwriting credit ended up being shared among the three of them, along with a "James Smith."
The single did even better than "Tutti Frutti," with the frantic, howling "Long Tall Sally" topping the R&B chart, "Slippin' and Slidin'" reaching No. 2 R&B. The songs reached No. 6 and No. 33, respectively in the pop chart, and Richard had another million seller.
With two smash hits, Little Richard's schedule became even more hectic, and he was nearly constantly on the road. Everybody wanted to see this fiery performer who pulled out all the stops when he hit the stage, throwing his leg up on the piano as he pounded the keys, working up a sweat, and shouting out "Am I still pretty?" at the show's end.
Specialty, of course, wanted him back in the studio, finally arranging a May 9 date at J&M. Richard laid down two of his liveliest numbers, "Rip It Up" and "Ready Teddy," paired for single release in June (which was perhaps a mistake; each song was certainly strong enough to be an A-side on its own). "Hey Hey Hey Hey" and "I Got It" were also recorded at the session. Richard managed to fit in another studio date on May 15 at L.A.'s Master Recorders, working on a slow version of "Heeby-Jeebies" (previously "Heeby Jeebies Love") with his own band, the Upsetters. It would later see release on the Specialty Sessions box.
"Rip It Up" proved to be another million seller, topping the R&B chart (with "Ready Teddy" reaching No. 8 R&B), and No. 27 pop. Elvis covered both songs on his second album, Elvis, and would give a terrific performance of "Ready Teddy" on The Ed Sullivan Show in September. It wouldn't be too long before Richard's performances would reach a wider audience as well.
Richard's next sessions were again in New Orleans at J&M, where on July 30 he recorded another classic, the monumental "Lucille," a name Richard screamed out as if he was reaching into the stratosphere. "Heeby-Jeebies" and an early version of "Good Golly Miss Molly" were also recorded. "All Around the World," "Tell Me Why" and "Send Me Some Lovin'," were recorded July 31, the latter two songs since lost. "Shake a Hand" and "Can't Believe You Wanna Leave" were recorded on August 1.
With "Heeby-Jeebies" slated as the next single, Richard went back into the L.A.'s Master Recorders studio on September 6 with the Upsetters to record a B-side. He laid down a rehearsal version of "Hound Dog" for fun, along with early versions of "I Got It," "Send Me Some Lovin'," and the instrumental "Caravan," later released on Specialty Sessions. But the main track was a rewrite of "I Got It" called "She's Got It." When "Heeby-Jeebies"/"She's Got It" was released in October, both sides hit the Top 10 of the R&B, but failed to break the pop Top 40.
"She's Got It" was rewritten for its use in the film The Girl Can't Help It. Richard made two other film appearances during the 1950s, in Don't Knock the Rock (1956), performing "Long Tall Sally" and "Tutti Frutti," and Mister Rock and Roll (1957), performing "Lucille" and "Keep a Knockin'." Both movies were typical black & white "jukebox musicals," films with thin plots whose main purpose was to showcase the music acts.
The Girl Can't Help It was a more prestigious offering. This was no B-picture; produced by a major studio, 20th Century Fox, it boasted a strong cast (Jayne Mansfield, Tom Ewell, Edmond O'Brien), and was shot in color. The film also featured a top notch roster of musical talent, most notably Eddie Cochran, Gene Vincent, Fats Domino, and the Platters.
Fox was eager to feature Little Richard in the film as well, and Art Rupe readily agreed. But when he heard Fox was planning to have Fats Domino sing the title song, he persuaded them to use Richard instead, telling the studio bosses, "Fats is terrific! But if you are going to get a black singer, you oughta get Little Richard to do it, because he's got a lot more excitement than Fats."
The studio agreed, and Richard got the gig. The title track starts the picture with a humorous bang, Tom Ewell's introduction about the film's music "expressing the culture, the refinement, and the polite grace of the present day" suddenly cut off by the giddy joy of "The Girl Can't Help It," blaring out from the jukebox next to him.
It also serves as the background music for a fun sequence in which Mansfield, clad in a tight black dress, strolls down the street, causing the men to gape in astonishment; when she passes a milkman (Phil Silvers), the bottle in his hand starts bubbling over with milk. Richard also performs "Ready Teddy" and "She's Got It" in a nightclub scene, a sequence that helps make The Girl Can't Help It one of the best rock and roll films of all time.
The title song was recorded at Richard's next session, October 15 and 16 at J&M, the sessions deemed important enough that Art Rupe came in to oversee them. On the first day, Richard finally nailed "Good Golly, Miss Molly," along with "Jenny Jenny." "The Girl Can't Help It" was recorded the following day, along with some songs Rupe had thought would vary Richard's rock and roll diet: "Baby Face," "By the Light of the Silvery Moon," and "Send Me Some Lovin'."
"The Girl Can't Help It" was issued in December to coincide with the film's release, reaching No. 7 R&B, but unfortunately only getting to No. 49 pop. The next month, he set up an impromptu date with Upsetters while he was in Washington, DC, dropping by a local radio station on January 16, 1957, to record pulse pounding renditions of "Keep A Knockin'" and "Ooh! My Soul."
And the hits kept on coming. "Lucille," released in February 1957, was another R&B chart-topping million seller (the flip side, "Send Me Some Lovin'," reached No. 3 R&B), while reaching No. 27 pop. The album Here's Little Richard, released in March, reached No. 13 pop. "Jenny Jenny," released in June, reached No. 2 R&B (the flip side, "Miss Ann," reached No. 6 R&B), and No. 10 pop. And "Keep A Knockin'," released in August, reached No. 2 R&B, No. 8 pop.
Little Richard sued Specialty; Specialty sued Little Richard. The lawsuits were eventually settled (with the result, Richard claimed, that he lost his songwriting royalties).
But then everything suddenly came to a halt. During a tour of Australia in October 1957, Richard dramatically announced he was forsaking the Devil's music to go back to the church. To the dismay of his bandmates, his decision took effect immediately, and the rest of tour was canceled.
Richard claimed that during a performance in Sydney, the sight of the Russian Sputnik satellite passing overhead had been a sign from God that he needed to leave show business. But John Marascalco, the songwriter who'd written "Rip It Up" and "Good Golly Miss Molly," among others, said Richard was really just interested in breaking his contract. "The only way I can do it is if I die or by an act from God," he told Marascalco. So he planned to spend a few years preaching, then start performing secular music again.
Whatever his reasons, Art Rupe wasn't happy about losing one of his biggest stars. "We did everything we could to get him to come back, including withholding his royalties," he told Charles White. "We said when you comply with your contract, we will comply with ours." But Richard stood firm.
He nonetheless consented to going back into the studio for a final session, October 18 at Master Recorders, recording "I'll Never Let You Go," "Early One Morning," "She Knows How to Rock" and "Whole Lotta Shakin' Goin' On"; "Good Morning Little School Girl" and an alternate version of "Ooh! My Soul" later appeared on Specialty Sessions.
Little Richard sued Specialty; Specialty sued Little Richard. The lawsuits were eventually settled (with the result, Richard claimed, that he lost his songwriting royalties). And Richard had recorded enough material that Specialty was able to continue releasing records by him for the next two years. "Good Golly, Miss Molly," released in January 1958, reached No. 4 R&B, No. 10 pop; "Ooh! My Soul," released in May 1958, reached No. 15 R&B, No. 35 pop; "Baby Face," released in July 1958, reached No. 12 R&B, No. 41 pop. But subsequent singles failed to chart. Nor did his albums, Little Richard (1958) and The Fabulous Little Richard (1959) fare any better.
But that wasn't the end of Specialty's association with Richard. In the wake of the British Invasion, American music fans gained a new appreciation of rock and roll pioneers like Little Richard; Richard himself cited The Beatles' version of "Long Tall Sally" as one of the best covers of his song. Having put aside gospel for rock and roll once again, Richard ended up recording five more tracks for the label at Radio Recorders: "Well Alright" (written by Sam Cooke) and "Miss Ann" on March 19, 1964 and "Bama Lama Bama Loo" "Poor Boy Paul" and "Annie is Back" on May 1, 1964. "Bama Lama Bama Loo" was released b/w "Annie Is Back," and fared poorly in the U.S., but reached the Top 20 in the U.K.
Little Richard would return to gospel music again, and then come back to rock and roll in the future. There would be substance abuse issues, another lawsuit with Specialty (settled out of court), film roles, TV appearances, countless live performances and numerous awards. When Richard died on May 9, 2020 at the age of 87, he could look back on a lifetime of heady accomplishment.
"Richard was, and is, the most dynamic entertainer I've ever seen," Art Rupe told author Billy Vera in the book Rip It Up: The Specialty Records Story, "right up there with Frank Sinatra, Louis Armstrong and the rest." And certainly it was Little Richard's years with Specialty Records that made him a legend. His Specialty releases are mandatory listening for anyone interested in rock and roll.
In considering his career from the vantage point of the 21st century, Richard admitted there were some disappointments along the way. "I don't think I ever got what I really deserved," he told Rolling Stone in 2004, regarding his lack of financial compensation. "But it's a joy just to still be here, to have stood the test of time. I think that when people want joy and fun and happiness, they want to hear the old-time rock and roll. And I'm just glad that I was a part of that."
LITTLE RICHARD
SELECTED DISCOGRAPHY
SPECIALTY RECORDS
12-Inch Singles
❑ SPS 4000 Lucille/Heebie-Jeebies Love 1981 $8.00
45s
❑ 561 Tutti-Frutti/I'm Just a Lonely Guy 1955, 50.00
❑ 572 Long Tall Sally/Slippin' and Slidin' (Peepin' and Hidin') 1956, 50.00
❑ 579 Rip It Up/Ready Teddy 1956, 50.00
❑ 584 Heebie-Jeebies/She's Got it 1956, 50.00
❑ 591 The Girl Can't Help It/All Around the World 1956, 50.00
❑ 598 Lucille/Send Me Some Lovin' 1957, 40.00
❑ 606 Jenny, Jenny/Miss Ann 1957, 40.00
❑ 606 [Picture Sleeve] Jenny, Jenny/Miss Ann 1957, 80.00
❑ 611 Keep a Knockin'/Can't Believe You Wanna Leave 1957, 30.00
❑ 611 [Picture Sleeve] Keep a Knockin'/Can't Believe You Wanna Leave 1957, 80.00
❑ 624 Good Golly, Miss Molly/Hey- Hey-Hey-Hey! 1958, 30.00
❑ 624 [Picture Sleeve] Good Golly, Miss Molly/Hey- Hey-Hey-Hey!, 1958 50.00
❑ 633 Ooh! My Soul/True, Fine Mama, 1958 25.00
❑ 633 [Picture Sleeve] Ooh! My Soul/True, Fine Mama, 1958 50.00
❑ 633/624 Ooh! My Soul/True, Fine Mama, 1958 80.00
—Some copies have the B-side misnumbered; all other information is correct, including the master number
❑ 645 Baby Face/I'll Never Let You Go 1958, 25.00
❑ 652 She Knows How to Rock/Early One Morning 1958, 25.00
❑ 660 By the Light of the Silvery Moon/Wonderin' 1959, 25.00
❑ 664 Kansas City/Lonesome and Blue 1959, 25.00
❑ 670 Shake a Hand/All Night Long 1959, 25.00
❑ 680 Whole Lotta Shakin' Goin' On/Maybe I'm Right 1959, 25.00
❑ 681 I Got It/Baby 1960, 25.00
❑ 686 The Most I Can Offer/Directly from My Heart, 1964, 15.00
❑ 692 Bama Lama Bama Loo/Annie Is Back 1964, 15.00
❑ 697 Keep a Knockin'/Bama Lama Bama Loo 1964, 15.00
❑ 699 Poor Boy Paul/Wonderin' 1964, 15.00
❑ 734 Chicken Little Baby/Oh Why 1974, 6.00
78s
❑ 561 Tutti-Frutti/I'm Just a Lonely Guy 1955, 60.00
❑ 572 Long Tall Sally/Slippin' and Slidin' (Peepin' and Hidin') 1956, 60.00
❑ 579 Rip It Up/Ready Teddy 1956, 60.00
❑ 584 Heebie-Jeebies/She's Got it 1956, 60.00
❑ 591 The Girl Can't Help It/All Around the World 1956, 60.00
❑ 598 Lucille/Send Me Some Lovin' 1957, 60.00
❑ 606 Jenny, Jenny/Miss Ann 1957, 60.00
❑ 611 Keep a Knockin'/Can't Believe You Wanna Leave 1957, 60.00
❑ 624 Good Golly, Miss Molly/Hey-Hey-Hey-Hey!, 1958 60.00
❑ 633 Ooh! My Soul/True, Fine Mama 1958, 60.00
7-Inch Extended Plays
❑ SEP-400 Long Tall Sally/Miss Ann//She's Got It/Can't Believe You Wanna Leave 1957, 100.00
❑ SEP-400 [Picture Sleeve] Here's Little Richard 1957, 150.00
❑ SEP-401 Slippin' and Slidin'/Oh Why//Ready Teddy/Baby 1957, 100.00
❑ SEP-401 [Picture Sleeve] Here's Little Richard 1957, 150.00
❑ SEP-402 Tutti-Frutti/True, Fine Mama//Rip It Up/Jenny, Jenny 1957, 100.00
❑ SEP-402 [Picture Sleeve] Here's Little Richard 1957, 150.00
❑ SEP-403 Keep a Knockin'/By the Light of the Silvery Moon/Lucille/Hey-Hey-Hey-Hey 1958, 80.00
❑ SEP-403 [Picture Sleeve] Little Richard 1958, 100.00
❑ SEP-404 Ooh! My Soul/All Around the World//Good Golly, Miss Molly/Babyface 1958, 80.00
❑ SEP-404 [Picture Sleeve] Little Richard 1958, 100.00
❑ SEP-405 Boo Hoo Hoo Hoo/The Girl Can't Help It//Send Me Some Lovin'/Heeby-Jeebies 1958, 80.00
❑ SEP-405 [Picture Sleeve] Little Richard 1958, 100.00
ALBUMS
❑ 100 [Mono] Here's Little Richard 1957, 700.00
❑ SP-2100 [Mono] Here's Little Richard 1957, 200.00
—Thick vinyl
❑ SP-2103 [Mono] Little Richard 1958, 150.00
—Front cover photo occupies the entire cover
❑ SP-2103 [Mono] Little Richard 1960s, 100.00
—Front cover photo partially obscured by a black triangle at upper right; thick vinyl
❑ SP-2103 [Mono] Little Richard 1970s, 20.00
—Reissue with thinner vinyl
❑ SP-2104 [Mono] The Fabulous Little Richard 1958, 150.00
—Thick vinyl
❑ SP-2104 [Mono] The Fabulous Little Richard 1970s, 20.00
—Reissue with thinner vinyl
❑ SP-2111 Little Richard — His Biggest Hits 1963, 50.00
—Thick vinyl
❑ SP-2111 [Mono] Little Richard — His Biggest Hits
1970s, 20.00
—Reissue with thinner vinyl
❑ SP-2113 Little Richard's Grooviest 17 Original Hits 1968, 25.00
—Thick vinyl
❑ SP-2136 Well Alright! 1970, 20.00
❑ SP-8508 [(5)] The Specialty Sessions 1989, 40.00