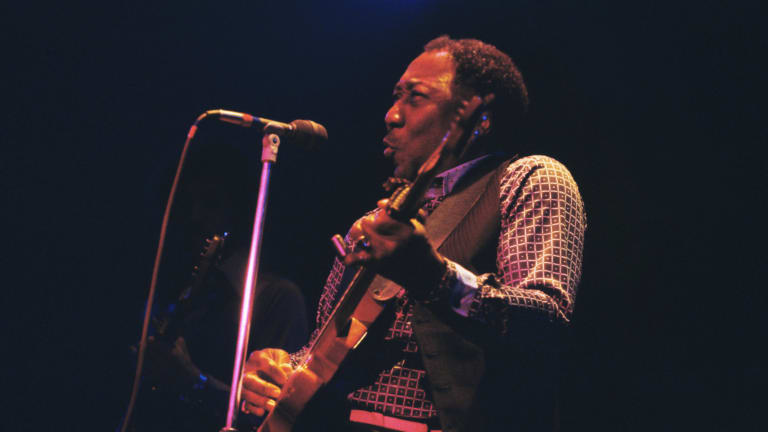 5 best Muddy Waters songs
Bluesology scribe Mike Greenblatt breaks down the Chicago blues master's 5 greatest tracks, from "You Need Love" to "Got My Mojo Working"
Find more Blues vinyl and other items in the Goldmine shop
By Mike Greenblatt
Born McKinley Morganfield in 1913 Mississippi, Muddy Waters revolutionized — and became famous for — the hard electric Chicago Blues style that presaged rock and roll. As a teen on the Stovall Plantation, he emulated Son House and Robert Johnson with his rural acoustic Delta Blues. That first era of his career was documented by Alan Lomax in 1941. Five years later, he was a hungry, uber-talented bandleader with pianist Otis Spann, guitarist Jimmy Rogers, drummer Elgin Evans and Little Walter on harmonica. They were THE band to see in Chicago. He had Willie Dixon—the greatest blues composer of them all — writing songs for him. And he was signed to Chess Records who made him a star (even if they cheated him out of royalties). When "I Just Want To Make Love To You" and "I'm Ready" sent crowds wild, he came up with more of the same like "Trouble No More," "40 Days And 40 Nights" and "Don't Go No Further." He died in 1983 at 70, an international superstar due to a generation of blues-loving British rock bands who covered his material.
1) "You Need Love"
Written by Willie Dixon and released by Muddy in 1962, this song was originally copied by Small Faces in 1966 as "You Need Loving" before Led Zeppelin turned it into "Whole Lotta Love" three years later. Having never heard of Small Faces, Willie Dixon sued Led Zeppelin for plagiarism and won. Robert Plant, though, was actually copying Steve Marriott, not Muddy!
2) "Rolling Stone"
This 1950 song from which The Rolling Stones and a famous magazine took their name was Muddy's first Chess hit, only the second single released by the iconic label. It sold 70,000+ copies and started an extremely fruitful relationship between Waters and composer Dixon plus label owners Leonard and Phil Chess. The song is actually a rewrite of an old novelty tune from the 1920s called "Catfish Blues."
3) "Hoochie Coochie Man
Perhaps the song most closely identified with Muddy, there's been hundreds of covers. It was written by Willie Dixon in 1954. Bo Diddley took its rhythm for his "I'm A Man." The U.S. National Recording Registry cited it as important to the furtherance of the blues genre, selecting it for preservation in the 2004 Library of Congress collection. Rock'n'Roll composers Lieber & Stoller used it as the basis for "Riot In Cell Block 9." It was appropriated for Elvis in the film King Creole. It was even used—without credit — for the Sinatra-as-junkie film The Man With The Golden Arm. Rolling Stone ranked it in its "500 Greatest Songs of All Time" at #226. (Shoulda been higher.)
4) "Champagne and Reefer"
When Muddy sings "bring me champagne when I'm thirsty, bring me a reefer when I want to get high," you can't help but cheer. He wasn't kidding. Muddy probably smoked more pot than Willie Nelson! He wrote this one himself in 1981. It's been covered by The Rolling Stones and Buddy Guy.
5) "Got My Mojo Working"
Thousands of bar-bands continue to perform this classic by Red Foster. In 1957, Muddy made it into his own anthem (with a few different lyrics and a new musical arrangement), covering Ann Cole's original. The Recording Industry Association of America (RIAA) identified it as one of the "Songs of the Century."