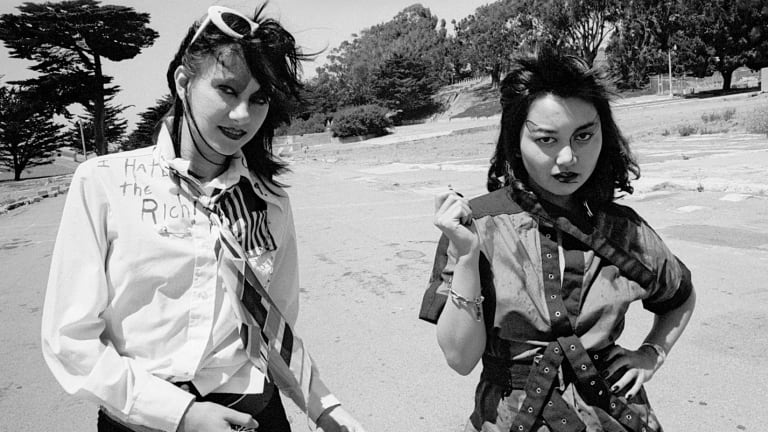 5 genre-busting releases that are hard to ignore
Atomicat Records warns "Do Not Commit Adultery"; Giulia Millanta, from Italy to Austin, is a bi-lingual Americana master; Bear Family Productions excavates rare rockabilly; The joyousness of New Orleans and critic Jon Savage picks the best of '77 to '79.
     As part of its "The Ten Commandments of Rock'n'Roll" series, Atomicat Records has come out with Commandment Eight: Do Not Commit Adultery, subtitled The Cheater. Since it's rock'n'roll and not country (where all the best cheatin' songs are), you get 1961 Del Shannon with his sprightly version of a song usually associated with Elvis, "Marie's The Name (Of His Latest Flame)," a Doc Pomus classic. (Shannon was an alcoholic manic-depressive who blew his brains out with a .22-caliber at the age of 55 in 1990 despite rock star fans like Dave Edmunds, Jeff Lynne and Tom Petty trying to help him.) Other highlights include Ray Charles covering The Everly Brothers' "Bye Bye Love" plus Jackie Wilson, Brenda Lee and Dion. This 30-track doozy opens with "Screamin' and Dyin' and Rollin' On The Floor" by Charles Glass who--in a strange case of life imitating art--was murdered in 1966.
     Born in Italy and now living in Austin, singer-songwriter Giulia Millanta gets inside her subjects like no one else on her 12-track self-released gem of an eighth album. Woman On The Moon is co-produced and performed with longtime Austin character Gabriel Rhodes of Willie, Waylon and Emmylou fame. There's an ethereal haunting quality to many tracks where she tiptoes through sanity and madness. Her poetic lyrics could stand alone but when buoyed by her melodies, bring emotion to the fore. She even has the balls to do two versions of "The World Is On Your Heart," one dreamy and one rocking; and two versions of "Run Away," one in English and one in Italian. The musical bed upon which she lies incorporates tasteful lipstick traces of surf and wah-wah guitar amid a cloudy day of uncertainty as she attempts to deconstruct the duality of man/woman that we all house within us.
     That'll Flat…Git It! Volume #40: Rockabilly & Rock'n'Roll From The Vaults Of MGM, Cub & Metro Records is a treasure trove of 32 tracks featuring far-away and long-ago artistry. It boggles the mind how Bear Family Productions can continue to come up with such gems on the 40th volume of this series and still keep the number of clinkers so low. Kicking off with Billy Jack Willis & His Western Swing Band into Don Ruby's classic "Rockin' Piano Outta Tune Guitar" and Arthur Smith & His Cracker-Jacks ("Teenage Rebel"), the stars—like Don Gibson, Sheb Wooley and Conway Twitty—take a back seat to the one-hit wonders and regional heroes, all in an effort to distill the essence of a genre meant to make the kids bop and hop and anger the adults.
     Take Me To The River: New Orleans is Director Martin Shore's follow-up to his 2014 Take Me To The River documentary about Memphis. The all-new recordings on this 2-disc soundtrack (Petaluma Records) captures the bite and muscle of all things NOLA. From the Neville Brothers, Ani DeFranco, William Bell, Dumpstaphunk, Dirty Dozen Brass Band, Big Chief Donald Harrison, Big Chief Monk Boudreaux and Irma Thomas to Ledisi, Galactic and, best of all, the final studio session of Dr. John, this is the next-best-thing to a night in The French Quarter walking down Rampart Street doing the Second Line with an umbrella in your hand.
     Jon Savage's 1977-1979 Symbols Crashing Everywhere (Ace Records, England) is a 46-track double-doozy of the kind of punk, new wave, post-punk, electronica, dub, Euro Disco and the oddball novelty released between 1977 and 1979. Savage is a well-respected man and dedicated follower of fashion. He's a British writer, broadcaster and music journalist whose previous Ace compilations include five separate '60s discs that are all terrific. Here, he masterfully segues from Iggy Pop, Utopia, The Damned, Ultravox and Brian Eno to The B-52s, Buzzcocks, Suicide, Penetration, The Human League, Devo, Siouxsie & The Banshees, The Cramps, Talking Heads, Wire and more.