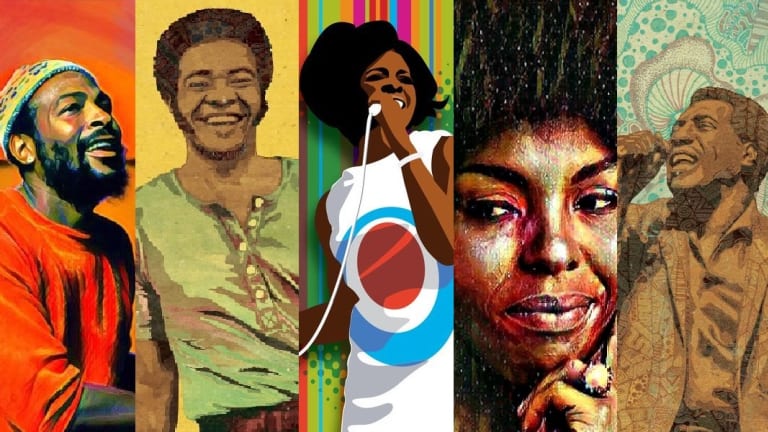 5 monumental Soul albums still leaving footprints
1, 2, 3, 4, 5 iconic Classic Soul records that reverberated into the Neo-Classic Soul movement, the New Northern Soul revival, and beyond...
To the fans, collectors, and curators of Soul music from any era, welcome to this inaugural article for my column The TONE of Soul; and if you have already stumbled upon my other column – Adventures of a Music Collector – then you've probably already read all of this.  But for those who have not, please let me introduce myself. My name is TONE Scott – I am a career-long American Music Industry professional, having held chairs at several major and independent recording companies, I've been an artist manager to many prominent names in music, as well as a platinum-selling songwriter, composer, and music producer (currently active).  I am a published music journalist, having written feature articles for many music publications (including Goldmine), as well as a content creator hosting an active YouTube channel (as part of the illustrious YouTube Vinyl Community), where I share bits & pieces of my career, but mostly my experiences; both the ups and downs, of my life as a serious Music Collector, which is now slightly over three and a half decades and running. Let's get to it…
Music Perpetuates Influence – Maybe not as recognized or even acceptable to the mainstream is the strong evidence that classic Soul Music and its Icons are just as, if not even more so, influential to its modern day successors than any other genre in popular music.  As far as pop culture is concerned, Classic Rock music (specifically many of its early/classic sub-genres and styles) is seemingly found influencing, in one way or another, modern applications of the Rock genre.  However, it is the foundations of Soul music that are even more clearly and evidently found influencing modern day styles of Soul and R&B artists since the mid to late '90s. With the Soul music genres of today (meaning the past two decades and a half), it is as if there was some unspoken rule put in place that made it sacrilege to stray away too far from the original formulas of Soul. I would have to say that I, as well as countless others, are grateful for this, simply because the quality and the caliber in the majority of modern-day Soul Music is deeply full of roots, tradition, and reflection of the forerunners of Soul Music. We could be here all day if we were to discuss the uncountable amount of classic Soul artists who seeded so much influence, however, for the sake of time let's tailor this down quite a bit and take a look at 5 superlative classic Soul recordings that can still be heard in much of recent history's modern Soul revival.
Marvin Gaye "Let's Get It On" (1973, Tamla [Motown])
While I have chosen to express the most cliché out of the bunch first, you probably thought I was going to reference 1971's What's Going On by Marvin Gaye, which in its ultimate iconic state was the decade's earliest and most vivid example of social and political awareness. However, it's the eroticism and sensuality of 1973's Let's Get It On which finds itself echoing forward into some of the earliest examples of Neo-Classic Soul. Maybe the most notable and most successful reverberation of this 1973 masterpiece, is by modern Soul icon Maxwell, with his debut and sophomore releases — Maxwell's Urban Hang Suite (1996) and Embrya (1998). If not just from Maxwell's sultry and sensual vocal deliveries, you can find blatant spiritual hints of Let's Get It On in both albums, in songs such as Suite Lady; Ascension; Til The Cops Come Knockin'; Whenever Wherever Whatever [Maxwell's Urban Hang Suite], and Luxury Cococure; Matrimony Maybe You; Eachhour eachsecond eachminute eachday: Of My Life [Embrya]. At their core, Marvin and Maxwell more than often seemingly prove to be... well... synonymous, one might say.
Bill Withers "Just As I Am" (1971, Sussex Records [A&M])
Probably (actually definitely) one of the most underrated debut albums by any Soul artist ever, is Bill Withers' Just As I Am. This is not to denounce the popularity or acceptability of this record, but it is "underrated" in a sense that in circles of conversations about monumental Soul albums, this one is often not brought to its proper place on a pedestal. I can bring to mind a handful of modern Soul artists who exemplify a clear influence of Withers' masterpieces (not to mention the amount of cover-songs that have been done), but the one who comes to the forefront over them all, is the Neo-Classic-Soul master — Mr. Anthony Hamilton.  If I were to reference all nine studio albums spanning his entire discography from his first album through to this year's newest release, you would more than likely call me correct. But, if we simply point the spotlight to his 2003 debut – Coming From Where I'm From – you will for sure hear clearly, Bill all over the place.
Roberta Flack "First Take" (1969, Atlantic Records)
This album is one for the history books.  Never before the release of this record, had Soul and Folk mixed so beautifully and taken such a satisfactory place with mainstream listeners of the time.  Ethereal and melancholy with a minimal approach to production, the 1969 debut by Roberta Flack – First Take – did very well to open the door for new-listeners of Soul music; those who may have previously only reverberated to the sounds of Joan Baez, Simon & Garfunkel, Joni Mitchell, and the like.  And while modern Soul artists, such as Jill Scott can be heard under the influence of Flack's more subsequent albums, there is one incredibly special 'Soulstress' who captures the total spirit of 1969's First Take – the under-acknowledged, Amel Larrieux. With a very devoted following, this former lead vocalist of the late 90's duo Groove Theory has manifested a healthy solo discography.  And while for so many important reasons her 2006 release Morning remains my favorite, it is her debut album, 1999's Infinite Possibilities (which contains the song Make Me Whole), that gives Roberta's debut record continued life.
Gladys Knight and the Pips "Neither One OF Us" (1973, Soul Records)
Though far into their catalog and subsequent of many hit albums, this 1973 classic by Gladys Knight and the Pips not only produced one of their biggest selling singles (the title track, Neither One of Us…), but also reflected a more sign o' the times  Afrocentricity popular within Soul music of the early 70's.  It also saw them return to Soul Records (a subsidiary of Tamla/Motown), after a one-album hiatus from their longtime record label.  Fast forward 26 years: a seasoned recording artist and former member of one of the most iconic classic Hip Hop trios, resurfaces into the Neo-Classic Soul explosion of the mid-late 90's.  Angie Stone (a.k.a. Angie B. Stone), immediately upon release of her debut solo album Black Diamond (1999, Arista Records), echo's the unmistakable sonic-fingerprint of Gladys Knight's 1973 iconic album.  Not only would this be evident in the vocal tonality and delivery of this amazing singer, but to make it even more obvious, the music sample used in the production of her first single – No More Rain (In This Cloud) – is the exact first 4 measures of Gladys's Neither One of Us… talk about recycling the best of the best. 
Otis Redding "The Otis Redding Dictionary of Soul – Complete and Unbelievable" (1966, Volt Records)
Going back to the furthest throws of what would be referred to as Northern Soul, is the mid-60's masterpiece – The Otis Redding Dictionary of Soul - Complete and Unbelievable – by the iconic and slightly under-celebrated Otis Redding. I would go as far as to say that this artist had the most impact on Soul music in juxtaposition to the time he was with us on this Earth.  While his 1968 release Sitting on the Dock of the Bay is notably more popular, it is this 1966 iconic album that gave us his first mega hit, Try A Little Tenderness.  And while this song was not first recorded by Redding, it is mostly known, by the majority of the music world, as his.  Decades forward, while the Modern Soul world was reveling in mimicking the classic Soul artists of the 70's, along comes a handful of artists that began to reflect the influence of Northern Soul, which until recently did not receive as much praise.  And as I frequently bask in the genius of "New Northern Soul" artists such as Durand Jones & the Indications, Sharon Jones & the Dap Kings, and the queen Amy Winehouse, I can't ignore the absolute perfection of an artist like Leon Bridges who have unashamedly taken the reigns to re-live and reproduce the genius of artists like Otis Redding.  If you haven't already, my recommendation is to dive deep into Bridges' 2015 debut release – Coming Home – and then travel down the New Northern Soul rabbit hole from there. 
Get more Soul and R&B vinyl in the Goldmine shop