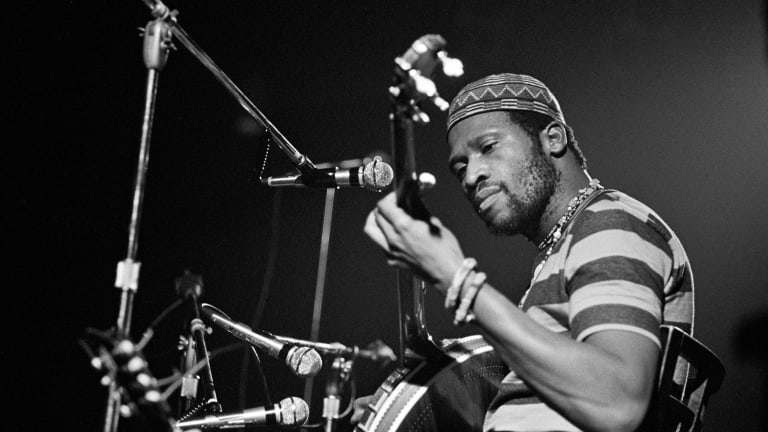 5 songs you need to know by Taj Mahal
Familiarize yourself with Taj Mahal, who formed his first successful band at 23 in 1965 with 17-year old Ry Cooder (The Rising Sons). He has, since his 1968 self-titled debut, turned into that which he first emulated: a Blues Legend.
Get Blues vinyl and more at the Goldmine shop
By Mike Greenblatt
Taj Mahal was born Henry St. Claire Fredericks, Jr on May 17, 1942, and is still going strong, at 80, today. A brilliant multi-instrumentalist (guitar, piano, banjo, harmonica and African thumb piano) and persuasive vocalist, he's also something of a musicologist, having explored ragtime, reggae, rock'n'roll, blues, jazz, plus Hawaiian, Indian and African folk music. His original 1968 band as a solo artist featured the tragic Native American lead guitarist Jesse Ed Davis whose fiery riff and solo on Blind Willie McTell's "Statesboro Blues" was copied almost note-for-note three years later by Duane Allman when The Allman Brothers Band covered the same song. Davis died at 43 from an accidental heroin overdose.
1) "Sweet Mama Janisse"
On February 13, 1971, Taj Mahal took to the stage of the Fillmore East in New York City with five tubas led by pioneering jazz/funk musician Howard Johnson [1941-2021] to record one of the greatest live albums of all-time, The Real Thing. Its highlight was this Taj original. Call it heavy-metal blues as that barrage of brass smacked all us hippies in the crowd on our ass. You ain't been rocked until you been rocked by that 11-man band.
2) "Little Red Hen"
In 1972, Taj summed it all up with the title of his masterpiece Ooh So Good'n'Blues. Three of its eight tracks were with the pre-fame Pointer Sisters. The chemistry between Taj's gravel-phlegm voice and those sisters resulted in this delightful original.
3) "Fishin' Blues"
Written by Chris Smith in 1911, first recorded by Henry "Ragtime Texas" Thomas in 1928, Taj brought it to delicious life in 1969 on his third album, Giant Step/De Ole Folks At Home, as a folk song that also serves wonderfully as a children's bedtime song.
4) "Corrina"

This song has gone though many permutations and titles. Recorded by Blind Lemon Jefferson in 1926, its roots go back to 1918 when published sheet music was the rage. Authorship information is scant as it was derived from a 19th Century folk song. Other notable recordings were from Half-Pint Jaxon (1929), Tampa Red (1930), Big Joe Turner (1941), Bob Dylan (1963) and Mississippi John Hurt (1966). Hurt may have taught it to Taj at the 1964 Newport Folk Festival. (A picture from that fest of those two graces Taj's 1972 Recycling The Blues & Other Related Stuff album.)
     In 1965, Taj first recorded it with The Rising Sons for their one album before breaking up within the year. Taj then recorded his well-known "Corrina" version on his 1968 second album, The Natch'l Blues. Publishing credit went to Taj and brilliant guitarist Jesse Ed Davis wherein they put together a lot of the previous versions to create one for the ages. Its beauty lies in its utter simplicity and, of course, that unerring Taj vocal. At Taj concerts to this day, it is always requested.
5) "Blue Light Boogie"

In 1993, Taj put out Dancing The Blues, an album of mostly covers that stands out today as one of his best. "Blue Light Boogie" was written by Jesse Mae Robinson and recorded by Louis Jordan in 1950. Taj's sly, sensuous groove is so catchy and irresistible, it's like a brain tattoo.