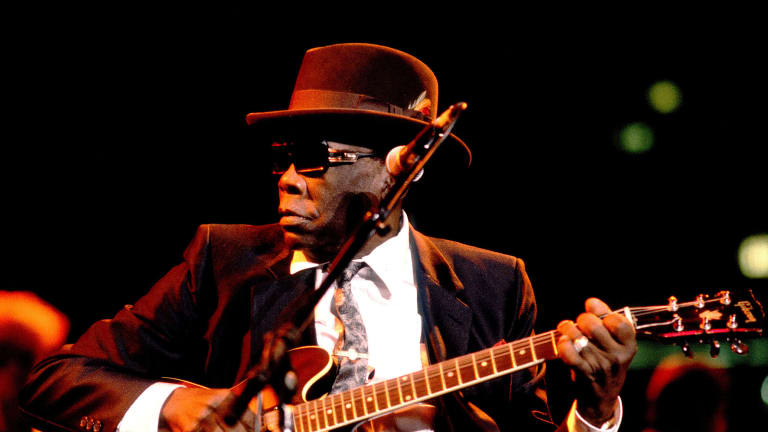 5 songs you should know by blues legend John Lee Hooker
Known as The King of the Boogie or simply The Hook, it was the British Invasion bands of the 1960s who took his music to another level. And these are the 5 songs you should know by The Hook.
Get Blues vinyl and more in the Goldmine shop!
The King of the Boogie, John Lee Hooker, was born August 22, 1917 in Tallahatchie County Mississippi on a plantation where his parents were sharecroppers. He ran away from home at 14, never seeing his mother again. Landing in Memphis, he played on the streets of Beale Street for chump change. Then it was on to Detroit where he worked as a janitor. He never learned to read. In 1949, an enterprising record man found a song he had recorded for a small Detroit label, thus "Boogie Chullun" became his first hit. In the '50s, he was signed to Vee-Jay in Chicago and released a stunning string of singles. Because of his odd time signatures, bands had a hard time deciphering his tempo so his best work was always solo where he could stop and start whenever he liked. His lyrics didn't always rhyme. But rock and roll bands of the 1960s picked up on his vibe and The Hook found himself even more famous than he already was. 
     In 1971, his first charting album, Hooker'n'Heat, with boogie band Canned Heat, started him on a heavy touring schedule right up to the day he died. In 1980, his appearance as Street Slim in The Blues Brothers movie catapulted him to super-stardom. His album The Healer in 1988 won him a Grammy Award and he went on to tour with The Rolling Stones as a special guest performer. After five more studio albums, and two more Grammys for his 1997 Don't Look Back album, he was inducted into the Rock and Roll Hall of Fame and was the recipient of a Lifetime Achievement Award from the National Academy of Arts & Sciences. On the final Saturday night of his life, he brought down the house at the Luther Burbank Center for the Arts in Santa Rosa California. He died June 21, 2001 in Los Altos California.
Here are five of his songs you should put to memory:
"Crawling Kingsnake"
In 1941, Big Joe Williams first recorded what would go on to become a standard in all John Lee Hooker shows. Hooker recorded it in 1949 and it reached No. 6 on the Billboard R'n'B chart. He also recorded it on his 1991 Mr. Lucky album with Keith Richards.
"Boom Boom"
The Hook had a minor 1962 hit with his original, but it was British band The Animals three years later who made it into an international hit song. Then John Lee re-recorded it as the title song of his 1992 album.
"One Bourbon One Scotch One Beer"
Written by Rudy Toombs for Amos Milburn in 1953, Hooker recorded it in 1996 but George Thorogood & The Destroyers sold the most records with it in 1977.
"Boogie Chillun"
The song that started it all for The Hook, he writes that he was laying in bed when he overheard his papa tell his mama, "Let that boy boogie-woogie/It's in him and it's got to come out."
"I'm In The Mood"
Hooker recorded this 1951 original at least eight times over the course of his long career. It won a Grammy in 1989 when he did it as a duet with Bonnie Raitt. Notable covers include Buddy Guy and Junior Wells (1981), John Hammond, Jr. (1967), plus Jack Bruce and Gary Moore (2002).
Get the latest release of the John Lee Hooker album The Healer (out of print for more than 12 years) by clicking below.