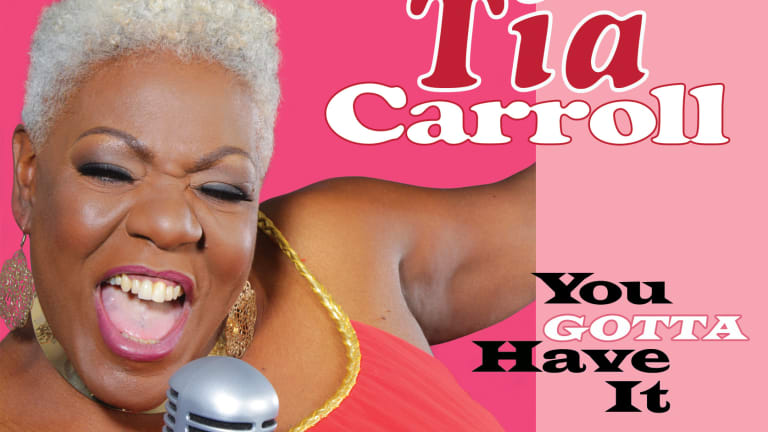 A Bluesology course of Tia Carroll, Eddie 9V, a brilliant Koko Mojo compilation, Chris Gill & Randy McAllister
From The Last Of The Red Hot Mamas and pre-'63 Rare Vintage Sides To Chris Gill, Eddie 9V and Randy McAllister, Bluesology gets Soulful and Crazy in June.
     As far as Tia Carroll's new blues-busting effort on Little Village Records, the title is also the imperative: You Gotta Have It. Her septet swings. The four voices of The Sons Of The Soul Revivers add gospel fervor. The five-man horn section brings a New Orleans-styled joyousness to the mix. And that voice! Tia's the bomb! She's out of Northern California, has had her own band for decades, is big in Italy and Brazil, yet this is her first stateside soiree wherein she has the audacity to tackle what Mavis Staples made classic ("Why Am I Treated So Bad") and it holds up! Then there's ZZ Hill's drenched-in-soul "I Need Someone," Robert Cray's "Our Last Time" and Koko Taylor's "Don't Put Your Hands On Me." She sings 'em all with lust and the gal can write: her "Move On" is the absolute highlight.
     In his home town of Atlanta, they call him Eddie 9-Volt. The follow-up to his scorching 2019 Left My Soul In Memphis debut by Eddie 9V (real name: Brooks Mason) is the wild'n'wooly Little Black Flies (Ruf Records) wherein this musical prodigy (he's all of 24 now) stings his lead guitar like Mike Bloomfield ("I studied the older cats," he says, "saw what made them groove and tick."). It's a family affair as his brother Lane Kelly produces and plays bass. Why the name change? "There are too many Joe Schmo blues bands." Obviously, this kid talks the talk but one listen to Little Black Flies and you'll hear him walk the walk. He's the real deal.
     The various artists of Beware of the Sleepwalking Woman (Koko Mojo Record Stack) run the gamut from Sonny Boy Williamson, Huey Piano Smith and Pig Meat Markham to Bo Diddley, Bobby Freeman and comedian Stan Freberg (and those are only the ones you may have heard of). The real treasures are from comparative unknowns like Big Daddy & His Boys, Boogaloo & His Gallant Crew, Shorty Long, Smiling Joe, Dr. Horse, Guitar Crusher and, best of all, the inimitable Marvin Baskerville with The Five Chestnuts doing the ultra-catchy "Chi Chi." These pre-'63 nuggets like "Dill Tickle" by The Couplings are rare artifacts fit to drive you so crazy, you'll want to play 'em over and over.
     All Chris Gill needs is his collection of classic guitars from the 1930s to accompany himself on his superb originals like "Song For Honeyboy," a nod to Honeyboy Edwards [1915-2011], his fellow Mississippi Delta bluesman, and "Souvenir Of All These Blues," a line he got from a homeless man on Beale Street in Memphis who called himself that when Gill stopped to talk to him. Then there's "I Fell In Love With The Blues" by his late bandmate Virgil Brawley. All three are highlights from an honest, organic album with no overdubs, just two mics, a little amp and those vintage guitars.
     Now based in South Dakota, this sixth-generation Texan, who honed his chops living in Alaska for three years, learned harmonica in the Air Force, and now has a sextet called The Scrappiest Band In The Motherland, that runs roughshod rampant throughout the all-original 10-track doozy Paperback Salvation (Reaction Records). Randy McAllister plays drums and harmonica. He sings up a storm. He writes humorous odes like "You're Like Mashed Potatoes," "Most Irritating Person In The World" and, most profoundly, "Personal Pinata" ("take a few whacks until I crack, spill my insides but I keep coming back.") Shrewd wit aside, Paperbag Salvation rocks with a steady role, guaranteed to save your soul.