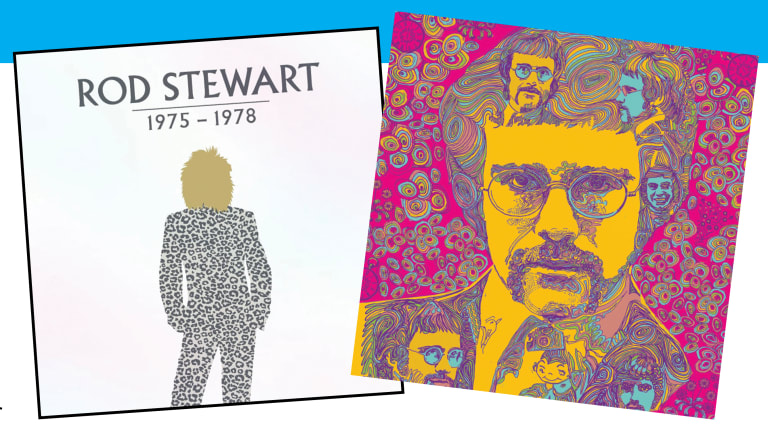 A vinyl kerfuffle: Rod Stewart and Elton John
It might be time to orchestrate a re-evaluation of Rod Stewart's 1980s albums. After all, it worked for Elton John (who is having his '60s music re-evaluated, too)..
If you ever want to cause a kerfuffle in a room full of Rod Stewart fans (and you should; it's always fun), just ask them which of his '70s albums are the superior ones: the first five, which the rock crowd will inevitably go for, or the next four, which are the ones which monster crowd-pleasing disco fans adore.
It should be an easy contest. The earlier discs, cut while still a member of the Faces, are the ones that showcase the bluesman, the rocker, the sensitive folk fan. The later ones, cut as a solo supernova, include "Tonight's the Night," "The First Cut is the Deepest" and "Da Ya Think I'm Sexy?"
And yet... Rod Stewart 1975-1978 (Warner Records) is a 5-LP box set that zeroes in on this latter phase. Pristine new pressings of Atlantic Crossing, A Night on the Town, Foot Loose & Fancy Free and Blondes Have More Fun (plus a bonus disc of outtakes, Encores 1975-1978) are presented with no additional frills beyond the full restoration of their original artwork and a chunky white box to keep them in.
It's a handsome package, although there are caveats. The sound quality is fine so long as you don't compare them too closely with original pressings — if you do, you'll find there's an unfamiliar flatness to be negotiated, and an overall lack of ooomph. Furthermore, the outtakes are only special if you missed the 2-CD repackages of the same four albums that were released in 2009.
But neither of those is a deal-breaker and, besides, the box isn't aimed at those of us who already have multiple copies of everything. It's for people who love Rod, love these albums, and want a one-stop repository that doesn't click, scratch and stick on either side of "Attractive Female Wanted." Which, for some reason, a lot of used copies of Blondes… seem to do.
Plus, Encores is itself a thing of beauty, cherrypicking 10 songs that didn't make the final albums, including a terrific alternate version of the single "Get Back," and three cuts recorded with the MG's, to serve up what is, in effect, a fifth LP that's as good as the other four.
As for the actual music, what makes a great Rod album? Side two of Atlantic Crossing is peerless, regardless of whether or not you're sick of hearing "Sailing," while it's clear that all the elements of "old" Rod that the die-hards hold dearest remained part of his arsenal all the way through — the Motown covers, the lovelorn ballads, the cheeky rockers, the awkward missteps (his version of "Pretty Flamingo" is pretty bad, but is it worse than "You Make Me Feel Like a Natural Man"?) And, of course, the occasional dodgy lyric. Again, a tradition that dates back to "Every Picture Tells a Story."
The earlier highs may have soared higher, but there's a consistency to these four albums that he'd never matched in the past, and it didn't end there. His next two albums (Foolish Behaviour and Tonight I'm Yours), and the live double that followed, are equally deserving of a similar repackaging, and it might be time to orchestrate a re-evaluation of Rod's 1980s, as well.
After all, it worked for Elton John, and now we're seeing his '60s getting a look in, too. The Regimental Sgt Zippo (UMe) is the album he intended debuting with, in 1968. His label hated it and it was filed away, to dribble out on bootlegs for the next 50 years, before the bulk of it was resurrected for Jewel Box.
Now it has been fully reconstituted, with the box set demos replaced by full band takes, and one song (the extraordinarily lovely "You'll Be Sorry to See Me Go") making its first-ever official appearance. And it's terrific, recognizably early Elton, but also very much a child of its psychedelic times (in case the cover doesn't give that away).
An RSD First release in June, Zippo is presumably going to make a more general bow later this year. As long as you don't allow the opening "When I Was Tealby Abbey" to put you off, it's worth waiting for.
When reggae first began impacting the U.K. charts in the late '60s, there was understandably a lot of confusion over precisely where it had come from, at least among the pop crowd. The music's own aficionados, the West Indian community of course, and an army of ex-Mods, were already aware of the music's history. To the average teenaged pop picker, however, records like Harry J's "Liquidator" and Lee Perry's "Return of Django" represented a whole new musical genre.