Bear Family excels with the release of a  Washington DC music box set
A huge box set looks back on Washington, DC's, Black music.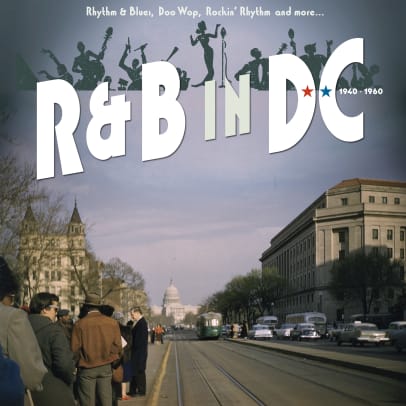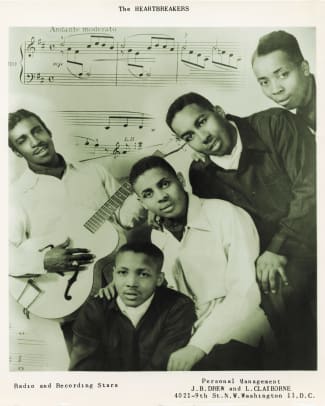 By Bruce Sylvester
R&B IN D.C.: 1940-1960
Bear Family (16 CDs and 351-page hardbound book)
Unlike Chicago, Detroit, New Orleans, and Memphis, our nation's capital Washington, DC, had neither a standout recording studio nor a distinctive record label to present its music's sounds and styles. Between 1940 and 1960, the sole major act to emerge there was The Clovers. This huge chronological box's 472 tracks are all over the map: jump blues, then R&B and soul, and pure pop plus some jazz. Cool novelties too. It's a labor of love, dedication, and detective work compiled by the Washington area's Jay Bruder, whose accompanying book gives context to the songs, the artists, and the scene around them with attention to local radio's role. Ads and DJ talk is occasionally interspersed with songs here.
Along with tracks on major labels, we encounter a horde from small local companies, mostly short-lived, with shots of discs' labels accompanying the book's track-by-track descriptions. Let's start this review with The Clovers' 15 tracks. Of course, their obscure debut single – a pop-influenced 1950 venture on long-forgotten Rainbow -- is here. Its followup, their Atlantic Records debut, "Don't You Know I Love You" (which topped the R&B charts) was backed with Hoagy Carmichael and Johnny Mercer's oft-covered "Skylark." Bruder points out that their 45 RPM version of "Good Lovin'" heard here has a different guitar intro and mildly different lyrics than the 78 RPM release. The Clovers' final song here (and final hit), "Love Potion No. 9," was written and produced by early rock architects Jerry Leiber and Mike Stoller.
Aside from The Clovers, the biggest hit to come from the region was New Orleans native Lloyd Price's 1957 wailer "Just Because." Just released from the Army, he'd moved to DC and there co-founded KRC Records, in part to release his own material. Needing a national distributor to handle the disc's popularity, he licensed it to ABC Paramount, which later took on some of his subsequent singles, passing on three heard here (both sides each time along with some other KRC releases) for KRC to handle on its own. Price once told Bruder how listening to Verdi's "Caro Nome" from Rigoletto on local WGMS inspired "Just Because": "I heard that descending scale and started putting new words to it."
The box's performers clearly listened to a wide range of music. Doris Day and Jo Stafford hits are covered. Jimmy McPhail's 1951 versions of two Eddy Arnold country hits are separated on CD 4 by radio ads – one for furniture and one for locally brewed Old Georgetown beer -- by white DJ Jackson Lowe, whose broadcast talent contests included Blacks. The book shows RCA's four differently colored labels for promotional and retail McPhail discs on 45 and 78. Nestled among them for close observers to enjoy is a same-sized circular Old Georgetown label.
As happened in other genres, singles might have highly different styles on their two sides in hopes of boosting sales by appealing to different tastes. The box frequently gives both sides. The greatest contrast is Skip Manning (a pseudonym for Phil Flowers, "the man with a thousand voices") backing blues/rock "Ham 'n' Eggs" with eerie bongo/flute spoken-word jazz "Devil Blues." Frank "Dual Trumpet" Motley and His Crew's wild-man jazz instrumental "Space Age" was paired with teen-oriented novelty "Everybody Wants a Flattop."
In the mid-1950s, rock and roll and the growing teen market hit the scene. Plenty of songs were geared to young audiences, centering on new dances (the madison, the cha-cha, the slop) or even fashion. There's name checking of earlier hits as well as local hangouts, fave DJs, and local TV station WTTG. One song's about Wild West TV hero Wyatt Earp.
We're thoroughly introduced to long-ago mainstays of DC's music scene TNT Tribble and Frank Motley leading numerous ensembles and even teaming up. From the late '40s, sublime The Progressive Four harmonized in an Ink Spots vein while passing around the vocal lead and restyling "St. Louis Blues." They brought in supportive white DJ Jerry Strong to croon Bing Crosby style on one single.
Maybe jazzmen's absence during World War II opened up opportunities for International Sweethearts of Rhythm, who eventually made a DC suburb their home base. The ever-evolving multiracial group numbered 16 in the photo here. Trombonist Helen Jones once remarked, "The rock 'n' roll they're playing today we played in the '30s and '40s."
The nine 1954 tracks from The Eagles include "Tryin' to Get to You," which Elvis Presley covered at Sun and Roy Orbison did as the flip to his debut single, "Ooby Dooby." Marie Knight left gospel behind for the very first recording of tunesmith Titus Turner's heartbroken ballad "Tell Me Why," whose 1957 cover by Elvis remained unissued for a decade.
Obscurities abound. Yes, that's Bo Diddley's guitar and Jerome Green's maracas on a 1957 Billy Stewart single whose Okeh labels read, "Orch[estra] under dir[ection] of Ellas McDaniel" (Bo's real name). Harvey and the Moonglows' 1959 "Mama Loocie" gave young Marvin Gaye his first lead vocal. Don Covay began his recording career in The Rainbows, which initially was just a neighborhood singing group. Big Jay McNeely and Band's debut of Bobby Marchan's future hit "There Is Something on Your Mind" credits Big Jay as the author, though the notes tell us he'd merely bought the rights to the song for $85. Joe Morris's vocalist Faye Scruggs (sometimes known as Fannie Scruggs) later, as Faye Adams, began topping the R&B charts with "Shake a Hand." (Bruder's quite a sleuth when it comes to tracing performers' collections of names.)
Here's a real find: In 1946, before leaving DC for New York and founding Atlantic Records, Ahmet Ertegun (son of a Turkish diplomat), with Max Silverman, and dentist Herb Abramson (Atlantic's first president), put out a grand total of one disc – a limited pressing at that -- on their label Quality. It was by Ernie Fields with vocalist Mel Moore, and sounded nothing at all like the music Atlantic went on to pioneer. (Bandleader/trombonist Fields, by the way, in 1959 broke the pop top 10 redoing Glenn Miller's standard 'In the Mood.")
The amply illustrated book accompanying the box is impressive indeed, not only for its passages on each act and disc, but also its chapters on local labels and venues as well as African American presence in Washington, DC's media in the '40s and '50s. Growing up in the DC area, I precociously realized late in the box's time span that cool sounds came out of the radio. Admittedly, the box's sole song that I remember hearing is Lloyd Price's "Just Because." But the radio stations Bruder speaks of – even briefly putting a few snippets of their broadcasts on discs here – helped to shape who I am today musically speaking. My gratitude for this box is huge.