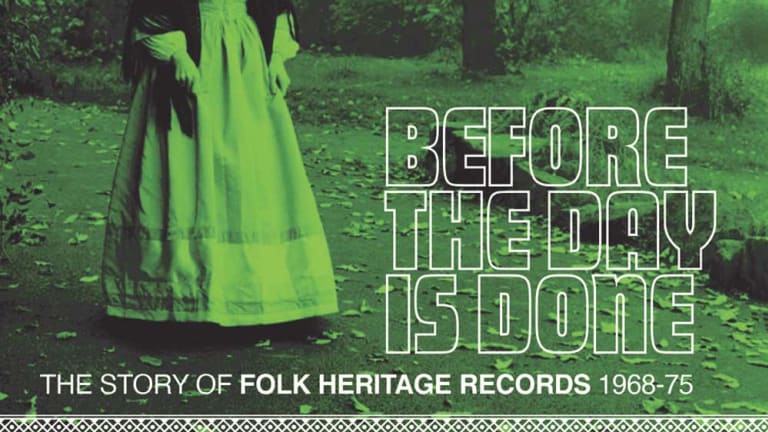 'Before the Day is Done': The ultimate in folk treasures boxed
The original vinyl albums cost three figures apiece. Now you can hear the very best of them for a fraction of the price.
Various Artists
Before The Day Is Done: The Story of Folk Heritage Records, 1968-1975
Grapefruit Records (3-CD Box Set)
It's almost fifty years (47, to be accurate) since Folk Heritage Records faded from view, but its memory remains among the most beloved, and collectible, of all British excursions into the realms of folky record releases.
No high-maintenance superstars or wannabe Steely Eye Dan-alikes for Folk Heritage. The label plucked its roster from the clubs, and aimed its output at them, too. The average pressing for a Folk Heritage album was around 1,000 copies (the biggest of all was 2,000) around half of which would then be handed back to the artist to sell at their own gigs.
Such obscurity has not dampened the label's renown. You'd be looking to pay in the region of $100 for your own Folk Heritage album… sometimes less, oft-times more. Yes, it's true that the Pendlefolk, the Wayfarers, the Bards, Penny Wager and the Blue Water Folk are scarcely household names, not even in households where they live, breathe and die folk music. But, whether you're hearing them for the first time, or you've been nursing an obsession since the early 1970s, Folk Heritage had a knack for recording bands that needed to be recorded. And the three CDs that make up this clamshell box set are all the evidence you need of that.
Spanning the label's entire seven year lifespan, it necessarily includes a a lot of familiar material - Preston folk club favourites the Wayfarers, with a defiantly mandolin-powered "Matty Groves"; a lilting "Lord Lovell," by The Minor Birds, hosts of the Warrington club; and the Horden Raikes duo's driving "Two Magicians." More? Try the MacDonald Folk Group's "April She Will Come," taken from the label's maiden release, Take One; Michael Raven and Joan Mills' "Death and the Lady," from the 1972 album of the same name; Rosemary Hardman's "Pretty Saro," recorded live at the Bate's Hotel folk club in Macclesfield, shortly after Christmas 1968. It's enthralling stuff.
Yet, even with close to seventy tracks (and no shortage of enjoyable music), Before the Day is Done only scratches the surfacer of Folk Heritage's full output; all told, the label was responsible for some fifty or so albums, which between them represent as great an insight into life in the folk clubs of 60s/70s Britain as you're likely to find today. The box set, which is probably the closest many of us will get to hearing them all, is simply a tiny window into that same world. But what a window it is!