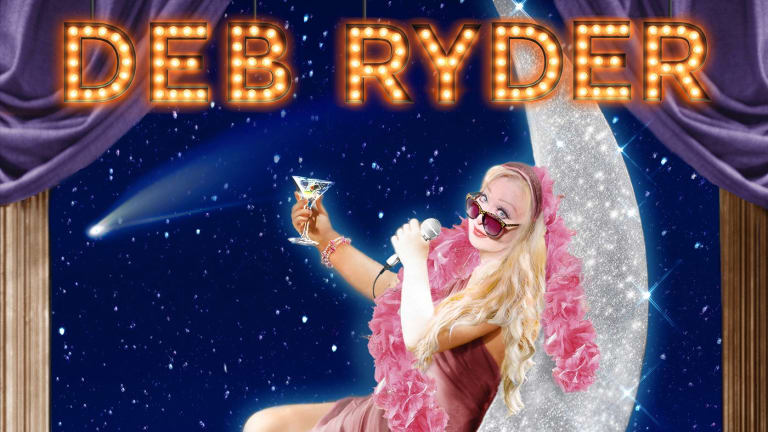 Bluesology: 50 Years of Alligator Blues Plus Deb Ryder, Maria Muldaur and The Mojo Man's Pre '63 Gems!
Genuine Houserocking Music from The '60s and Beyond will have you Dancing as will Red Hot Mamas Deb Ryder and Maria Muldaur!
     On Memphis Moonlight (VizzTone Label Group), by royal diva Deb Ryder, she rocks out to 13 of her own tunes, as accompanied by 19 of the best in the business including Ronnie Earl (guitar), David Hildalgo and Steve Berlin of Los Lobos on accordion and sax, and producer/drummer Tony Braunagel who knows a little something about the blues. His credits include some 200 albums by the likes of Otis Rush, Eric Burdon, Bonnie Raitt, Taj Mahal and Buddy Guy. This one's a party. Ryder's a wild wild woman ever since she opened at her father's Chicago club for Etta James and Joe Turner when she was but a young teen. As she sings, "Blues Is All I Got," but she's got a lot. Bravo!
Blues Album Of The Year! Let's Get Happy Together (Stony Plain Records) by the legendary Maria Muldaur (her 43rd album!) pairs her with the great New Orleans band Tuba Skinny, on 12 gems unearthed from the 1920s and 1930s. Recorded in the Crescent City (of course), Muldaur reinvents herself (yet again) from her days as a fresh-faced ingenue with the Jim Kweskin Jug Band during the 1960s folk revival to her days as a red hot blues mama (which she still is) on through her forays into Americana, roots, soul, jazz and Appalachian old-time mountain music. Now 77, she's as outrageous as ever, performing the music of Louie Amstrong's wife, Lil Hardin, as well as Half-Pint Jaxon, Ivy Anderson (who sang with the Elllington band), Valaida Snow (known as the "Queen Of The Trumpet"), The Boswell Sisters, Dorothy Lamour (before she was a movie star), Sweet Pea Spivey (sister of the much more famous Victoria Spivey) and Annette Henshaw. Every track is killer.
     Blues Box Of The Year! Alligator Records—50 Years of Genuine Houserockin' Music is three CDs of 58 songs. The first act ever signed to this legendary Chicago label by the gator man himself, Bruce Iglauer, was Hound Dog Taylor & The Houserockers. Now, 350 albums and a half-century later, he's picked out like-minded barn-burners like Koko Taylor, Professor Longhair, Johnny Winter, Albert Collins, James Cotton, Lonnie Mack, Luther Allison and Gatemouth Brown and that's only the highlights of Disc #1! Need I say more?
     The Mojo Man Special Volume #2: Voodoo Doll (Koko Mojo Records) has some of the best blues and early rock'n'roll you're ever likely to hear from artists you never heard of like Little Mummy, Boogaloo & His Gallant Crew, Guitar Bates, Big Boy Myles, Stomp Gordon, Buster Brown, Little Woo Woo & The Moroccos and Little Red Walter. There's also those who you just may have run into like Lightnin' Slim, New Orleans zydeco kingpin Clifton Chenier, Elmore James, John Lee Hooker and Little Eva. Highlights include "Damp Rag," "Cha Cha Twist" and "Where You At, Jack?" You can't go wrong when The Mojo Man—DJ Little Victor—chooses these picks to click. As he says, "each and every tune here is a fine-frame no part lame platter that matters!" I wholeheartedly concur.