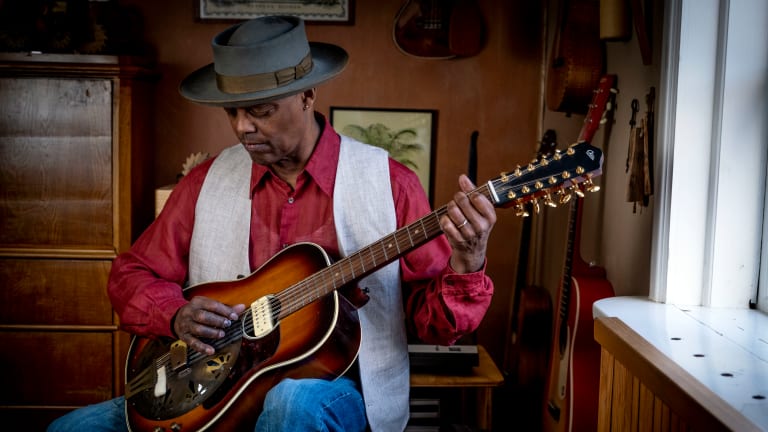 Bluesology: Eric Bibb, Tommy Castro, Miss Lady Blues, Jimmie McCracklin and one hot Austin duo
Eric Bibb's hard lessons about race,  Tommy Castro's concept album, Jimmie McCracklin comes back to life, Miss Lady Blues throws down the gauntlet, and Lindsay Beaver & Brad Stivers charge out of Austin to blow you away!
     Dear America (Provogue Records/Mascot Label Group) by Eric Bibb, with such famous friends as bassist Ron Carter, drummer Steve Jordan and lead guitarist Eric Gales, addressing the inequities of bring born Black in a country where Black lives don't seem to matter. Certainly Emmett Till's life was of no matter when he was lynched in 1955 Mississippi at 14. Thus, "Emmett's Ghost" howls from the grave at the injustice. In track after track, Bibb points out double-standards of a country he obviously loves, a country that has enslaved, segregated, subjugated and marginalized his people. This is blues on a most profound level. 
     Still, he ain't preachin'. Bibb knows better. Dear America is as wonderfully satisfying a blues album as such previous masterpieces of his as Global Griot (2018), Migration Blues (2017), Blues People (2014), Jericho Road (2013) and Booker's Guitar (2010). Bibb stands tall, y'all. A new Bibb is always cause for celebration. Dear America is also cause for contemplation. It's musically satisfying and totally grooveable to the max. But it might just make you think.
     Other than his dance records  "The Walk" and "The Wobble," Jimmie McCracklin has seemed to have slipped through the cracks of pop history. Koko Mojo's "Spotlight Series" should change all that. The Rockin' Man has 28 blasts of blues-busting early R'n'B/R'n'R which prove how unbelievably wonderful he was.
     Born in 1921 Arkansas, raised in Missouri, he trained as a boxer, served in the Navy, and settled in California. Enticed by the 1950s success of Chuck Berry, he dove headlong into rock'n'roll music. "The Walk" went to #7, garnering him an appearance on Dick Clark's American Bandstand. Switching from Chess to Mercury, his string of singles proved him to be a durable composer/performer for the next seven decades until his 2012 death at 92.
     Highlights include "Big Foot Mama," "What's Your Phone Number," "Gonna Tell Your Mother," Beer Tavern Girl" and "Georgia Slop." He was a funky old piano man who sang every song like it would be his last.
     The self-titled debut of Lindsay Beaver & Brad Stivers (VizzTone Label Group) is a rockin' affair from Austin fueled by the former's vocals/drums and the latter's vocals/guitar. She's from Canada with a 2018 solo effort on Alligator Records. He's from Colorado with a 2017 VizzTone debut and a 2020 EP. Their melding encompasses Texas Blues, Americana, gritty old-school Soul and funky rock'n'roll. There's nary a clinker within its 12 tracks of originality, enthusiasm and, boy, do they know how to strut their stuff! These two are perfect for each other. And yeah, their band rocks.
     May I introduce you to Miss Lady Blues from Tuscaloosa, Alabama. Now in Atlanta, she's only eight years into a career that has culminated in her self-released, all-original Moe Better Blues. You know something is happening here with "Back It Up With That Lip." She backs up that stellar opener with seven more soul-scorching burners. She's hot!
     Tommy Castro Presents A Bluesman Came To Town: A Blues Odyssey (Alligator Records) is a 13-chapter concept album about a young farmhand who picks up a guitar, learns the blues, hits the road, finds success, and deals with its pitfalls, ultimately returning to his roots.
     Auto-biographical? Tommy ain't talkin' but for almost 30 years, Tommy Castro, with his 16 albums, road-dog propensity, and willingness to explore every nook and cranny of roots-rock, funky soul, horn-section wildness and Guitar Hero exhibitions on stages around the world, has reached a plateau few can claim. From the time he was a young San Francisco up'n'comer to now, at 66, an elder statesman who has morphed into that which he first emulated, Castro can concoct crazy roadhouse-blues with a true artist's flair.